---
A report of a charge on a stolen credit card led to the discovery of a home business scam, Mississippi Attorney General Jim Hood said today.
"We're still in the early phase of investigation, but the case is a reminder that the cons are out there, trying to take advantage of our residents during an economically stressed time," said Attorney General Hood. "We want to warn our residents to be careful and be alert for these types of home business scams."
The home business scam, or reshipping fraud, often starts when a person responds to an ad for a job opening, sometimes online, sometimes in print and sometimes by email. The applicant is promised a considerable amount of money to receive, repackage and mail merchandise ordered online and then ship it to a foreign address. Unknown to the person working out of their home is that the merchandise was purchased using stolen credit cards.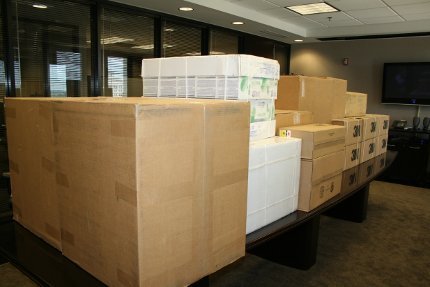 This photo, provided by the Mississippi Attorney General, shows some of the merchandise recovered in a reshipping scam.
The reshipping job opportunities can appear anywhere, including local newspapers and well-known job placement websites. When an applicant answers the ad, they are typically asked for personal information including their social security number and date of birth. That information is eventually used to steal the applicant's identity and perpetrate the fraud even further.
Typically, payment for repackaging arrives in the form of a third-party cashier's check. These cashier's checks will usually be for more than the amount initially agreed upon and the employer will request that the overpay be returned to them electronically.
Once the check "clears" the bank, it turns out to be phony and the reshipper is left responsible for the entire amount of the check. Additionally, the reshipper could be in trouble with the law for repackaging and shipping merchandise purchased with stolen credit cards.
In the recently-discovered case, operating from a Jackson home, the homeowner stated that he was just trying to earn some extra money when he responded to a job offer by email. The scam was uncovered when the owner of a stolen credit card reported the unauthorized charge to the Jackson Police Department, who asked for assistance from the Attorney General's Office before visiting the home where the reshipping scam was occurring.
One out-of-state business owner who had shipped merchandise in the local reshipping scam told the Attorney General investigator working the case that he had been saved $2,400 by busting up the operation. Another business employee said they were in the process of shipping out more items and were spared that added potential loss.
Consumer tips
If you see an ad for a home business opportunity that promises easy and high income, be wary. If it sounds too good to be true, it probably is.
Never give out your personal information to a person you don't know or a company you have never heard of.
Be skeptical of any opportunity that doesn't pay a regular salary or engages a foreign company.
Research a company by checking with the Federal Trade Commission, Better Business Bureau or the Attorney General's Office.
"This is a very lucrative business for the con artists," said Attorney General Hood. "Our best defense is to educate our residents so they don't fall prey."