---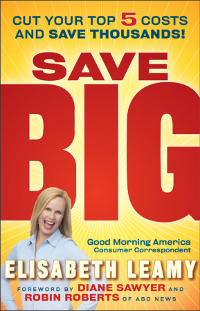 Feeling bad about your daily Starbucks fix? Don't. While it's true that all those $4 lattes could, in theory, buy you a used Mercedes to drive to the nursing home in 50 years, a noted consumer expert advises that it's the big things -- not that little ones -- that can make a really significant difference in your finances.
Elisabeth Leamy, Good Morning America's consumer correspondent, can recite the usual advice from memory: "Switch to low-flow showerheads, save $5. Inflate your tires properly, save $9. Use your own banks ATM, save $3. Pack your lunch, save $7." But that doesn't mean she agrees with it.
"I don't believe in penny pinching," says Leamy. "I like to pinch $1,000 bills." And Leamy says her new book -- SAVE BIG (Wiley; January 2010; $24.95; Hardcover) -- will do just that. Leamy estimates that consumers who follow her advice can save up to $1,176,916.
Why give up lifes little pleasures and conveniences, Leamy asks, when you can save much more money by attacking a few BIG, boring expenses instead? Some examples:
HOUSE:

• Fight junk closing costs when you buy a home and save $2,530.
• Refinance into a shorter mortgage. Save $103,536.
• Appeal your property taxes and save $1,265 a year.
CAR:

• Buy a dark horse car instead of the most popular make and model and save $ 6,814.
• Pay cash for your car and save $2,608.
• Exercise a secret warranty where the dealer fixes flaws for free and save $1,400.
CREDIT:

• Ferociously guard your credit score and save $2,916 a year on your mortgage.
• Undergo rapid rescoring before finalizing a mortgage and save $72,000 over the life of the loan.
• Negotiate for a lower credit card interest rate and save $1,272.
GROCERIES:

• Price match using simple online tools and save $4,628 a year on groceries.
• Stockpile and save $5,772 a year on groceries.
• Master creative couponing (Click dont clip!) and save $7,956 a year.
HEALTHCARE:

• Raise your health insurance deductible and save $2,700 a year.
• Take the over-the-counter version of a drug instead of the identical prescription version and save $1,763 a year.
• Hire a medical billing advocate to fight hospital billing errors and save $6,858.
A recent Consumer Reports poll showed Americans have responded to the recession by ushering in a new era of intelligent thrift; 79% of respondents said they will continue to purchase only what they truly need post-recovery. Two-thirds said that if they were to win $10,000 they would use it to pay down debt or build their savings. Leamy thinks her book will resonate with an audience hungry for a new strategy that's built around significant savings.
Even better, says Leamy, is that many of her cost-saving tactics don't require sacrificing time and energy on a daily basis.
"Save big (not small) and I think you will find that you save something even more precious than money: time. The puny savings ideas other authors tout take a lot of time. They need constant maintenance. They require willpower," she said. "In the face of a zillion different daily deprivations, most people fail. I find it much easier to channel my energy into a few big cost-savers that I only have to tackle every once in awhile. direction.
Leamy, who assures us she has no connection with upscale coffee purveyors, appears on Good Morning America several times a week, digging up new ways to save money, alerting people to dangerous products and giving a heads up about scams and rip-offs. Leamy also reports for World News, Nightline and 20/20 and writes a weekly column for ABCNews.com. Her first book, The Savvy Consumer, was published in 2004.
Thanks
Keep an eye on your inbox, the lastest consumer news is on it's way!
Unsubscribe easily whenever you want