---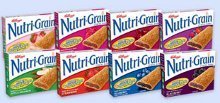 A class-action lawsuit filed Monday accuses Kellogg's of tricking consumers into believing its Nutri-Grain cereal bars are healthy, when in fact they contain inherently dangerous trans fat, which the plaintiffs say makes the product unfit for human consumption.
The suit contends that Kellogg misleads consumers into believing that Nutri-Grain Bars are healthy by making misleading claims on the product packaging. Such statements include 'Excellent Source of Calcium,' 'More of the Whole Grains Your Body Needs,' and 'Eat Better All Day.'
Unfortunately for the plaintiffs, who make some valid points about the dangers of trans fats namely that they increase the risk of heart disease, cancer, and type 2 diabetes the suit devolves into weak tea before long. The complaint strains credibility in attempting to portray the aforementioned misleading claims as anything other than competent advertising.
Though possibly true, the suit says of the representations on the packaging, these statements are deceptive in intent and nature: they imply that these products are healthy despite the fact that they contain artificial trans fat.
The plaintiffs then go on to attack the images chosen by Kellogg for the product packaging, specifically an image of a verdant field and an image of a Nutri-Grain Bar next to an image of a water bottle, a salad, an apple, and person exercising. The problem? The obvious implication of this is that Nutri-Grain Bars are, like water, apples, salads, and exercising, part of a healthy lifestyle.
The suit noted that an increasing number of American jurisdictions are banning trans fats from food altogether. Since 2008, when California became the first state to prohibit the use of trans fats in restaurant food, New York City, Philadelphia and Baltimore, among others, have followed suit. The plaintiffs use this along with a 2004 Danish law setting a ceiling of two grams of trans fat for all foods as evidence that Kellogg's supposedly healthy products have so much toxic artificial trans fat that they would be illegal to sell in many parts of the world.
The suit, led by June Higginbotham and Jennifer Red of Southern California, is being brought on behalf of anyone who bought one or more Kellogg's products containing artificial trans fat between January 1, 2000 and the present. The complaint includes counts for false advertising under the Lanham Act, unfair competition, and breach of several California consumer protection statutes.
In addition to seeking compensatory damages, the plaintiffs are demanding that Kellogg cease the complained-of advertisements, disgorge any profits by which it was unjustly enriched, conduct a corrective advertising campaign, and destroy all misleading and deceptive materials and products.
Higginbotham and Red join a growing list of litigants challenging the veracity of breakfast food-related claims.
In September, Dannon settled a lawsuit alleging that ads for the company's Activa brand yogurt promoted as a panacea for digestive issues exaggerated the product's actual benefits. Then, in October, two New Jerseyans claimed in a $5 million suit that General Mills ads led them to believe that eating Cheerios would lower their cholesterol levels. The following month, a class action accused Kellogg of falsely claiming that Cocoa Krispies would strengthen kids' immune systems against illness.
Maybe it's time to go back to bacon and eggs.