---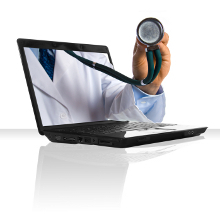 Once upon a time, people said that television had killed the art of conversation. Such a notion seems almost quaint now that we have the internet. Who hasn't been told in answer to a question:
"Why are you asking me? Just Google it."
And we do. Search engines have become our sources of gossip and news, our advisors on what we should buy, our pick-up scene, our all-encompassing (and sometimes woefully inaccurate) encyclopedia and, increasingly, Google and Co. are becoming our doctors, too. Think of any given health problem and I'll bet you $100 without even looking that there are numerous Web pages dedicated to it, a patient's forum and probably a Facebook group as well.
So what's the problem? We're living in the Information Age, after all surely it's a good thing if patients can research their own conditions and treatments. That way they can work alongside their doctors on the road to healing!
I just had to take a five-minute break. The last sentence made me laugh too much. The reason can be summed up in a gem of 90's slang, TMI Too Much Information and I doubt there's a general practitioner in the country who isn't nodding their head as they read this. It's one thing to inform yourself, another to understand what you have read and put it in context.
A couple of years back I went to stay with an American guy and his Italian girlfriend in Sicily that I met through a hospitality exchange site. While they seemed a pleasant couple, I couldn't help but notice she handled all the money, including his bank cards. When she and I went out shopping one morning, she told me why:
He's an alcoholic, she explained. I had to let him move in with me because it had gone too far. When we were just dating he called me up one night to say goodbye forever because he was dying of a heart attack. Of course I rushed round at once with an ambulance but it turned out his chest pains were actually caused by acid reflux. He'd been drinking too much cheap red wine.
Hit by sudden pains in the chest, her boyfriend had immediately consulted Google and pulled up a plethora of pages about heart attacks. Had he read a little more carefully, he might have worked out there were more probable explanations but, in a state of drunken anxiety, he jumped to the worst-case scenario, not bothering with the small print.
Of course, assisted hypochondria is nothing new. Before the internet there was the well-known phenomenon of Medical School-itis where students of medicine passed the long winter evenings by poring over lists of symptoms, slowly talking themselves into suffering from rare and incurable diseases. And these were intelligent young students, trained to read between the lines and come to sober conclusions. But humans will be humans and when it comes to worrying about our health, it would seem that the old New York Graffiti still holds true: Hypochondria is the only disease I haven't got.
Full Disclosure
At this stage I should admit that I'm something of a hypochondriac myself. Within two minutes of making the acquaintance of a doctor, I'm usually pulling up my shirt to ask them to look at my moles and tell me if I have cancer or not. I guess I always wanted to die young like my rock star heroes and now that I'm past 30, it's getting a bit late in the day. I'm not even famous yet. Consumer Journalist Dies Young just wouldn't make the papers.
So when I had some bad stomach cramps last summer, I was on the net like a shot. I tried out www.yourdiagnosis.com but it couldn't offer me anything more exciting than constipation as an explanation for my condition. The site did, however, offer me another potential five diagnoses if I was prepared to shell out $17.
Trusting that everything can be found for free on the Internet if you look hard enough, I surfed on and came to www.familydoctor.org, a name that inspired confidence. I entered my symptoms and clicked on abdominal pain, short-term, and found a flow chart which looked easy enough to follow.
I discovered with relief that I wasn't having a miscarriage or an attack of appendicitis but then agreed that my pains did get worse when I ate greasy food. I learned to my horror that I was possibly suffering from gall stones and was advised to see my doctor at once. Following the chart I admitted to suffering from muscle aches and nausea recently and almost fainted as I was directed to a box that suggested I might have a kidney infection or even... a TUMOR.
Yes, further down the page, constipation was also offered as a diagnosis but that quiet voice of reason was drowned by the competing neurotic voices in my head, the loudest of which was debating what, exactly, I would like my epitaph to be. I might have chosen "I told you I was ill" but numerous comedians, both known and obscure, have beaten me to it.
To be fair, the site did include the disclaimer: "This tool has been reviewed by doctors and is for general educational purposes only. It is not a substitute for medical advice. The information in this tool should not be relied upon to make decisions about your health." But that was the equivalent of your dad telling you to drive carefully as he threw you the keys to the family car.
Feeling it was now only responsible to fully assess my condition, I went to www.webmd.com and was reassured to see a nice clickable image of a human body and was invited to use a pointer to locate my condition. I'd been at the computer for several hours at this point and my head was hurting. A list of symptoms came up and I hit anxiety at once. Did it get worse from emotional stress? It sure did! Especially when in the pop-out menu of associated conditions I saw epilepsy...
Relucantly, I had to skip the b's and c's but any of my ex-girlfriends could have agreed with my difficulty to wake from sleep and I finished my session of cyberchondria learning that in addition to gall stones, a tumour and epilepsy, it could well be that I was a diabetic...
Doctors recognize the lack of standards of health information on the net and some well-meaning professionals in Switzerland have founded Medhunt to usher surfers to respectable, credible sites for their research. But the design is dismal, the advice too sober and it's a drop of sense in a sea of hysteria.
The Brave New World of Medicine 2.0
The problem is that these days, health care lacks the context it once did. Granted, doctors of the past didn't have the benefit of the latest innovations in medicine but they often knew their patients well. Consultations took time, there was some personal rapport there was even a time when doctors visited their patients at home when they were ill.
But just to show that history goes in cycles, it turns out that doctors are once again to be found in your bedroom. Sort of. As long as you're happy to bare all to a stranger in a white coat on your computer screen. A new generation of doctors are to be found on sites like www.americanwell.com or www.hellohealth.com who will arrange appointments via webcam and order you the drugs you need. Best of all, you don't have to pick up any contagious diseases from other patients in the waiting room.
And if the rates set by American doctors are too rich for your blood, you can always try your luck at somewhere like MedIndia, where you can get a doctor's opinion for just $15. The site claims its doctors have been trained in the U.S. or Britain and, to their credit, they do not prescribe or sell drugs.
Of course, for some people, getting medicine with a prescription seems almost as 20th century as paying for music and video. Search Google for the drugs you want to buy online and any number of "reputable" websites will offer to post you packages of Viagra, Propecia or abortion pills once you enter your credit card number. They might first go through the motions of making you fill in a questionaire to seem more credible but essentially they're modern drug dealers. Here's one sales pitch I found:
"You can buy prescription drugs online at incredibly cheap prices from online pharmacies and overseas drugstores directly from your computer and enjoy discreet deliveries to your home or office. Eliminate hassles and maximize savings on the prescription medication that you need with our service."
Hassles like federal law. But it seems many Americans either don't know or care much about the harsh penalties for possessing pills of dubious origins without a prescription. According to the Center for Medicine in the Public Interest, the illegal drug trade is expected to soar to $75 billion in 2010, up 90% from 2005,
When I lived in India, many travelers paid for their trips by exporting incense, clothes or jewelry. It was common knowledge, however, that many also opted to take back more profitable commodities in their backpacks. So when a friend about to fly out of Delhi confided he was engaged in a spot of smuggling, I expected to see kilos of hashish in his hotel room. Instead he grinned foolishly as he dropped Viagra pills into empty vitamin pots.
I sell them at the local pub! Pays for the flights! he chuckled.
But it's not just a question of legality. The World Health Organization estimates that more than half the pills purchased online have been tampered with. The pills you order are often cheap for a reason: They're either out and out fakes or may contain toxic elements like paint in an attempt to resemble the originals.
Worse yet, they may have been made in makeshift laboratories in India or Mexico and contain too much or too little of the active ingredient, posing a threat to your health.
A Sense of Community
If there's one thing the internet has done for health, however, it's to have created virtual communities of patients who previously suffered alone. Whether you're a hypochondriac like me or genuinely suffer from a medical condition, it's not much fun to worry about your symptoms by yourself but at places like www.thehealingwell.com people can discuss their illnesses, share tips and experiences with drugs and treatments and generally keep each other's morale up.
I was living last year in Sardinia, an island off the Italian mainland and was camped on some land belonging to a local woman in her 50's. She had fibromyalgia and consequently felt exhausted a good part of the time, requiring that she took frequent naps and paid someone to take care of her vegetable patch. No one else in the nearby area had ever heard of the condition and behind her back said she was just lazy.
As much as anything else, having no one to talk to about her disease infuriated her. I finally persuaded her to get an internet connection and a cheap laptop and, after some coaching on how to use a mouse and navigate the internet, she was hooked. She soon found forums where people all across the world suffered from fibromyalgia and, thereafter, each time I passed by to ask for some eggs from her chickens or to take a lettuce from the garden, I found her glued to her laptop, typing away with a painstaking single finger.
Like life, the internet is what you make it.
There's no way information can be regulated health advice on the net will only ever be as good as your common sense. If you're prepared to take pills made under dubious conditions in the developing world then there are any number of sites that will oblige you. If you want to prove to yourself you're dying, then just name your disease and you'll find symptoms to match.
And if you can handle the thought of unburdening your health worries to strangers in a forum or consulting a doctor via a webcam... then the future has already arrived.
On the other hand, it's good to remember that health is literally a life-and-death matter. A do-it-yourself mentality is fine if you're painting the bedroom but an occasional visit to a real, live diagnostician with M.D. after his or her name is still the only sane way to keep tabs on your health.
--

Tom Glaister is the founder and editor of www.roadjunky.com - The Online Travel Guide for the Free and Funky Traveler -- sponsors of the Road Junky Travel Film Festival May 28.