By Lisa Wade McCormick
ConsumerAffairs.com
January 16, 2010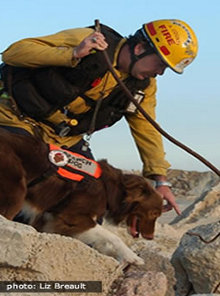 SDF Photo
Amid the sorrow and despair in the aftermath of Tuesdays deadly earthquake in Haiti comes news of survival: One of the United States' top canine disaster search-and-rescue teams on Friday found three girls trapped alive in the rubble of a four-story building.
A Border Collie named Hunter -- specially-trained by the National Disaster Search Dog Foundation (SDF) to locate people buried alive -- discovered the young survivors under four feet of concrete and debris. The girls had been trapped nearly 70 hours since the powerful earthquake devastated the tiny island country.
Hunter and his handler, Los Angles firefighter Bill Monahan, located the girls while searching a large bowl-shaped area near Haitis crumpled Presidential Palace.
After criss-crossing the area, Hunter pinpointed the survivors scent under four feet of broken concrete and did his bark alert to let Bill know where the victims were, the SDF said in statement. Bill spoke with the survivors, then passed them bottles of water tied to the end of a stick. As they reached for the water one of the girls said, thank you.
Monahan and Hunter are one of six SDF teams deployed with the California Task Force 2 to find victims buried in earthquakes rubble.
The 72 members of the task force, who have 70,000 pounds of heavy machinery and other rescue equipment, are searching around the clock to find survivors of the cataclysmic earthquake that many fear will claim tens of thousands of lives.
The teams are working in 12-hour shifts so they have time to rest and recuperate, said Captain Jayd Swendseid of the California Task Force. The team is putting in long and exhausting days. Roads are closed and there is a lot of debris that is making transportation difficult, but the team is managing to get to buildings and make rescues. Morale is good and supplies are sufficient so far.
Valuable tools
The six live-scent dogs on the teams are arguably the most valuable tools rescue workers have in a disaster of this magnitude. These elite canines can climb and run across the piles of concrete and other debris in the streets of Port-Au-Prince and determine within three minutes if there are survivors buried below, the SDF said.
Besides Monahan and Hunter, the other SDF canine teams working in Haiti with the California Task Force 2 are:

• L.A. County Firefighter Gary Durian and his Golden Retriever, Baxter;

• L.A. County Firefighter Ron Horetski and his Lab, Pearl;

• L.A. County Firefighter Jasmine Segura and her Lab, Cadillac;

• L.A. Country Firefighter Jason Vasquez and his German Shepherd, Maverick;

• California civilian Ron Weckbacher and his border collie, Dawson. Weckbacher is the training groups leader. He and Dawson have participated in other search-and-rescue operations, including the 9/11 terrorist attack on the World Trade Center and Hurricane Katrina.
Another SDF canine disaster search and rescue team is also on the ground in Haiti. Julie Padelford-Jansen with Miamis Fire and Rescue Department -- and her dog, Dakota -- are working with Florida Task Force 1 in the rescue efforts. The SDF also has other canine teams on standby -- ready to deploy to Haiti when needed.
This moment is what SDF Search Teams train for -- week in and week out -- throughout their careers together, said SDF founder, Wilma Melville. When one SDF team succeeds, all of our teams succeed.
Our thoughts are with our teams in Haiti, who continue to comb the rubble into the night, she added. Their perseverance, skill, and strength in the face of extreme challenges make us all proud, and give us hope.
Hope dwindles
But rescue workers know the hope of finding survivors dwindles with each passing hour. They are up against the clock to find any survivors in the ruins, especially in the hardest hit area of Port-au-Prince. The 7.0 magnitude earthquake leveled the crowded capitol city of 2 million.
On Saturday, though, there was another glimpse of survival as an Australian news team found a 16-month-old girl buried alive in Port-au-Prince.
The horrific earthquake that struck this poor country at 4:53 pm on Tuesday was centered about 14 miles west of Port-Au-Prince. Shock waves were felt as far away as the Dominican Republic. Reports of catastrophic damage are widespread in Haiti, the poorest country in the western hemisphere. Thousands of homes, schools, and other buildings collapsed in the wake of the massive earthquake.
Our hearts go out to our neighbors in Haiti, and were honored to be able to help find survivors of this terrible tragedy, SDFs Executive Director Debra Tosch said. This is the day that our teams have trained for; when the unthinkable happens, SDF Teams stand ready to respond, bringing hope and comfort to victims and their loved ones. The SDF will provide updates on its Web site.
The SDF is the only organization in the country that works exclusively with rescued dogs and trains them to rescue people buried alive. Most of SDFs 69 canine search teams are certified by the Federal Emergency Management Agency (FEMA). That is the highest achievement for search and rescue teams and means they can respond to any disaster.
SDF teams spend about one year training for the FEMA test. To pass the rigorous exam, the dogs must search two piles of rubble and find four to six victims. The dogs have 20 minutes to complete their mission, and the testers do all they can to distract the canines. They may, for example, put food, live chickens, or even cats in the piles. The dogs fail if they become distracted during the test.
The SDF, headquartered in Ojai, California, does not accept any government funding to cover the estimated $10,000 needed to train each team and provide lifetime care for the dogs. Those costs are covered by individual and corporate donations.
Emergency workers
Meanwhile, other relief and humanitarian organizations have emergency workers in Haiti trying to get desperately needed water, food, and other supplies to survivors. Those groups include UNICEF, Mercy Corps, and The American Red Cross .
On Saturday, truckloads of Red Cross supplies arrived in Port-Au-Prince and thousands of emergency workers hit the ravaged streets to hand out water and provide first aid to earthquake victims. Many relief workers also helped search for survivors or transported people with serious injuries to nearby health facilities.
Americas support donations made in the United States to the American Red Cross is reaching the hands of survivors in Haiti, said Steve McAndrew, disaster relief specialist with the American Red Cross in Port-au-Prince.
The American Red Cross now has teams from more than 30 countries that are providing food, water, and help with field hospitals, emotional support, and sanitation services.
Americans can support these relief efforts by texting "HAITI" to "90999 and $10 will be automatically donated to the Red Cross. The fee will be charged to consumers' cell phone bills.
The U.S. State Department said Americans looking for loved ones in Haiti should contact its Operation Center at 1-888-407-4747.