---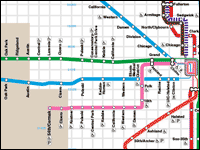 A class action lawsuit alleges that funding for Chicago-area transit is administered in a manner that blatantly discriminates against minorities. The suit, filed on January 6, claims that Chicago overfunds commuter railroads at the expense of the city's storied L subway system.
The lawsuit concedes that most of the $1 billion annual transportation budget is spent on the Chicago Transit Authority (CTA), which oversees the L and city buses, but says the Authority's sheer number of passengers means that it remains shortchanged.
The complaint says that the CTA has received around 87 cents per passenger trip since 2000; in the same amount of time, commuter railroad Metra received $4.42 per trip. According to the suit, the budget gap is the result of longstanding racism; around 70 percent of Metra riders are white, while 60 percent of CTA riders are African American or Hispanic.
The suit is being handled by civil-rights firm Howard Ashley Watkins & Weltman and a clinic at the Chicago-Kent College of Law.
Its about peoples livelihoods, lead plaintiff Manuel Munguia told the Chicago Sun-Times. Its really about getting the access we deserve, to education, to good jobs, and ultimately, to opportunity and prosperity.
The plaintiffs contend that the funding disparity is a result of the decades-old Council Wars, which pitted black mayor Harold Washington against a group of white politicians in the Chicago City Council and, later, the Illinois General Assembly. The Council Wars, which lasted from 1983 to 1986, saw 29 aldermen vote down all mayoral proposals and appointments.
Judy Pardonnet, a Metra spokeswoman, scoffed at the allegations, and said that the rail system categorically denies any type of racial discrimination. Pardonnet added that a lot of information stated in the lawsuit [is] not true.
The suit drew quick support from several area politicians. Jesse Jackson Jr., a U.S. Congressman widely believed to be interested in City Hall, scolded the state legislature for ignoring our communities for too long.
Mayor Richard Daley took a more cautious tone, agreeing that a funding disparity exists between the two systems but refusing to explicitly call the gap racist. Daley said there has been a lack of funding for the CTA over many, many years, and that he hoped the suit would draw wider attention to the problem.
The plaintiffs will likely have an uphill climb in proving their case. The U.S. Supreme Court has held that merely proving the disparate racial effects of a policy isn't enough; a plaintiff must show that the policy actually makes racially-based distinctions.
The CTA is the second-largest transit system in the country, second only to New York's Metropolitan Transit Authority (MTA), which also oversees that city's commuter railroads, bridges, and tunnels. Barring a breakthrough in union negotiations, the CTA will cut rail and bus service by nine and 18 percent, respectively, on February 7.