---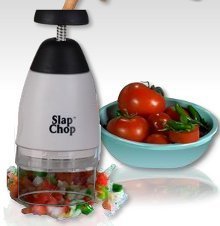 We've all seen those products advertised on late-night TV infomercial that promise to solve problems like scrubbing baked-on crud from cookware, mopping up gallons of spilled milk, and falling off ladders when cleaning gutters.
But -- surprise, surprise -- Consumer Reports' tests of 15 such products reveal that many of them are not worth buying.
CR's experts suggest that some of the products not worth paying for include The Slap Chop dicer, the Snuggie, the ShamWow, The Ab Circle Pro, Debbie Meyer Green Bags and the iRobot Looj gutter cleaner.
According to the report, infomercials are a mighty money machine. They can chop marketing costs to as little as one-tenth the size of a traditional advertising campaign and slice posted prices when they increase the total bill with shipping and handling fees and other extras.
The secret, according to an advertising expert, lies in neuroscience -- infomercials are carefully scripted to pump up dopamine levels in your brain. The fun starts with dramatizations of a problem you didn't know you had followed by an incredible solution, then a series of ever more amazing product benefits, bonuses, and giveaways, all leading to the final thrilling plunge of an unbelievably low price. After the ride, dopamine levels drop in 5 or 6 minutes, which is why they ask you to buy in the next 3 minutes.
"Consumers should pause 10 minutes before buying anything from an infomercial and see if they can get the same job done for free or with a product that they already have in their house," said Jeff Blyskal, senior editor, Consumer Reports. "Think if you can find another solution for this 'problem.' Instead of buying an exercise machine, for example, doing sit ups or just following a diet may accomplish the same thing."
In recent years, the magazine has turned up a mix of "miracle" gadgets and goops that deceived, delivered, or landed somewhere in between. Additionally, a check of the ConsumerAffairs.com database found consumer complaints about the way these products were marketed. Here's a look at some of them:
• Slap Chop The manufacturer claims that by slapping this gadget, which costs about $20, with your palm, you can "dice, chop, and mince in seconds" and remove skins from onions and garlic. CR slapped mushrooms, potatoes, carrots, chocolate, almonds, and other foods and found that it chopped unevenly. Harder foods needed about 20 slaps and tended to get trapped in the blades. While garlic peels came off in five slaps, onion skins were only partially separated after ten.
Lisa writes ConsumerAffairs.com from Fairfield, PA that the company's Web site says you can get a second Slap Chop for just $7.95 when you order the first one, but points out that it sent a second one without getting her consent. She says she contacted the company, saying she wanted only one of the gadgets. Lisa says she was assured that things would be okay, but adds, "I opened the package today, and lo and behold, I have TWO Slap Chops." She concludes that while $8 might not be a lot, "it is the principal of the thing. Don't force someone to take products that they didn't want."
• Snuggie "The Snuggie blanket keeps you totally warm," the company claims, and is made of "ultrasoft, luxurious fleece." You get two for $19.95. Consumer Reportstesters put Snuggies through ten wash-and-dry cycles and asked 11 staffers to check them out. The staffers found the Snuggie was so far from snug that several staffers had trouble walking. Each time CR laundered two Snuggies, they removed a sandwich bag worth of lint from the dryer.
The problem for Ronald of San Gabriel, CA was that the Snuggies just kept on coming. "I placed two orders for Snuggies buy 1 get 1 free blankets in March 2009 which were advertised on 'AS Seen on TV.' I received both orders without incident. In Late May I received a third order(which I never placed). I contacted customer service and they told me to return it and my account would be credited, which it was with no problem. A week later a fourth order was delivered (again, I did not order it)." Ronald tells ConsumerAffairs.com that it cost him $10.68 each time he shipped an item back. "This company is running some kind of a scam by repeatedly sending items out and charging peoples accounts and due to the cost of returning the items people are getting taken advantage of," Ronald concludes.
• Shamwow The ShamWow claim tells you, "Like a chamois, a towel, a sponge, works wet or dry, holds 12 times its weight in liquid." You get eight towels -- four 19 x 23 inch towels and four 15 x15-inch towels - for $19.95. Testers at the magazine dunked ShamWows in water, soda, and milk until each could hold no more liquid and the small ones to see if they could slurp up as much water, milk and used motor oil as sponges. As it turned out, ShamWow soaked up only ten times its weight in water or soda and usually 12 times its weight in milk. If testers used a damp ShamWow, they needed another cloth to wipe remaining droplets.
The marketing ticked off Linda of San Francisco. She tells ConsumerAffairs.com "I ordered this product because the commercial on TV said it was not available in stores. I am now seeing this product in stores and the ad is still running stating it is not available in stores. Had I known I could have purchased this product in a store I would not have ordered it through the mail incurring shipping and handling charges."