---
The highly popular Mr. Squiggles Zhu Zhu toy hamsters do not violate any federal safety standards or put children in harm's way, according to the U.S. Consumer Product Safety Commission (CPSC).
The agency on Monday exonerated these hard-to-find interactive hamsters just days after the California consumer group GoodGuide said its tests revealed the toys contained higher-than-allowed levels of the heavy metal antimony.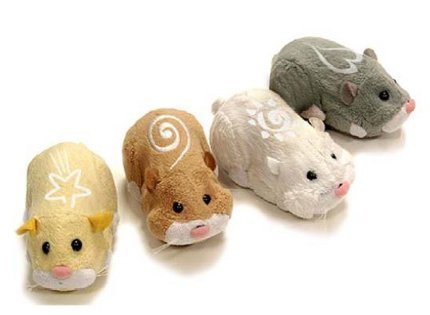 "Through a serious of meetings the Consumer Product Safety Commission had yesterday and through a review of independent testing of the product by a company the manufacturer uses, it was determined that the Zhu Zhu pet does not violate the new mandatory toy standard, which deals with antimony and other heavy metals," spokesman Scott Wolfson told ConsumerAffairs.com.
"It's so important with the information that got out over the weekend that parents know their children (who play with Mr. Squiggles) are not at risk because of antimony...there is no violation of antimony or any other heavy metals," Wolfson added.
GoodGuide on Monday also clarified its testing methods and said it should not have compared its results to the new government safety standards.
"We have learned that the testing methodology used in the federal standards (a soluble method) is different than the methodology we used in our testing (a surface-based method)," the consumer group said. "Accordingly, while we accurately reported the chemical levels in the toys that we measured using our testing method, we should not have compared our results to federal standards. We regret this error."
The San-Francisco-based GoodGuide said its tests revealed the Mr. Squiggles robotic hamster contained 93-106 parts per million (ppm) of antimony, a heavy metal linked to cancer and lung, heart, and fertility problems. Those levels are higher than the stringent federal standard of 60 ppm, GoodGuide said.
The consumer group also said it found high levels of tin in the Mr. Squiggles toy hamster.
The family-owned Missouri company that makes Zhu Zhu Pets vehemently refuted GoodGuide's findings, saying all its toys pass rigorous safety tests. On Monday, the toy company's CEO said he appreciated GoodGuide's clarification about its "misleading testing information" and again assured parents that all Zhu Zhu Pets are safe.
"I am pleased that GoodGuide has issued a clarification and acknowledged that their testing is 'different from the testing methodology' used by the U.S. and the E.U., and has led to 'confusion' about their research," Cepia Ceo Russ Hornsby said in a statement. "As we have continually stressed, all Zhu Zhu Pets toys are safe and compliant with all U.S. and European standards for consumer health and safety in toys."
Hornsby criticized GoodGuide's use of XRF technology in its analysis, calling it an "inferior testing methodology." He also said the consumer group's report created unnecessary concerns for parents during the busy holiday seasons.
"The claims made by GoodGuide have, unfortunately, caused great confusion with parents," Hornsby added. "I want to assure everyone who has purchased any Zhu Zhu Pets, or those planning to purchase one, that the toy is 100 percent safe."
Cepia also posted recent test results on its Web site claiming that the Zhu Zhu pets passed various quality and safety standards.
Keeping an eye out
Back in Washington, the CPSC said it will test the Mr. Squiggles Zhu Zhu pets to "reaffirm" the laboratory results the agency has already reviewed.
"We never say a product is 100 percent safe," CPSC's Wolfson told us. "But this (Mr. Squiggles) product doesn't violate any safety standards and is not putting children in harm's way. We are still going to do our own testing and still keep an eye on this product."
The CPSC would also like GoodGuide to share its test results with the agency's safety experts.
"We're an agency with a lot of experience working with consumer groups," Wolfson said. "And in many cases they share information with us in advance. In some cases, the information brought to our attention has led to recalls. In other cases, we've shared information with groups about testing."
"We have a good set of relationships with a lot of consumer groups who come out with these (toy) lists," he added. "We want GoodGuide to share their data with us...they did not come to us in advance."