---
December 4, 2009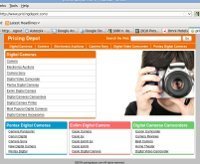 Texas Attorney General Greg Abbott has charged several price-comparison Web sites with unlawfully misleading online shoppers about the quality of certain Internet merchants, accusing them of what amounts to a cash-for-ratings scheme.
While the defendants promised independent, reliable Web site comparisons, state investigators uncovered a cash-for-ratings scheme in which certain online retailers paid for higher rankings.
According to court documents filed in two separate state enforcement actions, the defendants price-comparison listings misled potential shoppers about certain merchants reliability and trustworthiness. And while one defendants Web sites represented themselves as neutral and unbiased, online merchants paid that defendant to render higher ratings.
Abbott's office has filed an enforcement action against Intercept, L.L.C., which operates several price-comparison sites, including: Shopcartusa.com, Diduprice.com, Flyingprices.com, Digitalsaver.com and Pricingdepot.com. That legal action led to an agreed judgment under which Intercept promised to correct its unlawful practices and either pay a $300,000 civil penalty or cease doing business.
When their sites were checked today, Flyingprices.com, Shopcartusa.com, Flyingprices.com, Diduprice.com and Digitalsaver.com had suspended operations. Pricingdepot.com was displaying a "parked domain" page consisting of links that lead to advertisements for various products.
Everyprice.com
A separate enforcement action named Everyprice.com Inc., which operates the Web sites Everyprice.com and Lowpricedigital.com, for similar infractions. The defendants Web sites appeared to allow visitors to comparison shop and therefore find the best deals by using a single Web page to search for a product and obtain results from multiple merchants.
Those two sites were also inactive when last checked. they both displayed "under construction" banners.
"Online shoppers need to know that the Office of the Attorney General has charged multiple Web sites with unlawfully promising unbiased rankings while secretly accepting undisclosed payments for inflating sellers online ratings," Abbott said. So Texans should be wary and carefully consider their sources, because some Web sites may not be providing the unbiased ratings they promise.
Although Everyprice.com held itself out as an unbiased, honest broker, its Web sites secretly steered shoppers toward certain merchants and did not disclose that the merchants were paying for favorable treatment, Abbott charged. Thus, online shoppers who encountered vendors with trusted sellers, quality sellers or recommended merchants designations were not properly informed that the favorable labels were purchased rather than earned.
According to state investigators, Everyprice.com was not only paid for high ratings, but it allowed questionable merchants to create their own specialized endorsements for an additional fee. And although Intercept received numerous customer complaints about specific endorsed merchants, the defendant continued to rate them as top sellers that offered the lowest legitimate prices.
Customer complaints obtained by the Office of the Attorney General indicate that Everyprice.coms highly rated merchants used bait-and-switch tactics to persuade customers to purchase more expensive products than they desired. Other complaints highlighted Everyprice.coms deceptively impressive five-star rating, which merely required industry-standard privacy policies and product disclosures such as whether an item was new or refurbished. The defendants used Google, Yahoo and MSN to advertise its Web sites worldwide.
The states enforcement action against Everyprice.com seeks civil penalties of up to $20,000 per violation of the Deceptive Trade Practices Act, plus appropriate attorneys fees. The state also seeks restitution where necessary to address financial injury to the Web sites users.