---
What do the killer whale, koala bear and bookstores all have in common? They all appear to be on the verge of extinction.
Book sales have been on the decline and while Harry Potter and Sarah Palin have brought sales up, there just arent enough giant releases to captivate audiences into spending $25 or more on a new book. The industry's answer seems to be moving with the times and pushing the printed word into the digital world.
Bookeen released the Cybook Opus and Sony has the Reader, but the most well-known has been Amazon's Kindle, at least until now. Barnes & Noble, the biggest bricks-and-mortar book retailer, is hypeing the launch of its e-reader, the Nook, setting up a head-to-head battle with the Kindle.
But whether Nook slugs it out with the Kindle for the hearts of holiday shoppers is questionable. The company has now delayed shipment of the device into January 2010 for any orders received after Nov. 20, blaming high demand.
Hoping to salvage some holiday sales, Barnes & Noble is offering a "Nook holiday certificate" that tells the recipient the e-reader will arrive "early in 2010."
At first glance Nook is a flashy hand-held one would expect to feature an Apple logo. It runs on the Android platform originally developed by Google and the company says third-party apps could make an appearance in the future.
E-books will be displayed on Nook's six-inch E Ink screen, which features a touchscreen on the bottom to allow easy access to your Nook library. Nook sports a 2-gig hard drive that Barnes & Noble says will hold close to 1,500 e-books, all of which can be downloaded online using a built-in Wi-Fi supported by AT&Ts 3G Network.
Enter the Nook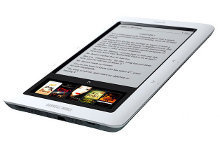 Perhaps Nook's most distinguishing feature is LendMe, which gives users the ability to share an e-book for up two weeks with someone else. E-books can be sent to another Nook or to an iPhone, iPod touch or any home computer with the Barnes & Noble e-reader software.
The lending feature can only be used once per book and won't be available on all titles.
Nook users will also have the ability to enter any Barnes & Noble retail store and view a huge selection of e-books for up to one hour. This try before you buy model could be Nook's biggest selling point to consumers. The company likes it because it requires users to actually be in the store, increasing the chances theyll buy something.
The Kindle also lets users preview books but in most cases limits the sample to a single chapter.
Both the Nook and Kindle retail for $259 and the average e-book will run around $9.99. Unfortunately though, Barnes & Noble members won't get their usual 10 percent discount on e-books or Nook itself. The company said the unit is already priced as low as production costs will allow.
Besides books, Nook features an mp3 player and The Daily, a feature on Nook's touchscreen that gives users instant access to a variety of online content like articles and news updates.
Like the Kindle, Nook allows readers to view newspaper and magazine articles, though with only limited illustrations and lacking most of the design elements that make print versions more aesthetically appealing.
Both utilize the 3 Ink screen display which supposedly eliminates glare and makes reading possible in any situation. However, my colleague Truman Lewis has been testing a Kindle 2 since last March and disputes this claim.
"The 3 Ink screen may reduce glare but it is not glare-free," Lewis said. "In fact, the relatively low contrast makes the screen quite hard to read under some circumstances."
Not too hot
Even worse, said Lewis, is that the screen seems sensitive to heat.
"When the ambient temperature is high -- say, at the beach or in your backyard on a hot summer day -- the letters tend to fade into obscurity, achieving a genuine tabula rasa effect that may not be what most readers were anticipating," he said. Lewis said he plans a follow-up review shortly.
One thing Nook lacks is the Kindle's somewhat controversial text-to-speech function, which allows users to have selected texts read aloud by a computerized voice.
However, the Authors Guild -- already locked in seemingly mortal combat with Google -- is considering legal action against Amazon, claiming the text-to-speech feature violates the law. Audio book publishers are also disgruntled, saying the feature runs the risk of hurting their business. That argument is likely to be settled in court.
Nook niggles
Nook downsides -- other than availability -- are few but apparent. Its claimed battery life is slightly shorter than the Kindles, 10 days to around 14 for the Kindle. Nook is also a little bulkier than the Kindle, even with its touchscreen keyboard.
While Nook and Kindle are obviously similar in many ways, Barnes & Noble hopes to position its product as the iPod of e-readers. In a holiday season when consumers may be tightly budgeted, Barnes & Noble is betting its sleek, shiny and bell-and-whistle-filled e-book will buck the economy trend, and be a holiday hit.
But it's a little hard to see how that will happen, given that Nooks will be in tight supply until at least January while Amazon shows no signs of rationing the Kindle.