---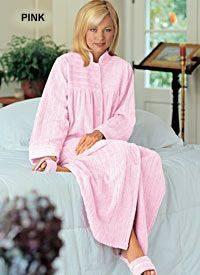 A Pennsylvania clothing company has expanded a recall of highly flammable bathrobes, as a Connecticut woman says the company's negligence led directly to her mother's fiery death.
Blair LLC, based in Warren, Pa., initially recalled 162,000 of its chenille robes in April, as it announced that it had received reports of three deaths blamed on the robes' extreme flammability. The company also received a complaint from a woman who suffered second-degree burns but survived after her robe caught fire.
Now Blair and the Consumer Product Safety Commission (CPSC) have expanded that recall, as six additional deaths are linked to at least four types of chenille robes and other chenille products produced by the same manufacturer.
At least five of the reported deaths involved women who were cooking while wearing the robes. According to CPSC spokesman Scott Wolfson, most of the victims were elderly, and at least three were in their 80s. All of the recalled products were produced by A-One Textile & Towel, based in Karachi, Pakistan.
Meanwhile, Sharon Davis of Connecticut is seeking $30 million in a wrongful death suit against Blair. Her mother, Atwilda Brown, was making tea in her chenille robe in 2005 when it caught fire. She was able to call 911, but the robe burned so quickly that she was dead by the time emergency crews arrived. According to local Connecticut news channel WFSB, the responding fire crew said they had never seen anything burn so quickly.
Davis received all of Brown's mail after her death, and was devastated when she received April's recall notice. "My husband and I were just beside ourselves and it proved that it didn't have to happen," Davis told WFSB. Davis hopes her suit will make other families aware of the robes' deadly propensity.
The expanded recall covers around 300,000 items. Products covered by the recall include full length women's chenille robes, women's chenille jacket, women's chenille lounge jackets, and women's chenille tops.
Recalled robes bear the item numbers 3093111, 3093112, 3093113, 3093114, 3093115, and 3093116. According to the CPSC, the items are one-piece garments made of plush sculpted chenille, a shaped stand collar, and horizontal chenille front and back yolks and cuffs. The robes have a full-button front with seven matching button closures.
Affected items were sold both in Blair catalogs and on the company's website, as well as Blair stores in Warren, Pa., Grove City, Pa., and Wilmington, Del., from January 2003 through March 2009. Consumers can return the robe to Blair and receive a refund or a $50 gift card by contacting the company at (877) 392-7095 between 9 a.m. and 9 p.m. ET Monday through Saturday, via the firm's Web site at www.blair.com/recall, or by e-mail at blairproductrecall(at)blair.com.
Meanwhile, the CPSC urged consumers to remain vigilant. "CPSC urges all consumers to report any incidents or injuries involving consumer products, even after a recall has been announced," Acting CPSC Chairman Thomas Moore said in a statement. "Contact the CPSC so that we may help prevent tragic deaths or injuries like those that might be related to the Blair robes."
The recall bears a resemblance to a 2001 situation involving clothing store The Limited. The company agreed to pay a $500,000 penalty to the CPSC for knowingly selling polyester pajamas and bathrobes that didn't meet federal flammability standards for sleepwear.
At the time, CPSC spokeswoman Ann Brown said, "The message to industry should be clear -- we will not tolerate conduct that puts consumers at risk, including the sale of flammable sleepwear to consumers." In that case, The Limited had also instituted a voluntary recall.