---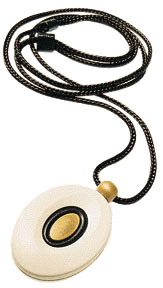 The Food and Drug Administration today is warning people who wear personal emergency response buttons around the neck of a potential choking hazard.
The agency says it is aware of at least six reports between 1998 and 2009 of serious injury or death, including three deaths in the United States and one in Canada, from choking after the cord on the Philips Lifeline Personal Help Button became entangled on other objects worn around the neck.
More than 750,000 people use these devices in the United States and Canada. By pushing the "help" button on the device when in distress, users can call for emergency assistance to their home. Philips Lifeline says the device is used primarily by seniors living independently, who feel they are at risk for falls or other medical emergencies.
The Lifeline pendant button is intentionally designed to not break away when tugged, which prevents the button from accidentally falling off. However, because it does not break away, there is a risk of choking, including the possibility of serious injury or death.
Risks are greater for those with mobility limitations or for those who use wheelchairs, walkers, beds with guard rails, or other objects that could entangle with a neck cord.
Philips Lifeline is currently sending letters to its 750,000 customers and has changed the labeling of this product to include a warning against the potential choking hazard.
The FDA recommends users consult their health care providers to determine which style of emergency button, including those that are worn on the wrist, is most beneficial for them.
The widely used devices provide critical and immediate access to emergency care for those at risk of falls or who may be more likely to need outside assistance. While the number of adverse events reported is small compared to the number of people who use this device, the severity of these events is of concern.
It is important that users, along with their health care providers, assess the options provided by each style of button, and choose the option that best fits their condition.