---
August 25, 2009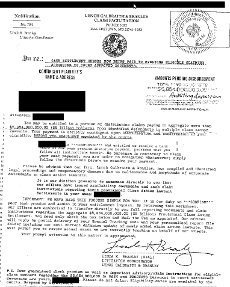 Consumers around the country are complaining that they have received bogus notifications claiming that they are entitled to a damages award as part of a class action lawsuit. The letters, mailed from Hagerstown, Md., ask the recipients to send a check to "start an account" so that they can claim their share of the award.
The scheme is a fraud, says Harvey Rosenfield, a California attorney who founded the non-profit Consumer Watchdog organization. Rosenfield learned of the scam when he began receiving calls from hapless consumers who found his name on a list of pending class-action cases. The list, which Rosenfield said is virtually worthless, is all consumers receive for their money.
"You may be entitled to a portion of distribution claims paying in aggregate more than $5,854,000,000.00 ($5 Billion Dollars) from identified defendants in multiple class action lawsuits," says one letter Rosenfield obtained and shared with ConsumerAffairs.com. "Your payment is strictly contingent upon identification and confirmation of your eligibility."
The letter, supposedly from a "claim facilitation" firm called Lynch, Galbraight & Branley, was signed by a Linda K. Branley. Like similar letters from supposed organizations with names like "Offices of Class Action Watchdog," it bears a return address of PO Box 5032, Hagerstown, MD 21741-5032. The Maryland Bar Association does not list any attorneys named Linda Branley. Nor do any of the commonly-consulted legal directories.
The letter goes on to state that, "Our offices are authorized to transfer directly to you full reporting documents and claim instructions regarding the aggregate $5,854,000,000.00 ($5 Billion Dollars) ... You need only check the box below and Mail the Fee as appointed." The fee in the letter we reviewed was $79, though similar letters from the same address asked for varying amounts.
While a casual reading of the letter would lead one to think that paying the fee would result in the consumer receiving payment, that's not the case. A more telling paragraph states:
"Our offices will reply by postal delivery of your Special Tracking Code and your personalized report file folder including our most current database update of newly added class action lawsuits. This will permit you to review actual cases we are currently tracking."
In other words, the fee will at best produce a list of pending class actions, leaving it up to the recipient to determine whether he or she is eligible for inclusion in the class.
A consumer who sent back the fee received a letter, again from PO Box 5032, confirming her "annual online subscription to the Class Action Watchdog Member website." It advised her to go to www.classactionwatchdog.com and use the username and password provided in the letter.
But in fact, www.classactionwatchdog.com is what is known as a "parked domain" -- a page that displays search results for various topics, in this case class actions. There is no content and no place to enter the username and password.
Public records available at DomainTools.com indicate the domain is registered to New Ventures Services Corp., which owns about 36,000 other domain names. The registration is handled by Network Solutions Inc., which -- for an extra fee -- keeps registrant contact information confidential.