---
Even before President Obama had signed the "cash for clunkers" bill, car dealers were jubilantly proclaiming the measure amounted to "cash on the hood" and consumer advocates were warning potential car buyers not to be taken in by fast-talking car salesmen -- or slickly-designed, official-looking Websites, which were already sprouting like weeds.
Alarmed by the profusion of sites designed to collect consumers' identity and/or cash, the National Highway Traffic Safety Administration (NHTSA) issued a warning that consumers should not be deceived by official-seeming sites such as "Cash For Clunkers Headquarters," which claim to offer information on how to trade in your car. Sites that ask for personal information or offer a pre-registration opportunity should not be trusted, the agency said.
"There's only one official site for the government, and that's NHTSA's CARS.gov website," said NHTSA press officer Eric Bolton. "Folks should go there and not rely on "cash for clunkers" sites on the internet as they are not official."
This did not set well with the proprietors of CashForClunkersHeadquarters.com, whose publicists were soon burning up the phone lines, basically insisting that NHTSA must be mistaken.
"For some reason, consumer affairs (sic) published that our website may be one of these 'scam' sites and that is absolutely incorrect," emailed Erin Miller, an employee of HL Group, a New York public relations firm. Miller had been told before submitting the statement that a NHTSA spokesman had used the site her firm represents as an example of sites that consumers should be wary of -- and that that was the reason the site was named in the story.
"Were seeing a lot of 'cash for clunkers' sites sprouting up around the WWW," said NHTSA's Bolton in a June 23 email to ConsumerAffairs.com. "Some want a lot of personal information, and talk about consumers being able to pre-register. Check out www.cashforclunkdersheadquarters.com, for example. See the pre-register button."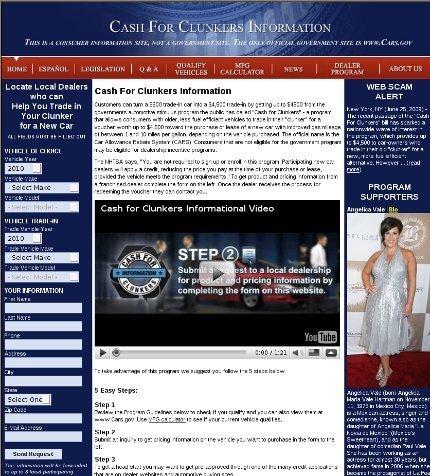 One entire column of the CashForClunkersHeadquarters site home page is devoted to gathering consumers' personal information.
Generally-accepted practice in the publishing industry is to identify advertising and marketing content as such. While the "clunkers" site notes that it is not affiliated with the federal government, it presents itself as a site that works on behalf of consumers, when its apparent purpose is to gather, and presumably sell, "leads" to car dealers.
In her statement and an earlier telephone conversation, Miller insisted that the "headquarters" site was working in conjunction with NHTSA and was a "legitimate consumer site."
"Our organization contacted the NHTSA weeks before the launch of their website to offer our assistance to help inform the visitors of our website about where they can go to get more information. When the NHTSA launched their website we directed our visitors there to get more information. Since then we have continued to inform the public about new developments and we help them connect with retailers who can give them pricing information over the internet," she said.
The CashForClunkersHeadquarters.com site is operated by Level 5 Advertising, an advertising agency located in Dulles, Va. The agency's Web site consists of a single page and provides no further information about the company.
The official site, Car Allowance Rebate System (CARS) is the latest iteration of the plan to stimulate the auto industry through convincing buyers to trade in their Humvees for eco-friendly models. The Congressional Budget Office (CBO) has said the bill could jumpstart sales of up to 150,000 cars.