---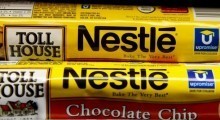 The recall of Nestle cookie dough that's possibly tainted with E. coli is taking an economic as well as a health toll. The company says the Virginia plant that produces the dough has been closed temporarily and some workers will likely be put on furlough.
Nestle recalled the cookie dough after getting word from the Food and Drug Administration and the Centers for Disease Control and Prevention that the product was linked to an E. coli 0157:H7 outbreak.
A company spokeswoman said within 24 hours Nestle closed the plant — in the small southeastern Virginia town of Danville — and stopped shipping product. The company recalled 300,000 cases of the cookie dough. Each case contains 12 packages and each package bakes 24 cookies.
Of course, some of those who got sick never got around to baking, but rather ate the dough raw. Eating raw cookie dough, it turns out, is a guilty pleasure for millions. But health experts advise against it, with the latest E. coli outbreaking demonstrating the reason.
According to the CDC, 70 people in 30 states were infected with E. coli 0157:H7 between March 1 and June 22. Victims ranged in age from two to 57 years, though more than 70 percent were younger than 19. Three-quarter of those infected were female, according to the CDC.
Twenty-five people required a stay in the hospital, and seven had developed a kidney failure called hemolytic uremic syndrome. No fatalities had been reported, according to the CDC.
"Preliminary results of this investigation indicate a strong association with eating raw prepackaged cookie dough," the agency said. "Most patients reported eating refrigerated prepackaged Nestle Toll House cookie dough products raw."
What to do
The agencies said consumers should:

• Throw away any prepackaged, refrigerated Nestle Toll House cookie dough products you may have in your home.
• Do not cook the dough because you might get the bacteria on your hands and on other cooking surfaces.
• Contact your health care professional immediately if you or your family have recently eaten the dough and have had stomach cramps, vomiting or diarrhea, with or without bloody stools.
• If you have additional questions about the recalled products, contact Nestle consumer services at 800-559-5025 or visit the companys Web site.
Safe Food Handling
FDA reminds consumers they should not eat raw food products that are intended for cooking or baking before eating. Use safe food-handling practices when preparing these products, including

• following package directions for cooking at proper temperatures
• washing hands, surfaces, and utensils after contact with these types of products
• avoiding cross-contamination
• refrigerating products properly