---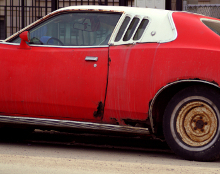 The House of Representatives has voted to a pass legislation that would pay consumers up to $4500 for trading in old gas-guzzlers for new, more fuel-efficient vehicles.
The measure, designed to both spur auto sales and reduce U.S. fuel consumption, now goes to the Senate. If passed, President Obama is expected to sign it.
Under the so-called "cash for clunkers" bill, a consumer is rewarded for trading in cars that average 18 miles per gallon or less on the combined city/highway cycle. If they purchase a new vehicle that gets an extra four miles per gallon or more, they would receive a voucher for $3,500. If they purchase a new vehicle that gets 10 miles per gallon or more than their "clunker," the value of the voucher goes up to $4500.
Supporters of the plan say there is no way to game the system. It won't apply to prior sales and consumers can't trade in vehicles that haven't been insured in the last year. Also, if the vehicle is more than 25 years old, it doesn't qualify.
The measure passed the house by a 298-119 vote and carries a total price tag of $4 billion. The program would end after one year, or when the money runs out, whichever happens sooner.
Auto industry analysts say the plan, if implemented, could stimulate new vehicle sales beginning as early as August. Since many of the "clunkers" are in the truck category, they say the plan would likely have the most impact on U.S. truck sales.