---
By Truman Lewis
ConsumerAffairs.com
May 24, 2009
It's a victory some say is largely symbolic, but American consumers got a Memorial Day present from Congress and the Obama Administration: the Credit Card Accountability, Responsibility and Disclosure Act (CARD), signed into law by President Obama Friday afternoon.
Obama called the measure "common-sense reforms designed to protect consumers." It bans unfair rate increases, prevents unfair fee traps, requires plain language in plain sight for disclosures, increases accountability all around, and institutes protections for students and young people. The Federal Reserve had already ordered similar protections but its decree will not become effective until mid-2010.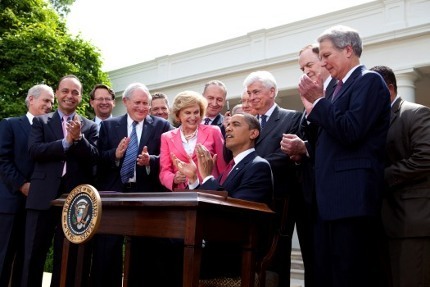 President Obama and lawmakers applaud following his signing of the Credit Card Accountability, Responsibility and Disclosure Act. (White House photo)
Under the new law:

• credit card issuers will be required to tell card holders how long it will take to pay off a balance and what it will cost in interest if they only make the minimum monthly payments;

• retroactive rate hikes that appear on a bill "suddenly with no rhyme or reason" will be barred, Obama said;

• companies will have to post their agreements online;

• consumers will have to mail statements 21 days before payment is due, instead of 14;

• shifting payment dates will be prohibited; and

• 45 days' notice will be required for changes in terms and conditions.
More details are available on the White House Web site.
It's estimated that the average household debt by credit cardholders who carry a balance is around $17,000. The White House said that every year, Americans pay around $15 billion in penalty fees. Nearly 80 percent of American families have a credit card, and 44 percent of families carry a balance on their credit cards.
Obama said the changes were not intended to encourage reckless spending.
"We're not going to give people a free pass; we expect consumers to live within their means and pay what they owe. But we also expect financial institutions to act with the same sense of responsibility that the American people aspire to in their own lives," he said at the Rose Garden signing ceremony.
Reaction
Consumer activists generally applauded the measure while bankers said it would restrict credit available to consumers and slow the economic recovery.
"While even consumers who usually pay off their cards monthly are hit by unfair rate hikes and lowered credit limits, industry employs predatory tactics aimed at 'revolvers,'" the Center for Responsible Lending said in a statement.
Gun provision
Sen. Tom Coburn (R-Okla.) tacked on an unrelated provision that allows visitors to national parks and wildlife refuges to carry loaded weapons if they are already licensed to carry firearms. Congressional leaders decided not to contest the measure in order to meet Obama's request that the measure be ready for signing before Memorial Day.