---
Texas Attorney General Greg Abbott has charged a southern California businessman with violating the Texas Deceptive Trade Practices Act (DTPA). According to the states enforcement action, the defendants do-it-yourself manuals on installing water-to-fuel devices in vehicles do not reduce fuel costs, increase gas mileage or enhance engine performance.
Eyal Siman-Tov, also known as Ozzie Freedom, operates 1 Freedom Inc. and an affiliated Web site, water4gas.com, as well as several other online sites. In addition to his manuals claims about the benefits of water-to-fuel conversion, the defendant also falsely stated that purchasers who fitted their vehicles with water-to-fuel devices would be eligible for a federal income tax credit.
The company's practices were exposed in a July 2008 story by ConsumerAffairs.com's David Wood, who reported that scientists found the claims preposterous, with one saying the energy created would "not amount to a hill of beans."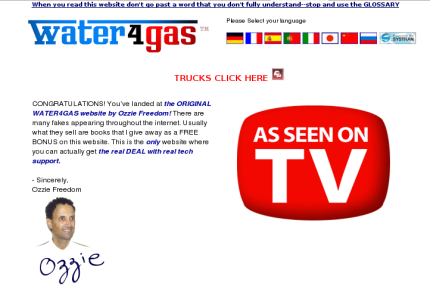 Almost 3,200 Texas customers purchased the manuals between October 2007 and September 2008, when gasoline prices peaked. The so-called Water4Gas manuals cost $97 for a two-book set.
The defendants Web sites claim that the manuals guide users through a vehicle modification process that purportedly allows customers to use water as a fuel source.
To achieve this, the manuals claim to instruct customers how to construct an onboard hydrogen-on-demand device, which allegedly works with the vehicles battery to split water molecules into oxygen and hydrogen gases through electrolysis. The resulting mixture of these gases, called Oxyhydrogen, is then burned as fuel along with gasoline or diesel.
The Attorney Generals investigation revealed that Siman-Tov has no competent and reliable scientific studies to support his claims. For example, investigators have uncovered no reliable lab test results concluding that customers can expect the enhanced engine performance as described in the defendants online testimonials.
The Office of the Attorney General seeks injunctions to halt the unfounded claims, as well as civil penalties of up to $20,000 per violation of the Texas Deceptive Trade Practices Act, and restitution for financially harmed customers.