---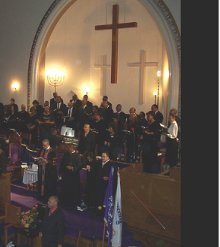 Dampening Easter services at African-American churches around the country this year is a computer scam that District of Columbia officials say has cost some congregations $50,000 or more.
District of Columbia Attorney General Peter Nickles filed suit against several individuals and companies accusing them of a nationwide scam to defraud African-American church congregations of hundreds of thousands of dollars. The scam allegedly targeted up to 50 predominantly congregations in the District, as well as many more in Maryland, Michigan, Wisconsin, Texas, California and other states, he said.
While it is not surprising that in tough economic times we see an increase in financial scams, what is unconscionable is that these Defendants allegedly targeted their scheme at religious congregations — groups whose funds are often used to feed the poor, assist people with housing, and otherwise benefit those in need in their community, Nickles said. The community is outraged at this egregious behavior, and I intend to aggressively pursue recovery on behalf of these congregations, many of which have been severely impacted by this scam.
The Districts suit alleges that the defendants approached numerous congregations offering free computer kiosks that they could place in the church lobbies to provide community and church information. Some churches were allegedly told they could make money from advertising.
Long-term lease
As part of the agreement to receive the equipment, congregation officials unwittingly signed documents that obligated the groups to long-term lease payments amounting to $50,000 or more. But in fact, Nickles suit alleges, the computer equipment was valued at no more than a few thousand dollars, and in some cases, did not function properly.
Defendants named in the case are Television Broadcasting Online, Inc., Washington, D.C.; Urban Interfaith Network, Inc., Oxon Hill, Md.; Michael Morris, Willie Perkins, and several national leasing companies, including United Leasing Associates of America, Brookfield, Wis.; Balboa Capital, Irvine, Calif.; and Chesapeake Industrial Leasing, Baltimore.
Although Nickles' lawsuit is thought to be the first governmental action against the companies, several churches in Wayne County, Mich., have filed a civil suit against TVBO, Urban Interfaith and United Leasing, claiming fraud and civil conspiracy. They are seeking monetary damages and to have the leases voided.
United Leasing, through its attorney Steve Morgan, denied the allegations and will seek to have the lawsuit dismissed, the Milwaukee Journal-Sentinel reported. Morgan said United Leasing simply provided the financing and had no contact with the churches other than when they signed leases. He said the leases contain the same standard wording used by other leasing companies throughout the nation and are not unusual.
The newspaper said that over the last year, United Leasing has filed lawsuits against 39 churches in eight states, contending the churches owe it at least $1.4 million for failing to make monthly payments on the computer kiosks they leased.
The "business-as-usual" defense is customarily used by leasing companies that finance — and profit from — scams and get-rich-quick schemes but it doesn't always work. In 2003, Leasecomm agreed to cancel $24 million in judgments and reform its business opportunity financing contracts to settle charges by the Federal Trade Commission and an eight-state task force that the practices violated federal and state laws.
Leasecomm had financed the purchase of supposed business opportunities such as work-at-home operations using business opportunity sellers as its agents.
Angry mayor
Washington, D.C. Mayor Adrian Fenty reacted angrily to news of the alleged scam. He called on the Justice Department to open a civil rights investigation into the matter.
"They made it seem like they were bringing a technological advance to the church, and what they were doing was setting themselves up to take thousands of dollars from the churches who needed the money for their own survival," Fenty said at a news conference, The Washington Post reported.
Fenty said some church bank accounts were raided after the congregations provided their checking account information to the companies. Washington's Mount Horeb Baptist Church said it lost $62,000 and has had to cut back services to make ends meet. United Leasing said it debited the church's checking account 22 times in one day without the congregation's consent, removing $62,801, but said the lease the church signed permitted it to do so.