---
Unless you have been hiding under a rock, you've probably seen advertisements on how the government is giving away grants for almost any need. Need to pay medical bills or fix your busted old clunker of a car? No worries, there are free grants for that — at least according to the hundreds of Web sites currently populating the Web.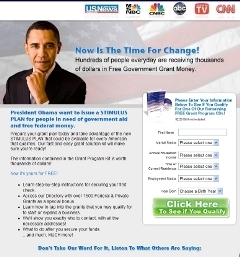 "Obama's New Free Grants: Obama Is Giving Out Free Grants To Help Those in Need," reads one ad. "Government Grants Exposed: We've Tested 47 Grant Websites To Tell You Which Ones Really Pay!" exclaims another.
Although government grant scams have been around almost as long as the government itself, the majority of the sites being advertised today didn't exist before the November 2008 election.
According to the grant Web sites, Washington and President Obama are not only bailing out Wall Street, they will also gladly bail out you and everyone on your street — all in the form of free government grants.
Earn Cash From Grants!
One of the hundreds of sites we visited was earncashfromgrants.com. According to their testimonials, people who have purchased the $1.00 Rapid Grants Solutions Kit have received grants for just about everything — even to fix their cars.
But those in the know say it just ain't so.
"I have never seen an individual get a government grant to repair their car," said Gail Vertz, CEO of the American Association of Grant Professionals. "I've been in the grant business for 22 years and looking at these Web sites is frightening. It looks like they are targeting individuals who are in financial distress," Vertz said.
On one of the sites, we gained access to the "members area" where the grant "secrets" were supposedly located. There we found three electronic books (e-books) on the subject of government grants.
In one e-book, The Truth Behind Government Grants Exposed, the author (whoever he or it might be) admits that grants are not easy to get. The e-book goes so far as to say, "Now, I know what you must be thinking, but don't be discouraged because understanding that you do not qualify for the majority of Federal and Private Grants is the first step to actually getting a grant."
That's a strange statement considering their Web site says that "you may qualify for a piece of the millions and millions of dollars awarded each year by private and government grant agencies to regular people like you."
But never mind such niggling details. The book goes on to suggest that you might not even need a grant. Instead, maybe you just need a loan, or an entitlement such as Social Security, Medicare or Workers Compensation.
We wondered just who might know the U.S. government so intimately that it had access to such closely-guarded get-a-grant secrets. We discovered that earncashfromgrants is the Internet property of — what else? — a Canadian company called 1021018 Alberta Ltd., an outfit that has already been sued by Microsoft and Symantec for software piracy.
Now, one must wonder why a Web site would go to so much trouble just to make a dollar. In reality, losing a dollar might be the least of your troubles if you fell for this pitch.
Once you read the terms and conditions of any of the "grant" sites, you'll see that purchasing their "product" will also enroll you in various membership programs, typically ranging in price from $30.00 to $70.00 per month. Most will also enroll you in third-party programs and your credit card will be hit every month until you cancel, which isn't easy to do when you don't know where the charge is coming from.
You'll also probably see some type of trial period. However, many of the sites we checked out started the trial the day that you place the order. Most sites said they gave a 7-day trial but that it could take 5 to 10 days to receive the product. Considering the trial started the day you ordered, the trial would be over by the time you receive the product, therefore your credit card would be charged for all the member fees.
Bogus "review" sites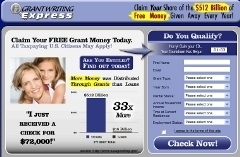 Just as we saw with the "run your car on water" scheme, the government grant sites typically will flood the Internet with advertising for sites that look like legitimate "review" Web sites.
The majority of these sites are affiliates of the main "grant" companies. The affiliate will create fake reviews and testimonials, along with bogus pictures of supposedly thrilled customers, and then when you click to order you will be taken to the main Web site.
The affiliates make money if you order, and some online forums even teach affiliates how to make a good "review" site, complete with asking a neighbor to write a testimonial.
In an effort to make the sites look more legit, most will use President Obama's picture along with news logos from CBS, NBC, Fox News, etc.
Knowing full well that their product had not been featured by any news station, we asked one telemarketer why their Web site said, "As seen on CNN." She told us that it was because they had bought an advertisement on the CNN Web site, hence the reason they bragged about being seen on CNN.
Many consumers have questioned why legitimate sites allow such advertising.
"The government grants ads are blatantly deceptive, such as the one of President Obama holding up a check," said James, owner of the blog WafflesAtNoon.com. James has been tracking these bogus sites and has a huge list on his blog, but having been in advertising for 20 years, he also questions why advertising companies accept these ads in the first place.
"When I got into advertising in 1989, things were far different. I remember having conference calls to discuss a single questionable word in an ad. Before the internet, advertisers had to jump through hoops to get their ads approved," James said. "Now it's like Mad Max or the Old West. We can't trust advertising even on the most reputable Web sites because they sell advertising to third parties who then re-sell it."
In most cases, a Web site that displays third-party ads can't predict what ads will be shown. And even if a site can block each individual ad, there are numerous new sites created each day that would need to be found and blocked — a virtually impossible task for most sites.
"Consumers need to understand that advertising is not the same thing as news or entertainment. It's paid propaganda and its only purpose is to get you to do something -- buy something, vote for somebody, send somebody money," said the president of one well-known site who insisted on anonymity because he said he was so embarrassed at the grant ads that pepper his site.
"The fact that an ad appears on Oprah Winfrey's show, or in the New York Times or on ConsumerAffairs.com doesn't mean that the product, service or candidate being advertised is any better than similar things advertised somewhere else. The people who write news and produce shows have nothing to do with the ads, and vice versa."
"There's nothing wrong with advertising but consumers have to recognize it for what it is," the Web site president said.
Feds take note
Some of the grant ads have begun to garner the attention of the Federal Trade Commission.
"We care enormously about protecting consumers," said Lois Greisman, Associate Director of the Division of Marketing Practices at the Federal Trade Commission. "We sue bad spammers, bad telemarketers, and bad get-rich-quick schemes," Greisman said. "Even if a company is in Canada, we can sue them here."
Greisman said she wants to hear from consumers about these grant companies, especially if the consumer has purchased anything or had their credit card charged without their knowledge.
"They need to file a complaint at FTC.gov. Our complaint database is available to more than 1600 law enforcement entities, both in the U.S. and Canada."
Research pays off
The fake grant sites want you to believe that you, as an individual, can get a federal government grant, but the fairy tale they tell is just that — a fairy tale. Grants are almost never awarded to individuals.
"The fact is, 98 percent of federal grants are awarded to schools, local governments, colleges and universities, and non-profit organizations," said Vertz of the American Association of Grant Professionals.
Organizations can research grant opportunities by hiring a grant writer. A grant writer will locate potential funding sources such as the feds, the states and foundations. They also develop relationships with funders. Expect to pay $50.00 to $200.00 per hour for their service.
The government also has a Web site dedicated to the subject of grants at http://www.grants.gov Grants.gov.
Ads are ads
Oh, and ignore the ads that surround this article.