---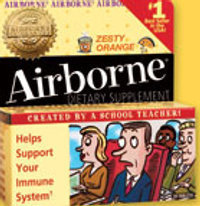 The makers of a widely-advertised dietary supplement have agreed to pay $7 million to 33 states and to stop promoting their product as a cure for the common cold. It's the second big penalty for Airborne. In August, the company agreed to paythe Federal Trade Commission $30 million.
Airborne dramatically misrepresented its products as cold remedies without any scientific evidence to back up its claims, California Attorney General Edmund G. Brown Jr. said. Under this agreement, the company will stop advertisements that suggest that its products are a cure for the common cold.
Airborne began selling its products as a cold remedy on the Internet around July 2000 and on television in 2004. In its advertisements, Airborne featured people suffering from cold and flu symptoms and made unsupported statements suggesting its products were a cure for the common cold. These included:

• Airborne Cold Remedy
• A Miracle Cold Buster!
• Sick of Catching Colds?
• Take at the first sign of a cold symptom.
The company also requested that retailers sell Airborne products in the cold/cough aisle.
To substantiate their claims, Airborne relied upon studies that claimed the major ingredients in their products — Vitamin C, Vitamin E, Selenium, and Zinc — prevent colds. However, subsequent definitive studies found that these ingredients do not have any discernable effect to prevent colds. Despite the information, Airborne continued to market its products as cold remedies.
Investigators raised concerns about the levels of Vitamin A in Airborne products. In older formulations, Airborne contained 5,000 International Units of Vitamin A. If the product was taken as instructed, consumers would ingest up to 15,000 International Units of Vitamin A daily.
This amount of Vitamin A poses potential health risks to vulnerable populations, including children and pregnant women. During the negotiation process, Airborne reformulated its product to contain only 2,000 International Units of Vitamin A.
Under todays agreement with 33 states, Airborne Inc. agreed:

• Not to make any claim concerning the health benefit, performance, efficacy or safety of its dietary supplements.
• Not to make any claims that imply that Airborne can diagnose, mitigate, prevent, treat, or cure colds, coughs, the flu, an upper respiratory infection or allergies.
• Not to require, demand, or otherwise influence where a retailer places Airborne, Inc. products, such as in the cold and cough aisle.
• Not to market any product that contains directions for use that would, if followed, result in an individual ingesting 15,000 International Units of Vitamin A per day.
• Pay a total of $7 million to the states.
Todays settlement covers all Airborne products including:

• Airborne- Original
• Airborne- Pink Grapefruit
• Airborne- Lemon Lime
• Airborne- Nighttime
• Airborne- Jr. On-The-Go
• Airborne- Seasonal Relief
• Airborne- Sore Throat Gummi Lozenges
• Airborne- Soothing Throat Gummi Lozenges
• Airborne- Power Pixies
The states involved in todays settlement include Alaska, Arkansas, Connecticut, Delaware, The District of Columbia, Florida, Idaho, Illinois, Indiana, Iowa, Kansas, Kentucky, Maine, Maryland, Michigan, Mississippi, Missouri, Montana, Nebraska, Nevada, New Jersey, New Mexico, Ohio, Oregon, Pennsylvania, Rhode Island, South Carolina, Tennessee, Texas, Vermont, Washington, and Wisconsin.