---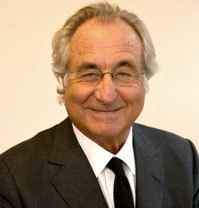 Bernard Madoff
The latest cataclysm to rock Wall Street is the news that prominent financier Bernard Madoff has been arrested for running what he allegedly called "a giant Ponzi scheme." Losses to investors may run as high as $50 billion, the Securities and Exchange Commission (SEC) charged in a civil complaint.
It's potentially the largest such schemes ever uncovered -- nearly five times larger than the fraud that drove WorldCom into bankruptcy in 2002.
Madoff, a former chairman of the Nasdaq Stock Market, allegedly deceived wealthy investors who thought they were reliably earning 2% or more per month on their money even when financial markets were performing poorly.
Madoff, 70, for decades has headed Bernard L. Madoff Investment Securities LLC, a Wall Street firm that "makes a market" in securities, meaning that it puts buyers and sellers of privately-traded equities together. That firm's operations were separate from the money management services Madoff provided for high-net-worth individuals, many of whom now fear they have been wiped out.
FBI agents arrested Madoff yesterday, acting on a criminal complaint that alleged Madoff had used funds paid in by new investors to pay existing investors what they thought were earnings on their investments.
Madoff told agents who went to his apartment to arrest him that there was "no innocent explanation" for his activities, The Wall Street Journal reported. Madoff told the agents he was "broke" and had decided his scheme "could not go on" and said he expected to go to jail, the newspaper reported.
Madoff reportedly broke the news to his sons earlier this week, telling them he had "absolutely nothing" and "it's all just one big lie."
Individuals who had entrusted their wealth to Madoff were in shock. "This is going to kill so many people," said a current investor quoted by the Journal. "It's absolutely awful."
A New Jersey man said he was "in a state of panic." He said his family had about $1 million invested in Madoff's firm. His 86-year-old mother-in-law depended on the fund for her living expenses, he said.
The securities fraud charge carries a maximum penalty of 20 years in prison and a maximum fine of $5,000,000, according to Lev Dassin, Acting U.S. Attorney for the Southern District of New York.