---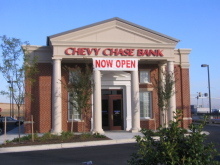 Capital One Financial Corp. is buying Chevy Chase Bankfor $520 million, gaining the No. 1 position in the Washington, D.C., market and — not coincidentally — giving it control of Chevy Chase's $11 billion in deposits.
Capital One said Chevy Chase's cash cache will help it ride out the deepening recession, along with the $3.6 billion Capital One expects to get from the taxpayer-financed bank rescue program. CitiGroup had also been bidding on Chevy Chase.
While it's not the Washington Monument, Chevy Chase is regarded as a monument in the Washington area. Founded 39 years ago by B.F. Saul, Chevy Chase is still controlled by Saul's family. The Saul family has turned aside would-be buyers for years but the bank now faces massive losses on its portfolio of risky home loans made to borrowers during the housing bubble, making Capital One's offer hard to pass up.
Chevy Chase is based in — no, not Chevy Chase — Bethesda, Md. It has been one of the leading mortgage lenders in the always-hot Washington area real estate market, pumping billions of dollars into suburbs that have spread their tentacles through the rolling hills of Virginia and Maryland, fueled by the growth of the federal government and its high-tech contractors.
In 1994, the federal government accused Chevy Chase of redlining inner-city D.C. neighborhoods. The bank denied any wrongdoing but paid $11 million to settle the charges.
Chevy Chase has nearly identical white-columned bank branches in just about every shopping center in D.C. and its Maryland and Virginia suburbs and in many supermarkets in the region. Newcomers complain they can't find their way around because every corner has a Chevy Chase bank or two, making it look like every other corner.
The acquisition gives Capital One, based in McLean, Va., the largest network of branches and ATMs in the Washington area. Most of its current branches are in New York, New Jersey, Texas and Louisiana.
"Chevy Chase is a great strategic fit for Capital One, and the combination of our two banks is economically compelling," Richard D. Fairbank, chairman and chief executive of Capital One, said in a statement. "Chevy Chase provides an opportunity to acquire a well-run retail bank with local scale in one of the best local banking markets in the U.S."
More about ...

• Capital One
• Chevy Chase