A New York company is pulling its entire line of rubber balls for dogs and warning consumers to immediately take these toys away from their pets.
The action by Four Paws manufacturing company of Hauppauge, New York, comes on the heels of a freak accident that led to the amputation of a dog's tongue.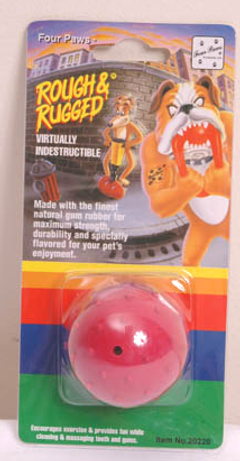 The accident happened earlier this summer when a 10-year old Lab mix named Chai was playing with one of Four Paw's toys called the Pimple Ball with Bell. The ball suddenly became stuck on Chai's tongue, according to his owner Daniel R. of New York City.
"While chewing on the toy, a vacuum was created and it effectively sucked his tongue into the hole in the ball," he said. "From speaking with my vet, this likely occurred because there is not a second hole in the ball preventing the vacuum effect from happening."
A friend taking care of Chai tried to remove the ball, but couldn't because the dog's tongue immediately started to swell. Daniel's friend rushed Chai to an emergency animal clinic, where doctors removed the ball.
It wasn't a simple procedure.
Circulation cut off
"Because the size of the opening on the ball was so small, all circulation to his tongue was cut off," Daniel said. "The doctors had to sedate him in order to remove it."
Chai's problems, however, were far from over.
"Once the ball was removed, his tongue swelled to the point that he could no longer put it in his mouth," Daniel said.
Doctors tried for three days to save the dog's tongue, but their efforts failed. On June 28, veterinarians amputated Chai's tongue.
After the surgery, Daniel said, Chai was on a feeding tube for several days and in excruciating pain. He has since had to relearn how to eat, drink and "adjust to life without a tongue."
"For the first week he was home, he couldn't be left unattended for more than 20 minutes at a time," Daniel said, adding Chai is now on a special diet that costs $200 a month. "I still have to feed him by hand and that takes about 90 minutes. But he is drinking on his ownso he is making progress."
Daniel is also making progress on another front. He wants to warn other pet owners about this problem and make sure this doesn't happen to another dog.
Daniel recently posted a blog about Chai's accident and his story has spread across the Internet.
He also contacted Four Paws and the local pet store where he purchased the ball. The pet store, he said, immediately removed the balls from its shelves.
Company ignored calls
But Four Paws initially ignored his calls.
"It was only when a friend in high places made contact on my behalf that I finally did get a response," he said.
The company turned his case over to its insurance company, which wanted to immediately settle.
"The company kept saying this was the first incident like this," said Daniel, who has $5,000 in veterinary bills. "I said I want you to make changes to the ball (add a second hole) and pay a portion of my bills. My objective was to change the design of the ball. "
Daniel said he almost took the company's offer. But that changed when he learned another dog — a five-year-old Lab mix named Cole — had the same type of accident while playing with one of Four Paw's pimple balls.
A second case
That accident happened back in 2005 — and the dog's owner notified Four Paws about problems with the ball. Daniel is angry that Four Paws did not disclose this information or change the ball's design when it first learned about this safety problem.
"When I heard about that dog, I was pretty frustrated," he said. "The response I kept getting from the company was mine was an isolated case. They said it had never happened before."
Cole's owner is stunned and saddened that another dog has suffered this type of injury.
"When heard about this, I was shocked," Zoa K. of Lancaster, Pennsylvania, told ConsumerAffairs.com. "I felt so bad. I thought I had assurances from the company that they were going to change the design of the ball (and add a second hole.)."
Zoa said there are striking similarities between the dogs' accidents.
"We were coming back from vacation in July of 2005 and Cole met us at the door with a ball in his mouth. We soon noticed that he wasn't dropping the ball — it was stuck on his tongue."
Zoa talked to her pet sitter and learned that Cole had eaten about an hour earlier.
"So we figured the ball couldn't have been on his tongue longer than that," she said. "We tried to take it off ourselves, but he was already panicking. He was slobbering and was anxious. We could only get off some little pieces and he was getting more panicky. I was also worried about cutting his tongue."
Zoa rushed Cole to the emergency vet clinic.
"They sedated him and cut off the ball," she said. "When he woke up, his tongue was swollen up behind his teeth. It looked like a saucer under a coffee cup."
She added: "What was unfortunate for him is that when he woke up he didn't know what this thing was in his mouth. He didn't know it was his tongue and he bit down on it right after anesthesia. He panicked and couldn't figure out what was going on."
Cole stayed in the hospital for two days until the swelling in his tongue went down.
"We then took him to our regular vet, who said he wanted to wait and see if his tongue would heel. He didn't want to do the amputation right away."
After ten days, though, Cole's condition deteriorated.
"The front part of his tongue was damaged," Zoa said. "It had started to separate from the rest of his tongue."
A grim prognosis
Zoa immediately took Cole back to the vet. The prognosis was grim.
"They said we could take him to the University of Pennsylvania that night for surgery — and he might survive that surgery. But if he did, he would be on a feeding tube and have to learn how to re-use his tongue.
"Cole was an energetic dog," Zoa said. "I couldn't picture him being sedated with a feeding tube — and in a kennel and being quiet — for a month. Plus, they kept saying there were no guarantees the surgery would work. At that time, they hadn't done that many tongue amputations. There were also concerns about whether Cole could even survive the trip to Philadelphia. He was bleeding profusely."
Zoa said she and her family made the difficult decision to euthanize Cole.
"My Coley boy died as a result of his injuries," she said. "He was a five-year-old bouncy beautiful lab mix that wagged his tail up till the very end when we let him cross the rainbow bridge due to the horrendous injury to his tongue."
Zoa later contacted Four Paws about Cole's accident.
"I wrote them a nice letter and said this was a freak accident that had to do with the design of your ball. It wasn't the way he was playing with it."
Four Paws, she said, didn't respond to her letter. She contacted them again — after finding the ball in a pet store and seeing it still only had one hole.
"By then, I was angry. They had not looked at the problems with the ball. I then sent them a certified letter. That was in January, 2006."
The company still didn't respond.
"That's when I called them," Zoa said. "I think I talked to three or four people. The last person I talked to was Barry Askin (executive vice-president) and he said he would look at the design of the ball and change it. I said I'm glad you're making those changes and will look forward to seeing how you accomplish that."
At that point, Zoa said, she thought the matter was resolved.
"Now that this has resurfaced, I feel so bad that I let it go," she said. "And I'm disappointed that Four Paws didn't deal with this issue three years ago. It's a simple fix."
Company tried to fix problem
ConsumerAffairs.com contacted Four Paws, which said it changed the ball's design after Cole's accident. The company also thought the problem was fixed.
"When Zoa contacted us, we made an attempt to fix the ball," Askin told us. "We asked the manufacturer to make sure the second hole in the ball was open. We also made the larger hole one-third smaller and thought that would alleviate the problem.
"We're not trying to minimize this issue. I've looked at those pictures (of Chai) numerous times and I feel terrible. But I thought we had corrected this problem. We've had no issues like this in three years."
Since learning about Chai's accident, Askin said the company has posted a warning on its Web site about this safety problem.
It is also pulling its entire line of pimple balls — not just the ones involved in Chai's accident.
"What we're doing is recalling that product and any product we make with a hole in the bell," Askin said. "We're doing this to be on the safe side. We are 99 percent sure we can fix this problem. We're trying to redesign the ball, but if we can't do it so it totally avoids this type of problem, then we will discontinue this product."
Feds no help
Askin said he contacted the Consumer Product Safety Commission (CPSC), the federal agency that regulates the safety of consumer goods, about the company's recall.
"I reached out to them for help, but they wouldn't talk to me. They said we do not regulate pet products. You are on your own."
Askin said his company is doing everything it can to warn pet owners about this problem and prevent it from happening again.
Specifically, he said, the company has:

• Posted a warning on its Web site;
• Stopped shipping the pimple balls to its distributors;
• Asked its distributors to contact retailers and pull the pimple balls from store shelves;
• Halted shipments of the pimple balls from the manufacturer in China;
• Sent e-mails to customers about the problem.
Askin said he is going to China next week to inspect the manufacturer's plant and ensure the problem is corrected.
"We're doing everything we feel is possible," he said. "If anyone has any other idea, I'd be glad to add them."
ConsumerAffairs.com told Askin about one online company selling the pimple balls. After our interview, he contacted that vendor and told them to stop selling the products.
"We know we can fix this problem," Askin said. "But our message to pet owners right now is to immediately take these balls away from their pets and return them to us for a full refund."
He added: "What concerns us as we go forward is that we are not the only company that makes balls like this for pets. Ours isn't the only one on the market. "
Pet owners, he said, need to inspect any "look-alike" balls for similar defects.
Back in New York, Daniel said he continues to hear from pet owners whose dogs have experienced similar problems with Four Paws pimple balls.
"We're now up to 13 dogs that have this happen to them," said Daniel, who is now suing the company. "Three of them, including my dog, have had their tongues amputated."
What's Daniel's response to Four Paw's recall effort?
"They're not recalling this product," he said. "All they're doing is posting something on their Web site and saying they're notifying their distribution chain. That's not going to bring all these balls back."
Daniel said the company needs to take more aggressive measures.
"This is an international problem. There are 500,000 of these balls on the market. I want the company to notify the public about this. I want to see this in the news."
His ultimate goal, however, is to prevent this from happening again.
"I want them to change the design. This is a design flawit's not a manufacturing defect. What I really want is to make this doesn't happen to another dog again."