A series of mysterious illness and death dogs Nutro pet food. Scores of pet owners report their animals became ill while eating Nutro products, then recovered when they were switched to another brand.
At least six dogs have died in the past two months, according to an analysis of complaints to ConsumerAffairs.com. The company discounts the reports, saying they are isolated and unconfirmed; at least one Nutro employee, sickened by the company's response, told us she resigned.
In related developments, ConsumerAffairs.com has learned:

• The Food and Drug Administration (FDA) recently investigated the April deaths of two dogs in Indiana. The FDA tested samples of the Nutro food those dogs ate, but did not find any toxins. No one, however, has tested the Nutro food the other dogs ate before they died;

• A pet nutrition specialist for Nutro confirmed she's heard complaints about the company's food making dogs and cats sick. She reported those concerns to her supervisor, but said they were ignored. She recently resigned;

• There is a shortage of some varieties of Nutro dog food. The company says this is a supply problem not a safety or quality issue;

• Some consumers have sent their pets' food to Nutro for testing. They have not received any results. Other pet owners plan to hire private labs to test their food and report their concerns to the FDA and the Animal Poison Control Center run by the American Society for the Prevention of Cruelty to Animals (ASPCA).
The six dogs that recently died include two Italian Greyhounds in Indiana, a Beagle/Whippet mix in Pennsylvania, two German Shepherd puppies in North Carolina, and a Doberman Pinscher in Texas.
The dogs' owners all say their pets were in good health and they're convinced that Nutro's food is somehow connected to their animals' deaths. Those concerns are echoed by pet owners whose dogs and cats have recently become sick after eating the company's food.
Nutro, however, defends its products and says the food is 100 percent safe.
But scores of pet owners across the country -- including longtime Nutro customers -- no longer feel safe feeding this brand of food to their dogs and cats.
Max and Sophia
They're consumers like Theresa C. of Indianapolis. Her two healthy Greyhounds -- Max and Sophia -- died within days after eating Nutro's Natural Choice Small Bites Lamb and Rice food.
"We bought Nutro for the first time in April," Theresa said. "And within four or five days, both of our dogs were dead.
"These were healthy dogs that have never been sick. They were extremely housetrained, but before they died, they both were urinating everywherewe were constantly refilling their water bowl."
Sophia, their four-year-old Italian Greyhound, showed the first signs of illness.
"On Sunday, April 27, she was vomiting, acting dizzy, and she became skittish," Theresa said. "Italian Greyhounds also don't smell, but I noticed Sophia had an unusual smell before she died. It was almost a sickening smell; I've never smelled anything like it before."
Sophia's condition quickly deteriorated.
"She continued to vomit up liquid and bile into the early hours of Monday, April 28," Theresa said. "And she became dizzy and almost appeared to be drunk."
Theresa rushed Sophia to the emergency animal hospital.
"By the time I got her there she was comatose and in kidney failure. She had to be euthanized."
Max, her three-year-old Italian Greyhound, had started to experience the same problems.
"He began vomiting at 2:30 am, but was not as ill as Sophia had been," Theresa said. "When I got him to the vet she found elevated creatinine and BUN (blood urea nitrogen) levels. She administered an IV and retested later in the evening on the 28th. The levels were still rising but, she said he may pull through."
Max's condition, however, did not improve.
"By the morning of the 29th he had blood in the whites of his eyes, was vomiting again, and showing signs of distress," Theresa said. "We again had his blood checked and the levels were through the roof."
Max's kidneys were failing.
"Our vet told us there is no hope because he was in renal failurewe decide to euthanize to limit his suffering."
Losing both dogs -- in such a short period time -- was heart-wrenching for Theresa, her husband, and their six children.
"I don't know who cried more me, my husband, or my 20-year-old son. I was a mess for a week."
Despite her grief, Theresa vowed to find the cause of Max and Sophia's sudden deaths. Her vet suspected antifreeze poisoning.
"But we don't have antifreeze around our home," Theresa said. "These dogs were never alone. And we have the same neighbors we've had since Max was a puppy. I didn't see how it could antifreeze poisoning."
Theresa had autopsies done on her dogs at Purdue University. She sent samples of their kidney tissues to Michigan State University for testing.
She and her family also contacted the FDA and Nutro.
"Our 20-year-old son called Nutro after Sophia died and he asked if there was something wrong with the food. He said we've already had one dog die and another one is sick.
"The girl at Nutro said we've had complaints, but nothing that is a known issue right now."
FDA tests
The FDA immediately investigated the dogs' deaths.
"An investigator came over to my home before we had the autopsy results back," Theresa said. "He took samples of the food and had me file a complaint."
ConsumerAffairs.com confirmed that on May 7, 2008, an FDA investigator took samples of Theresa's Nutro food and had it tested for several contaminants, including melamine, aflatoxins, and ethylene glycol. That's a chemical in antifreeze.
Those tests did not find any toxins in the food.
"Findings were negative for melamine and its analog, aflatoxins, ethylene glycol and diethylene glycol, and for salmonella," the lab report stated. "No significant filth or foreign material was found."
Antifreeze
Theresa is baffled by the FDA's findings.
"I wonder if there's something in the food they're not testing for," she said after reviewing the FDA's report.
Theresa is also puzzled by the autopsy results on her dogs and the tests run on their kidney tissues.
Those examinations revealed Max and Sophia had high levels of ethylene glycol in their systems, which indicated the dogs' deaths were consistent with antifreeze poisoning.
With Theresa's permission, ConsumerAffairs.com sent copies of her dogs' medical records to veterinary toxicologist, Dr. Steven Hansen. He's the senior vice-president of the ASPCA's Midwest Office, which houses the organization's Animal Poison Control Center.
After reviewing the reports with a pathologist in his office, Dr. Hansen said: "The kidney lesions do not fit with melamine but are consistent with ethylene glycol. Since ethylene glycol was confirmed in high concentrations in the kidneys and not in the diet the diagnosis in this case is clear. Unfortunately, the dogs did die of antifreeze poisoning."
Theresa, however, still has her doubts.
"I know these dogs didn't get near antifreezeespecially in these extreme amounts," said Theresa, who may hire a private lab to test her Nutro food. "Like I said, I wonder if there's something in the food that no one is testing for."
Blue death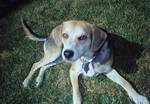 Two states away, another grieving pet owner shares Theresa's concerns about Nutro's food.
Susi B. of Pittsburgh, Pa., said her healthy ten-year-old Beagle/Whippet mix died on May 30th. She suspects Nutro's Lamb and Rice food is the culprit behind the sudden death of her beloved dog, Blue.
"I bought that bag at the end of March, and when I opened it up, it looked like it had little white bugs all over it," said Susi, a longtime Nutro customer. "When I picked up the food, it was like a granular substance. But I didn't think much about it because the food wasn't part of the recall."
Blue, she said, gradually started to become sick.
"I'd come home and see where he'd thrown up. But I didn't think about the food."
When she returned from work on April 18, Susi found Blue collapsed on the floor.
"Normally, he'd run to the door and greet me, but when I walked in that day I couldn't find him right away. He was on the floor and breathing heavy."
Susi immediately took Blue to the vet.
"But the vet couldn't find anything except an elevated white count, a low red blood count (he was anemic), and he had a temperature," Susi said. "They gave him an antibiotic and vitamins."
Susi also took Blue off his Nutro food and fed him hamburger and rice.
"And he got better. So over the next couple of weeks, I slowly reintroduced the Nutro dog food to him."
Blue's condition worsened again.
"He got to the point that when I put Nutro in front of him, he refused to eat it," she said. "And he was a dog who would eat everything. He didn't want to eat anything except melted ice cream.
"His weight went from 26 pounds to 18 pounds. He was skin and bones. He was lethargic. He became so weak he could no longer walk outside to use the bathroom or stand to drink water."
That's when Susi launched her own investigation.
"I went online and Googled Nutro and found out (on ConsumerAffairs.com) about all these other dogs that had symptoms like mine."
Bare shelves
She also discovered that some of Nutro's pet foods -- including the variety she'd fed Blue -- were no longer on the shelves at her local pet store.
"There was a note in the store that said the shortage was due to some manufacturing issues."
Susi immediately called Nutro to get some answers.
"I was told the reason the food was not on the shelves was because the company that made the bags had a machine break, and the company ran out of chicken. But I was feeding lamb and rice."
What about the complaints regarding Nutro's food?
"They said they were aware of your Web site and considered it nothing but a blog," Theresa said. "They said when one person posted (a complaint) it caused a panic, and none of those dogs' owner have contacted us."
At Nutro's request, Susi sent the company four cups of Blue's food for testing.
That was several weeks ago, but she has not received any results.
"I'm trying to find an independent lab to test the food, but some say it would be a conflict of interest to test the food and others say they don't know what to test for."
Susi said she'll keep digging for answers until she finds out what caused Blue to suddenly die in his sleep on May 30th.
"I'm convinced Blue's death is tied to that food and I won't stop until I prove it," she said, adding the last test done on her dogs indicated he had a blood tumor. "If I had listened to my dog, he might be alive today."
The guilt and pain surrounding Blue's death, she said, is almost unbearable.
"It's devastating. He was my best friend for more than ten years. He followed me all over the house. And in a matter of six to eight weeks after we opened that last bag of food, he'd gotten to the point that I had to carry him outside and hold him up to go to the bathroom.
"I am 100 percent convinced there is something in that food that is affecting these animals," she added. "It's not a coincidence that all these dogs are getting sick."
Dead puppies
A grieving pet owner in North Carolina echoes those suspicions about Nutro's food.
Birgit H. of Franklinville said two of her puppies -- from the same litter of seven -- suddenly died on June 3rd.
The healthy six-week-old German Shepherds -- Anna and Anja -- had similar symptoms as the other dogs that died after eating Nutro's food.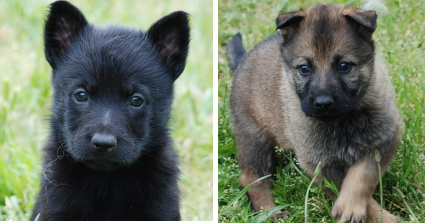 Anna and Anja
"They were vomiting, had diarrhea, and were lethargic," Birgit said.
What's so alarming to Birgit is the speed at which the puppies' health deteriorated.
"We started feeding them Nutro puppy food on June 2 and they died on June 3," she said. "I worked in a vet's office for ten years and I've never seen anything like this before. I've never seen dogs going down so fast, then get back up, then eat again, and crash. They got so weak and died so fast."
The veterinarians who treated the puppies couldn't explain their sudden deaths.
"They were puzzled because the puppies did fine in the morning, but that afternoon, they just died," Birgit said. "One died at home and one died at the vet's office.
"Everyone is puzzled by this. The first thing you think of with puppies is Parvo (a viral illness). But there weren't symptoms of Parvo. And if one dog has Parvo, they all have it. There's no way that happened. These puppies were healthy before we put them on Nutro."
The other five puppies in the litter -- and the mother dog -- also showed signs of illness.
"All the other puppies had started throwing up," Birgit said. "Then I received a phone call from another breeder and he asked me if I had recently switched to Nutro food. He told me about all the other dogs that had gotten sick on the food.
"That night, my husband and I put the dogs back on their old food and everyone is fine again."
Her friend's call, she said, saved her dogs' lives.
"I would have killed all my dogs because I would have kept feeding them that food."
Nutro not alarmed
Birgit contacted Nutro, but said the company didn't seem alarmed by the loss of her dogs.
"I've been on the phone with Nutro three times and they're blowing me off. I told them they need to take the food off the shelf and test it. But the person I talked to said the company won't do that; they said they have quality food."
In another call to Nutro in which she waited for an hour to talk to someone -- the company "finally took a report."
"But they didn't ask me for a lot number on the bag or the date of purchase," Birgit said. "All they gave me was a customer number. That's it. They really disappointed me."
Nutro also wanted the rest of Birgit's puppy food.
"I told them 'no. I'm not sending you all my food.' They didn't like that. I'm thinking of getting it tested somewhere else." She also plans to contact the FDA and the ASPCA's Animal Poison Control Center about her puppies' deaths.
Nutro, however, did offer Birgit an explanation for the sudden deaths of her puppies and the recent illnesses in pets nationwide that have eaten the company's food.
"They said it was a coincidence."
Birgit doesn't buy that explanation.
"Maybe one or two cases could be a coincidence. But it can't be a coincidence with so many cases. And it can't be a coincidence that once you take the dogs off the food they're fine.
"I'm not one to point fingers, but as soon as I took the puppies off the Nutro food, we didn't have any more vomiting, diarrhea, or lethargy. They are now all doing great. So is their mom. Nutro needs to take this food off the shelves and test it."
Until that happens, this professional dog breeder will not recommend Nutro to her clients.
"I always thought it was a good food, but now, I wouldn't feed Nutro to my worst enemy."
McGee
Neither will a grieving pet owner in Texas.
Peter B. of Houston said his nine-year-old Doberman Pinscher, McGee, suddenly died in April.
McGee ate Nutro, too.
And his symptoms mirror those of the other dogs that have recently died after eating Nutro's food.
"He was a healthy Dobermanhe was fine before," Peter said. That all changed on April 27.
"I came home around 6pm and was outside watering my lawn," Peter said. "I noticed McGee was on the ground and had thrown up. He was also shaking."
As the night progressed, McGee's condition took a turn for the worse. He threw up again.
"And it looked like more food that I'd given him," Peter said. "He was also thirsty. He just wasn't himself."
Later that evening, Peter noticed McGee had started breathing heavily.
"And he kept getting water. He then started shaking againhe just wasn't right.
"McGee went back outside at 2 am," Peter continued. "When he came back in, he got some water and then he was sitting in the hallway."
A short time later, McGee came back into Peter's bedroom.
"He flopped down and he was breathing heavily, he was shaking, and crying."
Peter rushed to get McGee immediate medical attention.
"We tried to get him in our SUV and all of the sudden, he collapsed. I put him in the back and probably did 100 mph going to the vet."
But McGee died on the way.
"He was gone when we got there. They tried CPR, but he was gone."
The veterinarian wasn't sure what caused McGee's sudden death. "He was pretty generic," Peter said. "But he said it might have been some type of heart arrhythmia.
"In hindsight, I wish I would have gotten an autopsy, but it was such a shocker."
Peter, however, started researching possible causes for McGee's sudden death.
"I put in some of the symptoms he had and Googled them," he said. "And Nutro kept showing up. I thought that was scary because that's what I've always fed him. But I noticed that these problems seemed to be a lot more recentthey were new problems."
Peter contacted Nutro about McGee's death.
"I've sent them three e-mails, but they haven't responded. I tried the 800-number, but it kept ringing and ringing."
No Nutro
Peter also stopped by the local pet store where he bought McGee's food.
"The shelves that contained Nutro Natural Choice were almost bare. That never has happened."
He asked a Nutro representative -- who was working in the same aisle -- about the shortage.
"He stated that no recall was in effect, and Nutro just happened to shut down a few plants producing what he termed 'not as tasty food,' and the 'quality' was not up to par."
That explanation didn't make sense to Peter.
"Seeing that a dog can't talk, I asked him how the company would know if the food was not 'tasty.' It seemed far more plausible that a company whose main product is dog food would not shut down a plant -- and have no product -- unless some very extreme situations were coming to light."
Peter then told the Nutro representative about McGee's sudden death.
The representative called it a "coincidence."
But Peter is certain something is wrong with Nutro's food. He plans to hire a private lab to test the food and prove his theory.
"I'm doing this because something has truly happened. I don't have any evidence now, but based on my dog's symptoms and all the complaints I've read, the logical deduction is the food probably got some dogs sick, and in my case, caused my dog's death.
He added: "I will not let this be swept under the rug and hopefully will get the confirmation I am looking for by testing the pet food I still have."
Scores sickened
During our investigation, we found that scores of pets -- primarily dogs -- continue to become seriously ill after eating Nutro's food.
Consider what happened to a healthy, three-year-old Chocolate Lab named Choco.
His owner, Sharon A., of Cheektowaga, New York, has fed him Nutro Max for the past five months.
He never had any problems eating the food until April.
"That's when he suddenly got sick," she said. "He started vomiting, had loose bowel movements (diarrhea) and was very lethargic. It really worried me so I took him to the vet.
"He even threw up at the vet's office."
The veterinarian diagnosed Choco with pancreatitis (an inflammation of the pancreas).
"They put him on IV's, gave him some antibiotics and Pepcid, and kept him hospitalized for three days," Sharon said. "When I brought him home, he was much better almost back to normal."
The vet also switched Choco to a prescription dog food.
"They told me when he was done with that food he could go back to Nutro. But when I put him back on Nutro, he got sick again with the same symptoms."
Her vet ran additional tests on Choco.
"This time, they said he did not have pancreatitis, but they gave him antibiotics anyway."
Choco's condition, however, did not improve.
"He got sick again and I took him to the vet for a third time," Sharon said. "They said his levels were elevated again for pancreatitis. They put him on IV's and other medications."
Like other pet owners, Sharon started to investigate her dog's symptoms. Her search led her to ConsumerAffairs.com.
"I couldn't believe all those people on your Web site whose dogs had the same symptoms as mine," Sharon said. "After I read all those, I stopped feeding Choco the Nutro food. And he's now gotten better."
Does she think it's a coincidence that so many pets have become sick after eating Nutro's food?
No way.
"They get sick when they're eating Nutro they have vomiting, diarrhea, and they're lethargic," said Sharon. "And they get better when they stop eating the food. I don't think that's a coincidence."
Overseas complaints
Our investigation also found that some dogs overseas are now experiencing similar health problems after eating Nutro's food.
We learned that two healthy Italian Greyhounds, who live on a U.S. military base in Italy, recently became sick.
Their owner, Michelle M., purchased their Nutro food at the base's commissary.
"I thought the yard started to smell funny after they had been on Nutro for a couple of weeks," she said. "I noticed that they threw up regularly, particularly the nine-month old."
His condition worsened last week.
"He woke up and started to whine for no reason," she said. "He was clearly in pain, if he stood up his back legs shook, then he would go lie down. He has been lethargic all day and has passed four bloody/mucus-filled stools."
Michelle desperately searched for answers.
She ran an online search of Nutro and was shocked to learn that scores of other dogs -- eating the same brand of food -- had experienced similar problems.
"I am detached from all of the press stateside and am very upset that no effort has been made to alert military families overseas of a possible problem (with the food.)"
Michelle stopped feeding her dogs Nutro and is now cooking chicken and rice for them.
"I'm hoping there will not be any long-term health consequences for my boys. They are both members of my family and my children and I love them immensely."
She added: "I'm glad we caught this in time, unlike some of the others who have reported very serious illnesses or even death associated with this brand of dog food. If the FDA is examining Nutro, they need to move quickly -- it is hard to tell how many people at overseas military bases are feeding this (food) to their dogs and possibly killing them."
Ex-Nutro employee
Michelle's complaint -- and the scores of others we received about Nutro food -- don't surprise a former pet nutrition specialist for the company.
"I would say that about 20 people in the last six months came up to me and said their pets were having similar problems with Nutro's food," the former employee told us. "They said their dogs and cats were vomiting, they were lethargic, had diarrhea, and were drinking lots of water."
The former employee, who asked not to be identified, reported those complaints to her boss. But her concerns, she said, fell on deaf ears.
"Every time I brought it up the chain, my concerns were brushed off. All I kept hearing about was the wonderful quality controls Nutro has."
Frustrated by the company's lack of response and worried about the safety of pets nationwide -- the employee left Nutro and agreed to share her concerns with us.
"I do not feel comfortable promoting a product that is currently showing a very strong correlation with causing pet illness or death," said the employee, who is also a certified veterinary technician. "For 82 years Nutro had stood on its own as a leader in pet specialty. This past year, Nutro has lost consumer confidence and shaken my confidence as well. Something is wrong."
News of the recent deaths possibly linked to Nutro's food is especially troubling to this former employee.
"On my last day, one of the managers of a store I worked with came to me and reported a very recent death of a young dog. The dog's owner and its vet highly suspect it was caused by Nutro Lamb and Rice (small bites).
"I sure hope that it wasn't the Nutro food, but due to some of these sudden death incidents it makes me fearful that it is," the former employee said.
She wondered if these health problems could be related to the way Nutro's food is stored and transported on trucks.
"Are there pesticides on those trucks?" she asked. "The bags are not covered in plastics when they arrive at the stores. They're in paper bags. Could something be leaching into the bags? Is something happening during the transport? It's just a theory.
"I think that further testing needs to be done with the food."
'Hearsay'
We contacted Nutro about the complaints we've received regarding its food.
A company spokesperson, who resigned last week, directed us to Nutro's Web site.
The company posted new information after we started asking questions about Nutro's food and its possible connection to the illnesses and deaths of pets nationwide.
"All NUTRO products are 100 percent safe and conform to the standards set by the FDA, USDA, and AAFCO," the Web site states. "NUTRO pet foods undergo rigorous quality assurance testing, beginning with raw ingredients and ending with testing all finished products. This includes testing to confirm that no melamine, mold toxins, or pathogenic bacteria are detected in any NUTRO pet foods."
The company said the complaints we've received are "isolated reports of inaccurate information posted online."
"Many blogs and Internet sites can be a repository for misinformation and hearsay regarding many topics," the company wrote.
Nutro said the recent shortages of some of its foods are supply issues and have nothing to do with any safety concerns.
"Over the past several months, suppliers of key ingredients used in select products have been unable to meet Nutro's volume needs," the company stated. "We have secured additional high quality supply sources and while availability will vary by marketplace, we can now say that supply issues are being resolved."
The company said its Natural Choice Venison Meal and Brown Rice, and Natural Choice Herring Meal, Rice and Potato foods should arrive in stores later this month.
Nutro denied reports that any of its plants are closing.
Formulas changed
The company also confirmed that it recently changed some of its formulas.
"MAX Dog and MAX Cat foods have been improved with the addition of more chicken and/or salmon," the company stated. "MAX Large Breed Puppy and MAX Large Breed Adult are now being made with chicken meal rather than beef meal because preference testing has shown that dogs prefer the taste of the chicken product."
The company said it rarely receives complaints about its products, but takes all concerns seriously. Customers can contact Nutro's Consumer Service line at 1-800-833-5330.
"In the rare instance when a consumer does have a concern with any of our products, an in-depth review of the consumer-provided samples is performed to determine if an issue does exist," the company stated.
We asked Nutro if it had recently tested its foods for possible toxins. The company did not respond to that question.
Meanwhile, some loyal Nutro customers warn pet owners not to jump to conclusions based on what they call unsubstantiated claims posted on the Internet.
Veterinarians also told us it's not uncommon for pets to have sudden bouts of vomiting, diarrhea, and other gastrointestinal problems.
They said a number of factors -- pet food, stress, or a viral infection-- could be the culprit.
But Dr. Hansen with the ASPCA agreed that additional testing and research should be done in these cases.
He encouraged pet owners to report any problems with Nutro to the FDA, his organization's Poison Control Center, the pet food maker, and their veterinarians.
Still a mystery
For now, the recent illnesses and deaths in many pets that have eaten Nutro remains a mystery.
Even to pet owners like Theresa, who still believes that Nutro played a role in the deaths of her Italian Greyhounds.
"I have a gut feeling something in that food is making dogs sick and killing others. And I truly believe it is what killed both my dogsI just wish we could prove it."