---
Mortgage fraud is on the rise and consumers need to be wary of the many scams that often surface in the wake of this crime. Those are among the findings included in a new report issued by the Federal Bureau of Investigation(FBI).
The FBI's "2007 Mortgage Fraud Report" revealed the agency investigated 1,200 cases in which individuals intentionally misrepresented information a lender used to fund a mortgage in the past year.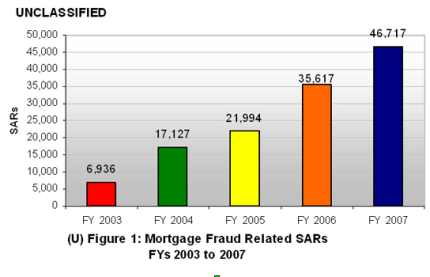 Suspicious Activity Reports (SARs) filed during 2007 Source: FBI
That figure reflects a 47 percent increase of mortgage fraud investigations from 2006 -- and a 176 percent jump in the past five years.
The FBI's report also showed the numbers of Suspicious Activity Reports (SAS) regarding mortgage fraud have skyrocketed in the past year. Those reports increased 31 percent in 2007 -- to 46,717.
FBI officials don't know the total dollar loss associated with mortgage fraud.
But just seven percent of the mortgage fraud reports the agency received last year revealed a staggering loss of more than $813 million dollars.
"The $813 million loss denoted in this report is just the tip of the iceberg, reflecting only a small percentage of financial damage suffered by victims of mortgage fraud," said Assistant Director Kenneth W. Kaiser with the FBI's Criminal Investigative Division. "The FBI remains committed to working with our law enforcement, regulatory, and industry partners to unravel these complicated fraud schemes and bring their perpetrators to justice."
The FBI's report also warned the downward trend in the housing market has created an ideal climate for unscrupulous con arts to prey on desperate or unsuspecting homeowners.
And consumers need to protect themselves from a variety of mortgage-related schemes that are likely to surface nationwide.
Key findings
Other key findings outlined in FBI's report included:

• The subprime lending crisis is a contributing factor to mortgage fraud. These high-interest, high-risk loans are designed for people with poor or limited credit histories;

• The percentage of subprime loans nationwide has doubled in the past five years. They now represent more than 13 percent of all outstanding loans;

• Subprime loans contributed to the growing number of foreclosures filed in 2007. FBI officials say the trouble started a few years ago -- when home prices started to rise. That led to relaxed lending practices and the exaggeration of assets by borrowers hoping to qualify for loans. Both those factors, FBI officials say, contributed to fraud;

• In 2007, more than 2.2 million foreclosures were reported on approximately 1.29 million properties nationwide. That's an increase of up to 75 percent from 2006;

• The top 10 mortgage fraud states for 2007 were: Florida, Georgia, Michigan, California, Illinois, Ohio, Texas, New York, Colorado, and Minnesota. Other states affected by mortgage fraud included Arizona, Maryland, Utah, Nevada, Missouri, Indiana, Tennessee, Virginia, New Jersey, and Connecticut;

• Mortgage fraud was most concentrated in the north-central region of the United States, according to public and private data analyzed;

• The Mortgage Bankers Association (MBA) forecasts a continued downward trend in the housing market. That decline, FBI officials warn, gives unscrupulous real estate insiders additional incentives to look for dishonest ways to turn a profit and more opportunities for scam artists to prey on vulnerable homeowners;

• Existing home sales in 2008 are expected to decline by 13 percent from last year, according to the MBA. New home sales are expected to drop 15 percent from 2007. Median home prices are also expected to fall in 2008. Unscrupulous con artists will exploit these weaknesses in the housing market with new and improved schemes, FBI officials warn;

• Those who work in finance-related occupations -- including accountants, mortgage brokers, and lenders -- are often associated with mortgage fraud, according to the FBI. These professionals are familiar with the mortgage loan process and know how to exploit the system;

• Mortgage fraud victims can include borrowers, mortgage industry entities, and those who live in neighborhoods affected by this crime.
Neighbors affected
How are neighborhoods impacted by mortgage fraud?
In several ways, according to the FBI.

• When these "mortgage fraud" properties sell at inflated prices, neighboring homes also become artificially inflated. Property taxes then rise.

• If these "mortgage fraud" properties deteriorate, nearby homeowners may have a difficult time selling their homes.

• And their property values can start to decline.
Myriad of scams
Homeowners also need to keep their guard up to protect themselves -- and their bank accounts -- from the myriad of scams that may surface nationwide in the wake of this mortgage fraud crisis.
These scams include:

• Builder-bailout schemes In these scams, builders and developers use financial trickery to unload properties that aren't selling. A builder, for example, may offer a mortgage with no down payment. Let's say a builder wants to sell a home for $200,000. The builder inflates the property's value to $240,000 and finds a buyer. The lender funds a mortgage of $200,000 -- believing the $40,000 was paid to the builder and created equity in the home. The builder gets his money, pays off his building costs, forgives the buyer's $40,000 down payment, and keeps any profits. But if the home goes into foreclosure, the lender has no equity in the property and must pay the foreclosure expenses;

• Foreclosure rescue frauds These scams trick homeowners into signing over the deeds to their homes. Con artists in these schemes convince homeowners they can save their homes from foreclosure through deed transfers and the payment of up-front fees. In many case, the deeds on consumers' homes are forged. In extreme cases, con artists may sell the homes or secure second loans without the homeowners' knowledge, stripping the property of its equity;

• Identity theft This crime is often used in mortgage fraud schemes and is likely to increase as financial institutions begin to enforce higher lending standards. The identities of individuals with good credit become more valuable to con artists. Those with good credit may be at higher risk for identity theft and mortgage fraud schemes;

• Identity theft used to drain home equity lines of credit Some con artists steal consumers' identities to drain Home Equity Lines of Credit (HELOC). These HELOC loans differ from standard home equity loans because a homeowner can borrow against a line of credit. In many cases, con artists pose as customers to open HELOC Internet account services. They manipulate customers' account verification processes, including rerouting telephone calls, forging signatures, using passwords, and reciting recent account histories. A con artist, for example, may use a consumer's information to contact a financial institution and request an advance on a HELOC account. Once the advance is given, the con artist sends a fax to the financial institution and requests the funds be transferred to another account. When the financial institution receives that fax, it contacts the account holder to verify the transaction. The call, however, is unknowingly forwarded to the con artist, who verifies the account holder's information to complete the transfer;

• Seller-assistance scams These schemes use false appraisals to sell homes at grossly inflated prices. In a typical seller assistance scam, a con artist solicits an anxious seller or his real estate agent and offers to find a buyer. The con artist negotiates the price the seller will accept for the home and then hires an appraiser to inflate the property's value. The property is sold at the inflated price and the con artist pockets a "servicing fee." That's the difference between the home's market value and the falsely inflated sale price. If the mortgage defaults, the lender forecloses on the house. But the lender cannot sell the property for the amount owed because of the inflated price.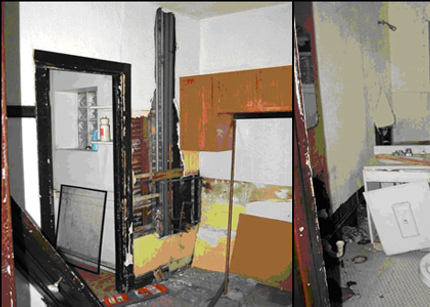 These photos are from condos that were involved in a mortgage fraud. The appraisal described "recently renovated condominiums" to include Brazilian hardwood, granite countertops, and a value of $275,000. Source: The FBI
Wall Street affected
The ripple effects of mortgage fraud may also be felt on Wall Street, FBI officials have warned.
"The potential impact of mortgage fraud on financial institutions and the stock market is clear," Chris Swecker, former FBI assistant director, told a House Financial Services subcommittee in 2004. "If fraudulent practices become systemic within the mortgage industry and mortgage fraud is allowed to become unrestrained, it will ultimately place financial institutions at risk and have adverse effects on the stock market."
To address the growing problem of mortgage fraud, FBI officials have joined forces with the Department of Justice and other governmental agencies nationwide.
One of their goals is to identify large-scale industry insiders and criminal enterprises conducting mortgage fraud.
The FBI also held a Mortgage Fraud Summit to address the most severe mortgage fraud problems with agents nationwide.
The agency now has mortgage fraud task forces in 32 offices across the country and is trying to educate the public about mortgage fraud.
To learn more about mortgage fraud, visit the FBI's Web site.