---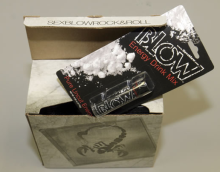 Illinois Attorney General Lisa Madigan is demanding that a Las Vegas company discontinue its cocaine-themed marketing and sale of an energy drink mix that she says glorifies drug culture and has raised serious health concerns due to its high caffeine content.
In a letter to the president of Kingpin Concepts, Inc., Madigan demanded that the company immediately cease all marketing and sales of the energy drink called Blow in Illinois.
This is blatant promotion of drug culture and addiction, Madigan said. I am deeply concerned that the design and marketing of Blow will have a detrimental effect on children in Illinois.
The product, which is currently sold online, is packaged in bricks and vials that can be purchased in combination with a fake VIP Blow credit card. The Web site fails to enforce age restrictions or take other precautions to prevent children from purchasing this product, and the company promotes the mix on MySpace, a social networking site popular with children and teens.
The attorney general also expressed serious concern about the harmful health effects of the energy drink mix, which contains extremely high levels of caffeine. Earlier this year, the U.S. Food and Drug Administration (FDA) announced its view that Blow is an unapproved new drug and does not meet the requirements of the Federal Food, Drug, and Cosmetic Act.
As an advocate for the health and safety of consumers, I share the FDA's concern that this product may have a harmful impact on the health of its users, Madigan stated. A vial of Blow contains more than three times the caffeine in other non-alcoholic energy drinks on the market. As a result, this product should be subject to proper testing, review and approval by the FDA.
Madigan said the product also violates the Illinois Food, Drug and Cosmetic Act and the Illinois Consumer Fraud and Deceptive Business Practices Act. She warned that if Kingpin Concepts, Inc. does not comply with her demand, her office will promptly seek injunctive relief and civil penalties available under Illinois law.