---
The bed has arrived.
After battling with a Florida-based furniture store for more than seven months -- and worrying that the company took our money and would never deliver the merchandise -- our son finally has his loft bed.
But we're lucky. ConsumerAffairs.com has heard from scores of consumers nationwide who never received their furniture from the company -- Kids Quarters, Inc.
Most consumers paid in advance for their furniture. Some made those purchases with cash or debit cards. They're now out thousands of dollars. And it appears unlikely that they'll get their money back -- or their furniture.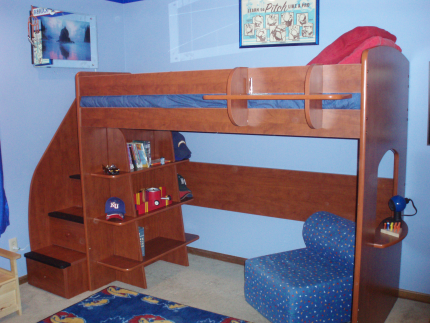 The long-delayed bed
As we reported, Kids Quarters closed its three Florida stores and its online division in early March. The company is now filing for bankruptcy.
That news outraged many Kids Quarters customers, who say the company's owners shouldn't be allowed to hide behind bankruptcy protection. Or open a new business -- under a different name.
Consumers we've talked to want the Florida Attorney General's Office -- or some other consumer protection agency -- to investigate Kids Quarters for possible civil or criminal violations.
We've learned Kids Quarters took money from at least one customer even after it notified other consumers it could not deliver their promised and paid for furniture.
We also learned the company's president, Antonio Sola, opened an online furniture business weeks before he closed the Kids Quarters company.
The Florida Attorney General's office, however, said it is not investigating Kids Quarters "at this time." A spokeswoman said her office has received 59 complaints about the company most of those involve delivery problems and failure to issue refunds.
She also said her office is referring consumers to the Florida Department of Agriculture and Consumer Services, the Orange County, Florida, Consumer Fraud Unit and the Better Business Bureau of Central Florida, which has received more than 140 complaints about Kids Quarters.
The Florida Attorney General's office is also referring consumers who bought their furniture online to the Internet Crime Complaint Center.
No recourse for some customers
Florida officials said Kids Quarters' consumers should contact their credit card companies and dispute the bills.
That's what my husband and I did and we received a full refund from our credit card company. But that advice doesn't help consumers like Valerie P., of Eustis, Florida.
She wrote Kids Quarters a check for $1,500 as a down payment on bedroom furniture for her seven-year-old daughter. Kids Quarters electronically withdrew the money from Valerie's account.
She wasn't expecting delivery until April 19 and never suspected anything was wrong until last Thursday.
"My husband and daughter drove by the (Altamonte Springs) store yesterday and found it closed down," Valerie told us. "I immediately called all the locations to find all numbers disconnected. Then I got on the Internet and found your stories and complaints."
Suspicious timing
What's suspicious about Valerie's case is the timing.
Kids Quarter took her money on February 23, 2008. That's two days after I received a letter from the company stating it couldn't deliver our son's bed because of financial problems.
In a letter dated February 21, 2008, Kids Quarters' General Manager Monique Sola wrote: "We are aware that you and your family have been waiting for quite some time to receive your furniture ordered from us for Berg Furniture products. Unfortunately, we are unable to fulfill your order through our normal distribution process due to our present financial situation."
We later ordered our bed directly from Berg Furniture. That company agreed to honor the terms and price quoted in Kids Quarters' contract.
Our son's bed arrived on April 3 -- three weeks after we placed the order with Berg.
But Berg isn't the manufacturer of Valerie's furniture. The bedroom set she ordered is made by a company called Maxtrix Kids Furniture. Valerie plans to call that company directly and hopes it will honor Kids Quarters' contract.
She's also contacted the Orlando-based law firm of Schlegel Caplan, which told ConsumerAffairs.com it represents Kids Quarters in the bankruptcy action.
Valerie and other consumers are furious that Kids Quarters continued to take customers' money when it knew it couldn't fulfill the orders.
"There was no indication anything was wrong," Valerie said. "There are probably a lot of people who don't know what's happened. They aren't expecting their deliveries until Mid-April, and won't know there's a problem until they don't receive their orders.
"I'm sure we're not only the only people they took orders from right up to the end," she added. "When we went back to the store (the day they placed their order) three salespeople said they had had a busy day."
We've learned that Kids Quarters' also promised another customer she'd receive her order just one day before the company closed its doors.
"We also purchased our furniture in February," said consumer Stephanie B. "I called and spoke with Mrs. Sola the day before they closed the doors to confirm my furniture was coming that week -- and she assured me it was. This is as criminal as it gets."
Other customers agree.
Lisa of Seneca, South Carolina, paid the company several hundred dollars for her daughters' bunk beds. Kids Quarters' never delivered the furniture or returned any of her calls or e-mails.
"I want these crooks to pay," she said. "I am heartbroken for my kids -- and steaming mad at being taken for a ride. Is there anyone who can help me or at least stop these crooks?"
Lisa used her credit card to pay for the furniture and thought she had added protection. But that company refused to credit her account.
"I find myself out $677.85," she told us. "My credit card company is of no assistance as the purchase was beyond its two-month deadline. My credit card company doesn't even want to look into it to protect others."
Numerous complaints
And there are many other consumers across the county who say Kids Quarters ripped them off.
Consider some of these complaints we've received about the company:

• Leisy of Windermere, Florida told us: "I ordered a bed and accessories that total $375 last July 2007. I never received my furniture. Just up to last week I was in contact with the store manager, Luis. Luis promised me that I would get credit back and it would take 21 days. Today, March 26, I called and the phone was busy. I looked it up online and realize that they (Kids Quarters) filed for bankruptcy. I am a single mother and this is just not right."

• Joann of Darnestown, Maryland, wrote us: "I ordered furniture for my daughters' room in August 2007. After numerous phone calls and promises of delivery, I hear they are in bankruptcy. I am out $1821.30. My dogs have a bed. My children have been sleeping on the floor waiting for their new bunk beds It is a huge disappointment, which is very difficult to explain to a three and five-year-old who just wanted their princess room."

• Elsie of Liverpool New York, told us: "On January 18, 2008, I ordered a complete teen bedroom set for $5689.22. I have not received it, the company has disconnected its telephone, and I learned from your Web site that they are now bankrupt, but their site is up and they are still taking ordersI have lost $5,689.22 and have no furniture to show for it."
We also heard from consumers who were worried that Kids Quarters opened a new business under a different name. Those concerns surfaced when consumers found a Web site called Kids Furnishings.com. That Web site is similar to Kids Quarters'. It sells the same furniture. And the company is based in Florida.
New business
ConsumerAffairs.com discovered Kids Quarters' president, Antonia Sola, incorporated a new business on December 4, 2007. That's just weeks before closed his Florida stores and online division.
Records with the Florida Secretary of State's office reveal Sola's new business is called Kids Furnishings.com, Inc. He filed the paperwork for that company on December 6, 2007, and he is listed as its president and secretary.
Records with the WHOIS database also revealed Sola registered the kidsfurnishings.com domain name and updated it on December 14, 2008. At the time, he was listed as the administrative contact for the Web site.
When customers called Kids Firnishings.com, though, they were told Sola had nothing to do with the company.
ConsumerAffairs.com heard that same story when we called the company as a customer. During that conversation, a man who identified himself as Robert Dalbey told us he was the owner. He also told us that he didn't know anything about Kid Quarters.
When we called Kids Furnishings.com back as a reporter, Dalbey changed his story. This time, he said he knew a great deal about Kids Quarters he managed the company's store in Tampa.
Dalbey also said he bought the Kids Furnishings.com Web site and its "intellectual property" from Sola in early March.
Records filed on March 4, 2008, with the Florida Secretary of State's office reveal a change in officers for Kids Furnishings.com. The name of the company's president switched from Antonio Sola to Robert Dalbey.
"Mr. Sola has no connection to me now," Dalbey told us. "I rent some warehouse space from him, but that ends in April."
Kids Furnishings.com, he said, will also operate much differently than Kids Quarters.
"We are only an online business. We're going to keep things on a much smaller scale. We also won't charge customers' credit cards until their furniture leaves the factory. And we'll make sure everything in stock before we place an order."
Dalbey added: "I learned a lot of how 'not-to-do things' working for Kids Quarters."
What went wrong?
What went wrong with Kids Quarters? Why couldn't the company fill customers' order? And why did it continue to take consumers' money when it couldn't fulfill their orders.
We've tried to get Antonio or Monique Sola to answer those and other questions. But they have never returned our calls or e-mail messages.
We posed the same questions to Dalbey.
He blamed the ailing economy for Kids Quarters' financial problems and its ultimate closing. "We weren't getting in the sales like we did one to three years ago. But we still had to pay vendors, make payroll, and cover rent. The rent at our Tampa store was $50,000 a month.
"This was just like any other business," Dalbey said. "Once you start spending more than you collect, you get into trouble. And he (Sola) didn't have the sales to cover his expenses."
If that's the case, why did Kids Quarters continue to take orders and customers money?
"I would think it's because they kept thinking that things were going to come aroundto turn around. That didn't happen."
Dalbey said his company will try to help Kids Quarters' customers by honoring their contracts. But he can't help customers like Lisa who paid cash or those who bought their furniture with a debit card. Dalbey said he doesn't have their money and can't afford to take the loss.
When asked why consumers should trust him -- and his new business -- Dalbey said: "We're doing thing a lot differently than Kids Quarters ever did. It's a different company - it's my company and I'm not Antonio Sola."
If there's no connection between the companies, why did the bill of lading for our son's bed indicate the order was billed to KidsFurnishings.com?
We placed our order directly with Berg furniture.
"How is that possible?" asked Almog Lieber, vice-president of marketing for Berg. We called him on Monday about the bill of lading. "Your order has nothing to do with Kids Furnishings.com. Your order is under Berg Furniture.
"We paid for your shipping," he added. "In all my conversations with the trucking company, I told them I am paying for everything I didn't want them (Kids Quarters or Kids Furnishings.com) to touch your money at all. I am paying for everything. That way I can guarantee you get your furniture."
Lieber said there might be a mix-up in the paperwork and promised to investigate.
"This is almost personally annoying to me that this has happened," he said. "I see where we may be partially responsible for this. We didn't see these problems and catch them ahead of time. If we had, we would have saved some people a lot of aggravation."
In the meantime, consumers who still haven't received their furniture -- or their money -- aren't giving up. They've talked about hiring an attorney. They've filed complaints with the Florida Attorney General's office and other consumer protection agencies.
They've also promised to continue warning others about Kids Quarters.
"I don't know if any of us will get any money back," Valerie said, "but be assured we're ready to fight. There's power in numbers!"