---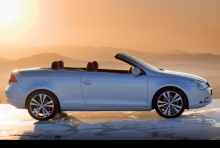 With summer on the way, many drivers' thoughts turn to convertibles. Consumer Reportshas published its annual survey of ragtops, giving the Volkswagen Eos the best overall score of the seven cars it ranked, narrowly out-pointing the BMW 328i. Both vehicles earned "Very Good" overall scores.
Two vehicles in the group, the Saab 9-3 and Volvo C70, earned somewhat lower overall road-test scores, but were still within the "Very Good" range.
The three remaining vehicles, the Pontiac G6, Mitsubishi Eclipse, and Chrysler Sebring, posted only "Good" scores and so were at the bottom of CR's rankings for convertibles.
Five of the seven cars tested have retracting hard tops, while two have traditional fabric tops. All of the tops are power-operated. The vehicles range in price from $32,660 to $49,525.
The latest trend in convertibles, folding hard tops improve visibility and security, the report found. But they have some downsides, too -- they take up considerable trunk space when open, and can't be operated on the move.
"The VW Eos is a well-rounded car that works well in all seasons," said David Champion, senior director of automotive testing for Consumer Reports. "Volkswagen has engineered a glass sunroof into the Eos' hard-top so that you can enjoy just a little sun, or get the full wind-in-your-hair convertible experience."
Consumer Reports is recommending three of the vehicles in this test group, the Eos, 328i, and C70. The 9-3 and G6 are not recommended because of below average reliability. The Eclipse and Sebring did not score high enough in CR's testing to be recommended, the magazine said.
Consumer Reports said it only recommends vehicles that have performed well in its tests, have at least average predicted reliability based on CR's Annual Car Reliability Survey of its own subscribers, and performed at least adequately if crash-tested or included in a government rollover test.
Eos
The VW Eos, which is equipped with the same eager turbocharged four-cylinder engine and responsive transmission found in the GTI and Audi A3, provides a good blend of power and fuel economy.
CR's engineers also liked the Eos's controls and impressive interior fit and finish. But the back seat is cramped and, despite the hard top, there is notable wind and road noise.
The Eos Lux ($35,829 Manufacturer's Suggested Retail Price as tested) is powered by a turbocharged 200-hp, 2.0-liter four-cylinder engine and six-speed sequential, or automated manual, transmission that is one of the quickest and smoothest around. The Eos delivered 25 mpg overall in CR's own fuel economy tests, the best of the convertibles in this group. Braking is very good overall.
BMW
The convertible version of the BMW 3 Series gives up very little in terms of the driving experience. The body is free of the flex typical of convertibles, and the 328i is agile and fun to drive, with a strong and smooth powertrain.
Like the 3 Series sedan, the convertible has a supple, well-controlled ride and sporty handling. The cabin is well finished and quiet, but the back seat and trunk space are very tight. The 328i ($49,525 MSRP as tested) is equipped with a 230-hp, 3.0-liter six-cylinder engine and six-speed automatic that deliver strong and smooth performance. But it weighs 400 pounds more than the sedan, which hurts both fuel economy and acceleration. Braking is very good overall.
Saab
The Saab 9-3 doesn't stand out among sports sedans, CR said, but the pleasant convertible version is more competitive. The ride is on the stiff side, but the body has little flex and wind buffeting is not excessive with the top down.
Like the others in this group, rear-seat room is tight. The 9-3 2.0T is powered by a 210-hp, turbocharged four-cylinder engine and five-speed automatic transmission that provides a nice combination of performance and economy.
Volvo
Volvo's C70 convertible offers a well-finished hard top, a sleek interior with impressive fit and finish, and many safety features including side curtain air bags. But it's sluggish from a stop, the ride is stiff, and it's not very agile. Interior space is tight, with a tiny rear seat.
The C70 T5 ($43,880 MSRP as tested) is propelled by a 227-hp, turbocharged, 2.5-liter five-cylinder engine and five-speed transmission that provide decent performance. Braking is very good overall.
Others
Pontiac's four-seat convertible is the least expensive in this group with a retractable hard top and a rear seat that can accommodate two adults in a pinch. The driving position is roomy and acceleration is brisk. But the G6 has an unsettled ride, lacks agility, and creaks and groans constantly, CR reported. Interior fit and finish is subpar, rear access is extremely difficult, and the trunk lid is heavy.
The G6 GT that CR bought ($32,660 MSRP as tested) came with the Sport package, which includes a 222-hp, 3.9-liter V6 that delivers lively acceleration. The four-speed automatic shifts smoothly. Braking in the G6 is also very good overall.
The Eclipse Spyder's sporty impression is only skin deep, the magazine found. While acceleration is quick and handling seems agile at first, CR's tests exposed diminished handling capabilities at its limits.
Its awful visibility, intrusive noise, hard ride, vestigial back seat, and wide turning circle are constant annoyances. The Eclipse Spyder GT is powered by a 260-hp, 3.8-liter V6 engine that delivers strong acceleration. Its five-speed automatic transmission is smooth and responsive. The Eclipse's braking is also very good overall.
Much like the sedan on which it is based, Consumer Reports said the Sebring is a mediocre convertible.
On the plus side, it has a relatively roomy rear seat and trunk, easy-to-use controls and -- in Limited trim -- a strong powertrain. But the Sebring's handling is clumsy, the ride is unsettled, the front seats are uncomfortable, and the body groans and squeaks. The Sebring Limited ($37,030 MSRP as tested) is equipped with a 235-hp, 3.5-liter V6 engine that delivers ample performance. The six-speed automatic transmission is neither as quick nor as smooth as most six-speeds. Braking is good overall.