---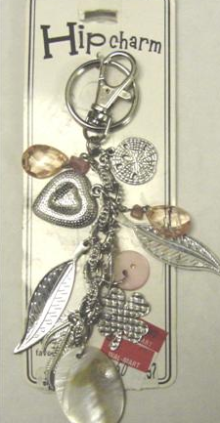 An Ohio professor says it took the Consumer Product Safety Commission (CPSC), 16 months to recall "
Hip Charm
" key chains with an alarming level of lead, the
Cleveland Plain-Dealer
reported.
An untold number of children may have ingested lead, which can harm brain development and even cause death, during that lag time.
It's the latest black eye for the beleagured agency. In February, consumer groups cited the settlement of a class-action suit against Sears to support their argument that the CPSC moves too slowly to effectively protect consumers from injury.
Sears agreed to fix as many as 3.9 million ranges by bolting them to a floor or wall, to prevent them from tipping over. The settlement covers every range Sears has sold since 2000 and could cost the retailer as much as $526 million.
The hazard was hardly a shock to the CPSC, which had known of the danger for more than 20 years, according to documents produced during the litigation.
In the key chain case, the commission and Wal-Mart last week recalled Chinese-made Hip Charm key chains after Illinois officials reported that an infant with high blood levels of lead had been found mouthing one.
But Jeffrey Weidenhamer, an Ashland University chemistry professor, says he told the CPSC in December 2006 that the Hip Charm key chains had dangerously high lead levels. Widenheimer has previously detected high lead levels that helped trigger recalls of Halloween and Eastern trinkets.
80% lead by weight
Weidenhamer said he purchased two of the key chains from a Wal-Mart store in Ontario, Ohio, in 2006. He tested them and prepared a study that was published in Chemosphere, an environmental chemistry journal. In December 2006, he notified the CPSC that he had found more than 70 items with excessive lead content.
Weidenhamer said that about 20 of the items were recalled, but not the Hip Charm key chains -- even though his tests found more than 80 percent lead by weight in several of the charms, much higher than the usual standard of .06 percent, the Plain-Dealer reported.
Despite Weidenhamer's warnings, his credentials and his previous safety alerts, the CPSC took no action on his warnings until a public-health nurse in Illinois reported that she found a 9-month-old girl mouthing her mother's key chains. She had gone to the girl's home to try to determine why she exhibited high levels of lead in her blood.
Subsequent tests found some of the charms on the key chains had more than 69 percent lead by weight.
Weidenhamer is critical of the agency's plodding pace. "You shouldn't have to wait a year or 16 months to recall a product" when you know it is dangerous, he told the Plain-Dealer.
Illinois Attorney General Lisa Madigan is also critical of the commission. Last week she wrote to Nancy Nord, acting chairwoman of the safety commission, to say she was concerned after learning that Weidenhamer discovered the "extraordinarily high lead levels in these key chains as early as December 2006."
The Plain-Dealer quoted CPSC spokeswoman Julie Vallese as saying the agency welcomes "credible outside information about possible product safety hazards, but we have to verify that information and take action based on CPSC investigations and not those done independently."
Congress may act
Congress has been considering measures that would strengthen the CPSC. A bill pending in the Senate would gradually increase the agency's funding to $155.9 million by 2015. It includes many clauses that would make it harder for companies to get away with making dangerous products. The agency was slated to have a $63 million budget this year, but Congress bumped that up to $80 million.
A similar bill unanimously passed the House of Representatives in December, but is considered by many consumer advocates to be inadequate compared to the Senate version, written by Sen. Mark Pryor (D-Ark.).
Acting CPSC chair Nord complained earlier this year that the press treats recalls as a safety problem, when in fact they are, she argued, evidence that the agency is doing its job.
In a speech to the National Press Club in January, Nord repeatedly hailed her agency's success in removing the coma-inducing Aqua Dots from the market and chastised the media for not congratulating the agency on its success.
Not only did the media coverage not mention the lightning speed at which we acted in this case, but it also failed to mention that there was absolutely no way the CPSC could have anticipated or tested for this product defect at the ports, or anywhere else for that matter, until an incident had manifested itself, Nord said.
That argument does not carry much weight with Sen. Sherrod Brown, (D-OH).
"It's bad enough that it takes a professor at Ashland University to alert what was once the greatest consumer protection agency in the world that there are toxic toys that American children are exposed to," Brown said. "And then you've got an agency that even when that's done, they don't respond," Brown said, according to the Plain-Dealer.