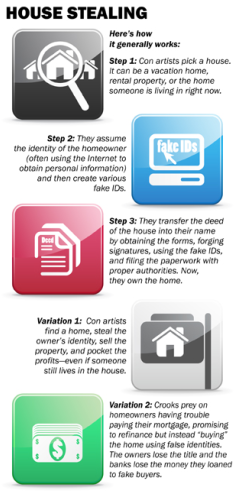 A new type of crime is targeting homeowners. It's one that combines identity theft with mortgage fraud.
When you mix those criminal activities together, you end up with a scam that threatens the American Dream of owning a home. This new crime is called house stealing, according to the Federal Bureau of Investigation (FBI). And some victims of this illegal scheme are desperate homeowners facing foreclosure.
Authorities say house stealing is a complicated crime that has a several twists and variations. In most cases, though, here's how it works:

• Con artists pick out a house to steal;

• They steal that homeowner's identity. They get their names and personal information -- and then make fake social security cards, driver's licenses, or other forms of identification;

• Con artists go to an office supply store and buy forms to transfer property;

• They forge the homeowner's signature on those documents and file them with the appropriate governmental office usually the county recorder of deeds office;

• Once those papers are filed, the deed to the house transfers to the con artists. And the home belongs to them.
In another twist to the crime, con artists look for vacation homes or rental property to steal. They find out who owns the property, steal their identities, and follow the same steps to transfer the deed to their house into their names. In these cases, though, authorities say the con artists put the empty houses on the market and keep the proceeds from their sales.
Sometimes, these con artists even sell homes while unsuspecting families still live in them.
The con artists -- who have already transferred the deed to the homes into their names -- find buyers who are willing to purchase the properties based on a few online pictures.
The con artists keep the proceeds from the illegal sales and the rightful owners continue paying the mortgages for homes they no longer own.
Straw buyers
This crime can become even more complicated.
Consider a case the FBI and Internal Revenue Service (IRS) investigated last year, which targeted homeowners facing foreclosures. That investigation revealed a 35-year-old real estate owner in southeast Los Angeles defrauded more than 100 homeowners and lenders out of $12 million dollars.
The real estate agent, Martha Rodriguez, promised to help struggling homeowners pay their mortgages by refinancing their loans. Instead, Rodriguez and her partners allegedly used stolen identities and filed fraudulent loan documents to buy those homes.
They also used what are called "straw buyers" in the scheme. These are individuals who are paid for the illegal use their personal information. The "straw buyers" also filed loan documents -- ones that contained false information -- to buy some of the homes.
Rodriguez and her partners used the new loans to pay off the mortgages in default, but they pocketed the remaining proceeds. They also failed to make any payments on the new mortgages, which eventually went into default.
In the end, the rightful owners lost the titles to their homes. And the banks lost the money they loaned to the fake buyers.
Rodriguez pleaded guilty last February in United States District Court in Los Angeles to one count of mail fraud and one count of money laundering for her role in the scheme. Authorities said she duped homeowners from May 2003 until November 2005.
Rodriguez admitted that she and her partners targeted homeowners facing foreclosure. They found their victims through computerized databases that list homes going into foreclosure.
Rodriguez ran the scheme through her California-based real estate and escrow agencies, Silvernet Properties and Bellasi Escrow. She now faces a maximum sentence of 40 years in federal prison.
Rodriguez agreed to forfeit her interest in five homes, a truck, and approximately $900,000 in cash that authorities seized when she was arrested.
Authorities also charged four other people in connection with Rodriguez's scheme. Those defendants, who were Rodriguez's partners in the crime, are Cynthia Valenzuela, 24; Edward Seung Ok, 40; Maria G. Juarez, 36; and Vladimir Stefanovic, 35. Stefanovic is listed as Rodriguez's common-law husband.
Prosecutors say the indictments are not evidence of guilt and the defendants are presumed innocent until they are proven guilty in a court of law. Valenzuela, however, pleaded guilty to charges of mail fraud.
What to do?
How can homeowners prevent con artists from stealing their property?
FBI officials suggest the following:

• If you receive any payment books or information from a mortgage company that is not yours -- whether your name is on the envelope or not -- do not throw it away. Instead, open the envelope, figure out what the documents state, and contact the company;

• Periodically check all information about your home with the recorder of deeds office in your county. If you find any paperwork you don't recognize -- or any signatures that are not yours -- immediately contact your mortgage company and county officials;

• If you discover someone has fraudulently stolen your home, contact http://www.fbi.gov/contact/fo/fo.htm the FBI in your area or your local police department.
FBI officials say house stealing is not widespread, but it's a crime they are closely monitoring.