---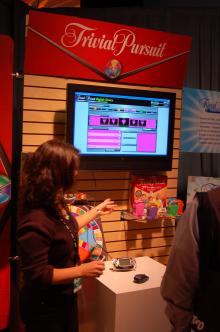 An electronic Trivial Pursuit

After browsing through just some of the millions of toys on display at the world's largest toy fair, it's apparent that in the realm of children's products, 2008 will be the year of technology and Hannah Montana.
ConsumerAffairs.com visited the Toy Industry Association's American International Toy Fair in New York this week to examine and play with many of the latest toys, most of which were prototypes that will hit store shelves this summer or fall in anticipation of the Christmas surge.
Whether it was the remote control car that runs on hydrogen or the interactive animatronic triceratops, it was clear that almost all manufacturers are banking on children begging their parents to buy them the latest gadget in 2008.
Technological toys are always on the upswing, said Zach Oat, editor of the toy magazine ToyFare. As kids get more and more used to technology, they're looking for toys that can actually do something and that they can interact with. Traditional toys will never go away but everyone's looking for the next big thing.
Nowhere was this more apparent than in the showroom of the world's second largest toy manufacturer, Hasbro.
Certainly technology is something that's happening, Wayne Charness, senior vice president of corporate communications at Hasbro said. We're always reinventing, reimagining our toys.
Kota & Smores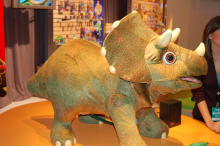 Kota Triceratops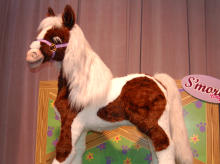 Smores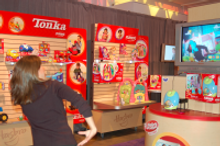 Dance Cam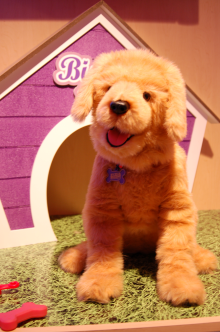 Biscuit
Hasbro's most advanced toys were headlined by a series of animatronic pets lead by Kota the triceratops and Smores the pony. Kota and Smores will come equipped with more than 10 sensors that make them react when you pet them in certain places or put food in front of their faces. They move their heads, open and close their eyes, wag their tales, munch on a leaf and can even accommodate a child-sized rider or two, but they don't actually walk. They will retail for $300 and the smaller robotic Golden Retriever named Biscuit will go for $150.
Following in the trend of competing with the Nintendo Wii's get-kids-off-the-couch interactive controls, Hasbro developed two dance games.
The first, for three-year-olds and up, is the $40 Dance Cam which plays music and displays silly backdrops through a TV. It comes equipped with a camera so children can stand in front of the TV and see themselves dance and follow simple dance moves or create their own.
Hasbro's second dance game, U-DANCE, which is sponsored by pop star Chris Brown and is intended for teenagers, is similar to the internationally popular video game, Dance Dance Revolution. The $75 U-DANCE requires the dancers to wear tracking devices on their feet and follow the dance instructions that appear on the TV screen.
One of the most innovative products which Hasbro released last year was Tooth Tunes. The $10 children's toothbrush plays a two-minute song through the bristles. Although it's initially silent, once the child starts brushing his or her teeth, they will hear the music after it vibrates through their gums and eventually to their ear drum.
The idea is to get children to brush their teeth for the two minutes recommended by the American Dental Association. Tooth Tunes is the best-selling toothbrush in the U.S.
Mr. Electronic Potato Head
Hasbro now offers electronic versions of many of its traditional toys, such as Mr. Potato Head and, most notably, its board games.
Now you can play Monopoly on the board game like you did when you were a kid, Charness said. You can play it on your cell phone. You can play it online. So our job is really to offer toys wherever and whenever you want.
Hasbro's latest take on the classic Trivial Pursuit board game is particularly fascinating as its new video interface and DVD database of question cards adds considerable longevity and specialization to the game. The DVD version comes with 1800 cards while the original has 60. It also has the option to draw cards based on the players' particular knowledge. So if the game is between history buffs or pop culture junkies, the game can cater to those skills.
Fuel cells
Automakers should take notes from the U.K.'s Corgi toy company which has created a remote control car that runs 100 percent on hydrogen fuel cells.
The H2Go comes with a converter that turns tap water into hydrogen and inflates a small balloon in the car with the Hydrogen that feeds the fuel cells. The car zips along at six miles per hour for five minutes before the balloon needs to be re-inflated. The $130 package, expected to be released July or August, comes with a solar panel to operate the converter and recharge the remote control.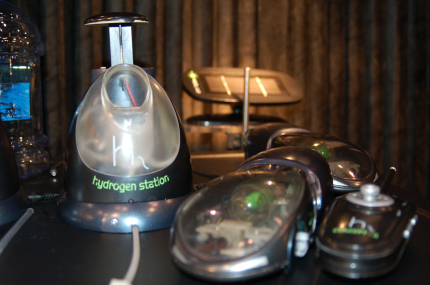 The H2Go complete set
Despite Spin Master's 2007 recall of 4.2 million Aqua Dots that contained date rape drug ingredients, the company has rebounded with a host of award-winning high-tech toys.
Leading the way is the Air Hogs Havoc Heli Laser Battle remote control mini helicopters. The helicopters won 2007 Toy of the Year at the fair and are mounted with lasers so that two children can temporarily shoot down the other's helicopter with invisible beams. The two-helicopter Havoc Heli package retails for $100.
Along the same line is the Air Hog Zero Gravity remote control car. Using vacuum suction, the car can be raced on walls and ceilings. It is expected to be released in the fall and will retail for $30.
Tactile
While most of the high tech toys at the fair were targeted at eight-year-old boys and included at least one circuit board, some of the most fascinating toys took advantage of the tactile sensations that pre-schoolers enjoy.
Most notable was Spin Master's Moon Sand which won the Infant/Preschool Toy of the Year. While Moon Sand looks and feels like brightly colored sand, it can be molded into any shape like clay when pressed together. Best of all for parents, the $20 Moon Sand can be swept up and doesn't stain.
Irwin Toy company also hopes to take a cut of the activity toy craze created by the Wii when it releases its Me2 in the spring. Me2 is an online world filled with games, puzzles and stratagems that children's avatars can only operate in once they have collected so many points generated by walking, riding a bike or just about any other physical activity in the real world.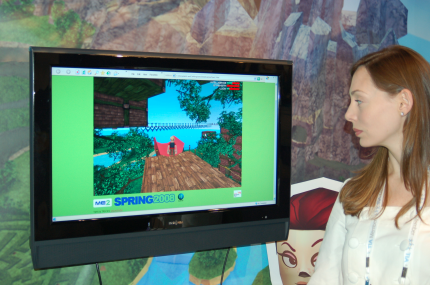 Irwin Toy's Jessica Gavin demonstrates the Me2
Children average 4,000-5,000 steps a day according to Irwin Toy marketing manager Jessica Gavin. Me2 uses an advanced pedometer that senses other motions associated with exercise and children must walk about 10,000 steps a day in order to advance to different islands and play games in Me2's online world.
After a day of physical activity, a child can connect his or her pedometer via USB cable to a computer and transfer any points collected to Me2's world. It's expected to retail for $35-$40, quite a bit less than comparable games.
Hannah Montana
While technological toys grabbed most of the headlines at the fair, it was impossible to avoid the powerful presence of Disney's pop sensation, Hannah Montana.
It seems like every single booth I walked by had a big cardboard cutout of Hannah Montana, Oat said. Everybody wants to have something that is tied into a brand that kids love whether it's note pads or school supplies or book bags or bean bags.
Both large manufacturers, such as Mattel, and small, such as Brand New, based in Chicago, have profited from the teen idol who has created frenzies and sold out performances across the nation.
Brand New specializes in and is known for large collectible Pez dispensers, but their most profitable item by far is Hannah Montana's Bubble Blast, a three-foot roll of bubble gum that comes in a collector's tin, said the company's co-owner, Kelly Faso.
It's on fire, Faso said. We sell Star Wars (Pez dispensers) and that's always great selling. But right now people are really seeking out Hannah Montana.
She's a phenomenon, Faso continued. There hasn't been anything like Hannah Montana in a long time. They're comparing her phenomenon to the Beatles. This is a crazy time that we're living in and there's not a lot of role models, but she's definitely hitting that plus it's just the wholesomeness of her character.
---
Photos by Joe Enoch