What do presidents have to do with mattresses? Whatever the answer, each year consumers are bombarded with President's Day weekend mattress sales.
Those who heed the call often find themselves subjected to confusing, high-pressure, fast-close sales techniques seldom seen outside the used car lot.
While larger department and furniture stores sometimes take a sedate, hands-off approach to mattress sales, mattress discount chains -- like Mattress Discounters, Mattress Warehouse, Sleepy's and others -- are more likely to tout their "sales blowouts" with insistent commercials and overwrought print ads.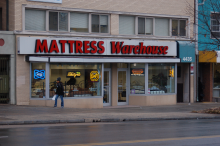 In the Mid-Atlantic region, Mattress Warehouse has a knack for generating consumer grousing, accounting for about 10 percent of all mattress-related complaints to ConsumerAffairs.com. The complaints cover the gamut, including bait-and-switch tactics, disputed charges, poor service, delivery delays and deceptive sales tactics.
Consumers complain that while store salesmen and saleswomen will do nearly anything for a sale, they're nowhere to be found when things go awry with the delivery or the quality of the mattress.
Jim of Mifflinville, Pa. tried to file a warranty claim after his second Mattress Warehouse mattress sunk in after six weeks.
I called the home office five days in a row five weeks ago and left messages at four different extensions, Jim wrote. I have had no call backs.
More than 25 consumers say the company delivered the wrong mattress and tried to use bait-and-switch tactics upon the day of delivery.
On the day I purchased the mattress set both sets were on sale, Laura of Pasadena, Md. wrote. The plush set for $599 and the pillowtop set for $499. I paid for the plush set and received the pillowtop set. I have called the store and talked to the same salesman numerous times and all he says is 'I have to check with the warehouse.'
Some consumers say fraudulent charges appear on their statements.
While I was reviewing the receipt in the store I noticed a charge for a bed cover/protector for $90, wrote Melissa of Fairfax, Va. I asked the manager what that was for and he stated that it is a separate item. I informed him that I never ordered the item nor did I ever receive the item. I asked him to issue a refund since I did not want the bed cover and he refused. He said he did not know why the sales person added the cover. He then said, and I quote, 'The sales person probably added this item so he could get an additional $10 in commission.'
Delivery woes
More than half of the complaints include statements about late or incomplete deliveries.
I ordered two mattresses and paid in full before receiving the products, but (they) were never delivered, wrote Jennifer of Harrisburg, Pa. "In fact, on their copy of the receipt, it says 'delivery unsuccessful,' but no one tried delivering the mattresses to my home. After about six weeks of excuses I decided to ask for a refund. They made a clerical error I guess and only reimbursed part of what I paid them.
While the list of complaints goes on, the other commonly found gripe is that the salespeople, who appear to work on commissions, fail to live up to the Honest Abe image projected in the Presidents Day sale circulars. They will stretch the truth to make a sale, customers charge.
We arrived and tested the 'Whitewater Falls' mattress by Simmons ... in the Warrenton, Va. store, Annette of Woodbridge, Va. wrote. Price listed was $2,999 and Jerry (the store manager) said he was in a sales contest and could give us the mattress set for $2,200. We thought that was a great deal and agreed.
Of course, he wanted us to pay for it right away, but we only agreed to put down $20 to hold the price for a few days, she continued. On looking over the sales receipt the following day, we notice the name of the mattress listed was 'Whitehaven.' So I called another Mattress Warehouse and asked the price of the Whitehaven and, wouldn't you know, it was $2199.
Mattress lawyer
Mattress Warehouse attorney Keith Rosa said he doesn't believe there are any serious customer service issues and said he believes many of the 150 complaints filed with ConsumerAffairs.com are the work of competitors.
Maybe 20 of them are true, he said. Rosa said it was suspicious that there were, by his count, only seven complaints published on ConsumerAffairs.com regarding Mattress Discounters, one of the company's largest competitors. In fact, more than 20 complaints currently appear on the site. As of this writing, there are 24 Mattress Discounter complaints in the database compared to 150 for Mattress Warehouse.
Not all complaints sent to ConsumerAffairs.com are published but all are retained in the database, ConsumerAffairs.com President James R. Hood said. Different complaints may appear at different times, as editors try to keep the site fresh and reduce repetition, he said.
"Our purpose in publishing complaints is to show what can happen -- not to chronicle every single transaction," he said.
Hood said various methods are used to spot phony complaints but said he could not discuss them publicly.
"The claim that competitors file phony complaints is one we hear all the time but we have never found a single instance of this occurring," he said.
Complaints verified
In response to Rosa's claims, ConsumerAffairs.com called close to 70 consumers who have filed complaints about the mattress chain. Most consumers were out the first time we called, though many had answering machine messages that matched the identity information on the complaints.
Of the 20 consumers who picked up the phone, six said they received some sort of resolution from the company, usually a refund or new mattress. The rest said they are either still fighting with the company for a resolution or have given up.
All the consumers we spoke with over the phone said they would never recommend the company to anyone and all said their dealings with the company were among the worst consumer practices they've ever experienced.
Rosa suggested that ConsumerAffairs.com should research the "glowing record" Mattress Warehouse has with the Better Business Bureau. So we did. In fact, Mattress Warehouse has an unsatisfactory record with the Bureau due to unanswered complaint(s), according to the BBB's reliability report.
The BBB has received 278 complaints in the past 36 months, 150 of which the company has resolved.
Mattress Warehouse has also been at the center of 173 court cases in Maryland, according to the state's Web site. Most of the cases are small claims from consumers who believe they were ripped off.
Mattress Warehouse holds its customers in the highest regard, according to a company statement provided by Rosa. Each and every consumer concern is important to us, and can serve to make us stronger and more efficient for all our customers. We take pride in our effective and immediate responses to all customer concerns, questions, and inquiries.
We encourage all of our consumers to contact us directly with any issues or problems they may have, the statement continued, providing the following contact information:
Mattress Warehouse Customer Service
Melissa Jones, Customer Service Manager
301-682-8504 x237
staff@sleephappens.com
ConsumerAffairs.com tried that number and extension three times and every time it landed us in a generic customer service voicemail box.
Lengthy process
The six consumers who said they received some sort of reasonable solution to their complaints said it took as long as six months to get a refund or replacement and all of them were persistent. One went to small claims court, one went to the police, one went to her state attorney general and another got restitution after her complaint appeared on ConsumerAffairs.com.
Patricia Morris of Alexandria, Va., got a replacement mattress after she hounded them with phone calls, e-mails and faxes for five months.
Lynn Freedman, of Elkridge, Md., who says a salesman put her initials next to items she didn't ask for on an order form, said she considers herself lucky that after weeks of persistent haggling, she was able to get her money back.
Judy Tankersley, director of operations at the BBB of Metro Washington DC & Eastern Pennsylvania, suggested consumers shop around at as many stores as possible and to closely examine the warranty and refund policy before purchasing.
It pays to do comparison shopping, she said. Check our Furniture section for more consumer reviews of mattress and bedding stores.
Consumers should also look out for a tag on the mattress that identifies it as being used or manufactured with used products, Tankersley said. Retailers are required to label any of their used mattresses.
Rosa insisted that Mattress Warehouse never sells used mattresses.
Unlike some of our competitors, we are not in the business of selling used bedding, and therefore adhere to a no-refunds policy, clearly stated in all our store locations, according to the company statement.
However, some Mattress Warehouse consumers say the company delivered them a used mattress.
I purchased a new full-size bed for my little girl, wrote Sarah of Ashburn, Va. It has the most disgustingly foul smell to it. I called the store and was told I would be contacted right away. It is now a week later, and I still have yet to receive a call. ... I think I smell a mouse! I am sure the offensive odor is rodent.
To ensure your new mattress is actually new and for other mattress buying advice, read ConsumerAffairs.com's "Mattress Mafia" buying guide.
On the other hand, the Presidents Day mattress hoopla has become so ingrained that it has been satirized by The Onion, perhaps making it an essential rite of passage.