---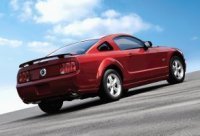 Ford Motor Company is recalling more than 400,000 model year 2005 to 2008 Mustangs because the passenger-side airbags may pose the risk of neck injury to small women or large children riding in the seat with the safety belt unattached.
During an air bag deployment, if a small female in the front passenger seat is not wearing the safety belt and has the seat in the full forward position, there may be an increased potential for a neck injury, according to a summary of the recall order posted on the Nation Highway Traffic Safety Administration (NHTSA) web site.
The test dummy in the front passenger seat during a NHTSA test of the Mustang was representing a fifth percentile female or a large child. A fifth percentile female is approximately five feet tall and about 108 pounds but also could represent others, including a larger child.
We use both the fifth percentile and fiftieth percentile male dummies in tests to make sure the results are representative of a range of occupants, a NHTSA spokesman said.
Doing a test with a fifth percentile female in full forward seating position would often represent worst case in terms of the potential for injury to the occupant. The combination is commonly used with airbag crash tests, among other things, he said.
Ford is recalling the Mustangs for failing to comply with one of the neck injury requirements of Federal Motor Vehicle Safety Standard 208,'Occupant Crash Protection,' according to NHTSA.
Described by Ford as a voluntary recall, Ford dealers will reprogram the Mustang airbag restraint control module free of charge.
The NHTSA Office of Vehicle Safety Compliance notified Ford of the air bag noncompliance on July 24, 2007. The automaker said that, After an extensive investigation, it was determined that the subject vehicles do not comply with the requirements.
Ford notified dealers of the recall February 22 and a recall was issued with a warning going out from Ford to Mustang owners February 27 and 28, 2008.
Ford also told dealers to stop demonstrating or delivering the Mustang until they are updated with new software for the constraint control module.
With the recall, the automaker plans to notify affected Mustang owners to take their vehicle to a Ford or Lincoln Mercury dealer for the software update. Ford will also instruct them to have all occupants wear their safety belts and move the passenger seat rearward away from the passenger air bag, according to a letter from Ford on file with NHTSA.
An owner can take these steps to eliminate any real world safety risk associated with this noncompliance, Ford told NHTSA.
Mustang owners may contact Ford at 1-866-436-7332 or NHTSA at 1-888-327-4236 (TTY 1-800-424-9153).