Christina Selter is on a mission to protect pets nationwide.
The California woman, who recently founded the Bark BuckleUp, wants to educate dog and cat owners across the country about the importance of buckling up their pets in cars and trucks.
Pet Restraints Backseat barrier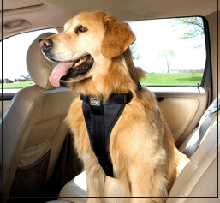 Smart harness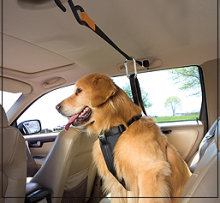 Auto zip line
Photo credit: Kurgo Products
"Bark BuckleUp is just like the 'Click It or Ticket' (seat belt campaign) but for pets," she told ConsumerAffairs.com. "We believe that getting the word out to the nation is the best way to save pets' lives.
"You buckle yourself up when you get in a car. You buckle your kids. Why not buckle up your pets?
Most pet owners, however, don't think about restraining their dogs or cats in a harness, car seat, or crate when their animals are with them in a vehicle, Selter said.
"A recent study by the American Pet Products Manufacturers Association showed that only about 20 percent of pet owners buckle up their dogs and cats when they travel with them in a vehicle."
Other pet owners, she said, might not understand that it's safer for everyone in the vehicle if a dog or cat is restrained.
"Why should pet owners buckle up their animals in a car or truck?" Selter asked during a recent interview. "Number one, because it protects your pet, yourself, and your passengers. If you have an accident, your pet can become a projectile. Even in an accident where you're going 30 mph, a 60-pound dog can cause an impact of something like 1,200 pounds.
"The second reason you should buckle up your pets is because if you get in an accident and the police come to help you, your dog could get out of the vehicle and run into traffic. Your dog might get hurt, cause another accident, or run away. Your dog might also bite the emergency responder."
Dogs and cats can also be killed or injured by airbags and should always be placed in a seat that does not have airbags if the bags can't be turned off..
Educating pet owners -- who are traveling more with their dogs and cats these days -- isn't Selter's only mission.
Tether laws
She also wants to change the laws in all 50 states to require pet owners to buckle up their dogs and cats in vehicles.
"The current laws for pets in cars are, well, bad or non-existent," Selter said. "The California tether law requires that you secure your pet in the back of a pickup. This is absolutely absurd. It only covers pets on the outside of a vehicle. Nothing covers a dog or cat inside a vehicle. That's what I'm trying to change."
Twenty-five states have tether laws similar to California's, Selter said. "But there are no state laws that require pet owners to buckle up their dogs or cats."
The educational arm of Selter's campaign has captured the support of veterinarians, emergency responders, pet restraint manufacturers, the National Car Dealers Association, and Volvo.
But few are convinced that legislative action is needed -- or wanted -- on this issue.
"I'm more supportive of educating people about this," said Linda D'Orsi, captain of the Chula Vista, California, fire department. She is also certified through the Federal Emergency Management Agency (FEMA) as a handler for urban search and rescue dogs.
"I see people who have kids not in their car seats all the time. If people won't buckle up their kids, will they buckle up their dogs?
"I do it and I believe in it," D'Orsi added. "I crate Cody (my search-and-rescue dog) and also my personal dog when they're in a vehicle with me. But I don't think legislation will change anything. I think education and getting the word out is a good idea. It would make my job easier."
Dogs in danger
D'Orsi has seen firsthand what can happen when an unrestrained pet is in a car accident.
"I've responded to a few calls involving pets and one stands out in my mind. There was a woman who got in a traffic accident and was going to be taken away in an ambulance. She had a dog (unrestrained) in the car with her, and that dog got out and was running in the road. He was spooked and we could not coax him back. It ran away from us.
"That would have been a good time to have that dog in a crate or restrained," D'Orsi said. "We couldn't secure that dog. That's why I think the whole buckling up or crating your pets is a good thing to do."
Unrestrained dogs in car accidents, D'Orsi said, can get killed even if they survive the initial impact.
"There was a dog handler who was in a freeway accident and she and her dog survived the accident," D'Orsi said. "But the dog was not crated and got out of the car. And he was killed."
Dr. Alicia Faggella with the DoveLewis Emergency Animal Hospital in Portland, Oregon, agrees that pets should be restrained in a vehicle.
The veterinarian, who holds advance training in emergency and critical care, cited several reasons why pet owners should buckle up their dogs and cats:

• Pets can cause an accident by jumping in the driver's lap, distracting the driver, or blocking the driver's vision. Small dogs can also get under the pedals;

• Pets can become "missiles" if they're in an accident or if the driver makes a hard stop or quick turn. This can kill or severely injure not only the animal, but also the people in the vehicle;

• When left unrestrained in a parked car, pets can dislodge the parking brake causing the car to roll down a hill into another car or person;

• Unrestrained pets in the back of a pick-up can be severely injured or killed by falling or jumping out of a moving vehicle or hitting the cab when the truck stops short.
Does DoveLewis support changing the laws to require pet owners to restrain their dogs and cats in vehicles?
Legislation questioned
A spokeswoman said the organization "remains neutral on any and all political issues, including pending, proposed, or possible legislation."
The American Kennel Club (AKC) said it advices pet owners to buckle up their animals in a car or truck.
"Dog show people have crates for their dogs," said Daisy Okas, AKC spokeswoman. "It's preferable to have them (pets) crated or strapped in a harness."
The AKC, however, isn't ready to jump on the legislative bandwagon.
"We're not aware of any proposed legislation on this issue," Okas said. "And we wouldn't comment until we saw the language.
"But legislation seems a bit much. Considering all the other priorities (in this industry), having legislation about strapping pets in isn't our biggest prioritythe enforcement would be mind-boggling. Education (about this issue) is what we advocate."
Carmaker Volvo has partnered with Bark BuckleUp and its efforts to educate pet owners about the importance of restraining dogs and cats in a vehicle.
"This seems to be a reasonable extension with what we've been doing for years to protect people," said Dan Johnson, spokesman for Volvo. "We've had a campaign for years about buckling children up in cars. So Christina's idea of trying to campaign to get people to properly restrain their pets seems to fit with what we want to do for safety."
Johnson said Volvo has two types of restraints that pet owners can add -- as options -- to its wagons, SUV and C30 coupe: a cage structure that goes in the back of the vehicle and a metal or nylon cargo net that comes down from the roof.
"Both are designed to hold objects in the back of the vehicles," Johnson said.
Volvo, however, isn't ready to endorse legislation that would require pet owners to buckle up their animals.
"I think it's too early," Johnson said. "Getting people aware of this issue is the first step. Look how long it's taken to get people to buckle up their children in the back of a car.
"But this is a good cause," he added of Selter's and Bark BuckleUp's efforts. "And we can help her raise awareness through our dealer network."
Pet restraints
Another company that has partnered with Bark BuckleUp is the Massachusettsbased Kurgo Products, which, among other items, makes pet restraints.
"We're definitely supporting Christina," said spokesman Gordon Spater. "It's the right thing to do. The safest thing people can do is restrain their pets in a vehicle.
"A large number of accidents, something like 30,000 a year, are caused by dogs in the front seats," Spater added, referring to a recent survey by the American Automobile Association (AAA). "That's not surprising if you consider all the dogs you see in peoples' laps when they're driving. We think that anything we can do to get dogs out of the front seat is a step in the right direction. The next step in the equation is to get them restrained. And all this will keep dogs and passengers (in the vehicle) safer."
Kurgo makes three types of car restraints for pets: a harness, a zip line that secures a dog but also lets it move back and forth, and a back seat barrier that creates a wall between the front and back seats of the car.
Prices for these pet restrains start at $25, Spater said.
While Kurgo supports Bark BuckleUp's safety campaign, the company does not endorse legislative action to require pet owners to restrain their dogs and cats.
"We're focused more on education," Spater said. "As a company, we think it's a good idea to restrain pets in a vehicle, but I'm not promoting a change in the law. I'm promoting Christina's angle of educating people."
Spater, however, said there is a measure proposed in Massachusetts that would require pet owners to restrain their pets in a vehicle.
"And in the European Union (EU) it's a law that you have to restrain your dog in a vehicle," said Spater, whose company works with a German distributor. "That law is most enforced in Germany, where about 50 percent of pet owners restrain their dogs in a vehicle. It's a soft law there. The police won't pull you over for it, but if they stop you for another reason, they can give you a ticket if your pet is not restrained."
Back in California, Selter is getting ready to take her campaign nationwide.
"We were at the San Diego Car Show and now we're heading the car shows in Chicago and New York," she said. "And I'm going to talk to national and international police chiefs at a conference in June."
Selter knows she has a long and difficult journey ahead one in which she's certain to meet people who oppose her legislative agenda.
But she's not discouraged.
"To the naysayers I meet, I normally go back through my mail and read them a story from someone who felt the same way they did, but then had an accident and their pet was with them in the car. Maybe no one was hurt, but then someone opened the door and the dog ran out.
"I remember when we used to not buckle up our children," Selter added. "But now we buckle them up -- and ourselves -- and we're a lot safer. Now we're at point where we need to think about keeping our pets safe. There's not reason not to buckle them up."