---
December 17, 2007
On the heels of her Dec. 3 announcement about red blood pressure cuffs found in Fisher-Price toy medical kits, Illinois Attorney General Lisa Madigan is warning consumers of a similar toy that presents a potential lead poisoning hazard the green blood pressure cuff found in Sesame Street Giggle Fisher-Price toy medical kits.
Madigan urges parents to take the green blood pressure cuff toys away from their children immediately.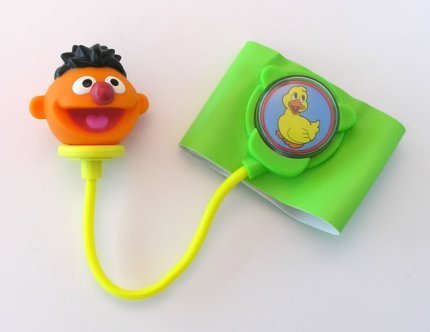 The toy kits are sold at retail stores nationwide, but Fisher Price has notified retailers to pull the product from store shelves only in Illinois, Madigan's office said.
Fisher-Price discovered that some of the green blood pressure cuffs from the Sesame Street medical kits contain more than 600 parts per million total lead in violation of Illinois law and immediately reported this finding to Madigan's office.
Fisher-Price has agreed to remove the toy medical kits from Illinois store shelves and offer a replacement part for families who already possess the toy. Consumers who wish to obtain a replacement blood pressure cuff can do so by contacting Fisher-Price at 800-298-0638 . Only the green blood pressure cuffs found in the Sesame Street Giggle Fisher-Price toy medical kits are affected by this alert.
I am pleased that Fisher-Price took the initiative to test its products, self-report a violation, quickly remove the affected blood pressure cuffs from store shelves, and offer replacements to consumers, Madigan said. I continue to urge manufacturers and retailers to review and tighten up their quality control procedures so consumers can be confident that the items on store shelves are safe for their children.
Madigan's office enforces the Illinois Lead Poisoning Prevention Act, which prohibits the sale of toys, clothing, jewelry or any other product intended for use by children that contains lead in excess of 600 parts per million. This law is among the strongest lead laws in the country.
Madigan stressed that there are millions of individual items already in children's homes and places they visit, such as grandparents' homes and daycare centers, that may pose a threat to children's safety.
Madigan has initiated a recall hotline at 1-888-414-7678 to help callers identify recalled products in their homes and explain how to contact companies to repair or return affected products. The hotline has received more than 500 calls in its first two months of operation and has been successful in providing information to consumers, especially those without access to the Internet. Consumers are also encouraged to sign up for e-mail alerts about the latest government recalls at www.recalls.gov.
Current recalls and archived recall notices are also available in ConsumerAffairs.com's
Recall Section
.