---
December 4, 2007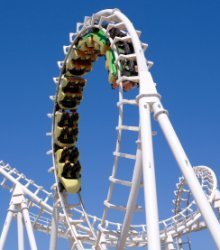 While part of the joy of amusement park rides is the fake element of risk, a report in today's Washington Post reveals that thrill rides may be outright deadly because there is nearly no effective federal or state safety oversight and industry lobbyists are spending millions to keep it that way.
While the Consumer Product Safety Commission (CPSC) regulates traveling carnival rides, each state has a patchwork of inspection rules responsible for other thrill rides. On average four people die and thousands more are injured every year, according to federal estimates.
At the center of The Post's investigation was the Sizzler, a spinning carnival ride manufactured by Wisdom Industries. Since 1997, the approximately 200 Sizzlers believed to be in operation have killed at least four and injured dozens more.
The CPSC, which operates with a stretched budget and shrinking staff, has 90 field investigators responsible for ensuring the safety of carnival rides and 15,000 other products within the U.S. Rather than taking proactive investigations into dangerous rides, they often arrive at the scene of an accident after the ride has been dismantled.
Pay attention
CPSC spokesman Scott Wolfson told ConsumerAffairs.com that the agency does everything it can to prioritize an investigation after the agency learns of a serious injury or death at a traveling carnival.
The most recent action taken for carnival rides was in 1999 when the agency prepared a repair program for the spinning Himalaya ride which killed two and injured three.
The CPSC responded last year to the Sizzler deaths and injuries by saying ride operators need to pay "greater attention to safety."
Traveling carnivals often sell a dangerous ride after it has killed or seriously injured a customer rather than fix it or put it out of service. State inspectors told The Post there's no way to track those rides.
Carnival rides are a small portion of the thrill ride industry. Stationary ride companies, such as Disney and Six Flags, funnel millions of thrill-seekers into their parks every summer but have no federal oversight and a minimal state-by-state patchwork.
Severed feet
Four individuals died on rides this summer. But the gruesome story that grabbed headlines was that of 13-year-old Kaitlyn Lasitter whose feet were severed by a loose cable on the Tower of Power at Six Flags Kentucky Kingdom. Surgeons could only reattach her right foot.
Lasitter's father told The Post he was shocked to discover there is no federal inspection program for the ride that left his daughter traumatized and suffering from frequent nightmares.
That exemption from federal oversight was the first of many power plays by high-powered Washington lobbyists.
In 1981 industry lobbyists hired Washington lawyer Kenneth Starr to convince Capitol Hill that the CPSC, which then had jurisdiction over stationary rides and whose staff was more than double its current size, was causing unnecessary economic hardship to amusement parks.
More safety measures might lessen the risk but would "make the ride worthless," lobbyist John Graff told Congress at the time, the newspaper reported. "The activities of the commission must be limited."
The exemption has left oversight in the hands of state programs, some which have no inspectors or enforcement powers.
By invitation only
In Florida, for example, safety inspectors can only come to an amusement park when invited. The consortium of parks in Florida do invite the inspectors once a year to an educational seminar, but do not allow the inspectors to inspect anything.
So far, the only worried voice in Washington is that of Rep. Edward Markey (D-Mass.) who first introduced legislation after four people died on rides in one week in the summer of 1999.
Markey secured a half-hour hearing in the then-Republican Congress on his legislation that would reinstate federal authority.
The International Association of Amusement Parks and Attractions responded to that hearing by quadrupling its lobbying funds to $430,000 in 2001 while providing campaign contributions and expensive trips to amusement resorts to key House Energy and Commerce Committee representatives and their staff. Even Markey received $23,000 in campaign contributions. His legislation died.
"Every summer there is a flurry of interest as the accidents and injuries happen," Markey told The Post. By autumn, "nobody decides that this is a big issue. ... Very few industries have been able to build a loophole in federal law and hold it for as long as they have. They are a powerful lobbying force."
Markey has reintroduced his 2000 legislation and there is expected to be a hearing this week. The House Energy and Commerce Committee website does not have it on the calendar yet.