---
It looked like he had it all.
Thats what a neighbor said about George Christian, the founder of Financing Alternatives, Inc., a company that targeted low-income Americans for overpriced, cheap computers sold on layaway.
But Friday morning in Chesapeake, Va., where the company is based and where Christian lives, Circuit Court judge Randall Smith ordered that the companys assets be frozen and that all of Christians authority as owner be handed to a lawyer who will ensure the company obeys the courts orders.
This was the first step for Virginias attorney general, who hopes to return money to thousands of consumers who have each paid thousands of dollars and never received anything.
Virginia is not generally considered a leader in consumer protection but it is known as a state with an extremely strict criminal justice system. It trails only Texas in executions and routinely hands out lifetime sentences for offenses that would get little attention elsewhere.
Perhaps as a result, the state has an unusually low crime rate. It also brooks little nonsense in civil affairs, as George Christian is now learning.
Like BlueHippo, Financing Alternatives (FAI), operates by advertising to low-income individuals, including the tens of thousands of armed services members stationed in Virginia.
Bad credit? No credit? No problem! company ads on TV and radio boasted since 1998.
However, poor consumers lured by the prospect of owning a computer often paid thousands of dollars and never received a single piece of hardware, said the attorney generals representative on this case, Richard Schweiker.
One of those consumers was LaCara Hunt of Norfolk, Va. who has two children and is enrolled in online criminal law classes. She said she needed the computer both for her children and her classes.
She paid close to $2,000, completing her payments to FAI, in March 2007, Hunt said. She still has not received anything and said she doesnt expect to.
She and her 7-year-old and 3-year-old children have been very patient, but have been forced to use her sisters computer until they get some sort of restitution.
Unfilled promises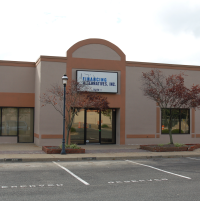 Financing Alternatives' office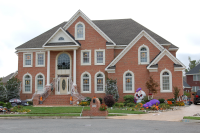 George Christians's home, decorated for Halloween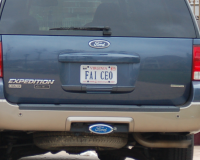 Christian's SUV
Photos by Joe Enoch
Her story is similar to 52 other people who have complained to ConsumerAffairs.com and close to 600 people who have complained to the state of Virginia.
The company promised to ship the computers after three months of payments, but most say they didnt receive a computer at all, even after paying in full.
Arthur Ruffin, who worked in FAIs customer service department from January 2007 to August, said he had to tell so many people why they werent receiving a computer, he remembers his scripted response to their questions:
Due to internal upgrades in our shipping and processing department, we are experiencing a delay, he had to tell customers.
He said there were no upgrades and that of the thousands of customers who paid in full, 25 percent at the most ever received anything.
In total, the company has received $3.3 million from 1,700 customers who paid in full, but received nothing, said Mike Coston, an investigator in Virginias Office of Consumer Affairs. He said there are many more people who have partially paid as well and have received nothing.
Big bucks
While the company was struggling to provide its overpriced merchandise to customers across the nation, its founder was receiving about $1.5 million per year and $7.8 million total, Schweiker said.
One week after the attorney general filed his suit, Christians wife, Michele, began attempting to seize many of the companys assets. She wrote a letter asking the company to pay $300,000 of a $500,000 alleged debt, Schweiker said.
On Oct. 3, local media photographed U-Haul trucks and storage pods outside FAIs headquarters. The movers were packing computers and office supplies but wouldnt tell reporters the destination of the company assets.
When ConsumerAffairs.com visited with Christians neighbors after the court hearing Friday morning, one said she saw a U-Haul truck, driven by Christians son, backing into the garage. She didnt see whether items were being packed or unpacked.
The garage door was closed when ConsumerAffairs.com arrived and no one would answer the door other than three yelping Yorkshire puppies.
No one came to the door when a member of the Sheriffs department arrived, presumably to serve a subpoena. The officer wouldnt say exactly what she was doing.
Before the attorney general filed the lawsuit, FAI transferred about $500,000 directly to Michele Christian and another $500,000 to a company in which she was the sole owner and employee, Schweiker said.
George Christian also funneled $43,000 of FAIs assets into Christians other company, First Consumer Finance, which eventually took over FAIs operations before the company ceased operations a month ago.
Other assets
Christian also opened Liberty Financial, LLC at FAIs current address earlier this summer. Liberty Finance worked with ACE Cash Express to sell computers to low-income consumers. Coston said he believes Liberty Finance also failed because Christian could only sell the computers at ACE storefronts in Los Angeles and Atlanta.
FAI owes state taxes of $42,000 and more than $1.3 million for advertising, according to papers filed by the attorney generals office.
FAIs headquarters, located in a strip mall, is now abandoned and empty.
Despite being fully decked in cheesy Halloween flair, Christians 6,000 square foot brick house, which is assessed at $864,900 and has an in-ground pool with small waterfalls, is lavishly wrapped in ornate landscaping.
Although he no longer controls his company, the Ford Expedition in his driveway has a vanity plate that reads: FAI CEO.
His neighbor said he has a Porsche in the garage and is always playing with toys referring to expensive machinery.
He said on Labor Day weekend, Christian pulled up in an enormous Travel America RV. The ones you only see country music stars riding around in.
I was thinking, someday down the road Ive got to get me one of those things, the neighbor continued. But Im not going to do it by bilking thousands of people out of their money.
It looked like he had it all, the neighbor said. Apparently he doesnt.
Many nannies
Another neighbor said the Christians, who have six children, had up to three full-time nannies at one time. They only have one nanny now, she said. She also said they have a regular cleaning woman.
Both neighbors ConsumerAffairs.com interviewed individually said they wanted to remain anonymous because, I dont want to get caught up in all this stuff.
Hippo cousins
FAI and BlueHippo, based in Baltimore, Md. appear to be identical computer layaway schemes.
Coston, from Virginias office of Consumer Affairs, said Christian and BlurHippos founder, Joseph Rensin, used to be business partners. Christian complained to Coston that Rensin stole his business plan, Coston said.
FAI was founded in 1998 and BlueHippo, 2003. Their contracts are identical, Coston said, even in physical appearance.
Coston said he thinks the two had some sort of non-compete relationship because he hardly gets any complaints about BlueHippo.
Of the 315 BlueHippo complaints ConsumerAffairs.com has received, nine are from Virginia and eight of those were less than one year old.
Although most of FAIs operations have been, at the minimum, temporarily put on hold, BlueHippos fate rests in a California class action lawsuit.
Coston said the next step for this case is for the receiver who took over FAI to determine the companys assets. Once that is finished, assuming the company does not have enough money to pay back the more than $3.3 million it owes customers, the attorney general will attempt to recover assets which were recently funneled into other businesses and Michele Christians bank account, and George Christians personal stash.
The attorney generals office hopes to conclude this case by December, but Coston said that may be wishful thinking.
What to do
Consumers from anywhere in the United States who have lost money to Financing Alternatives should file a complaint with the Virginia Office of Consumer Affairs. Complaint forms can be obtained online or by calling the Office of Consumer Affairs at 804-786-2042. Completed complaint forms may be sent to: Office of Consumer Affairs, P.O. Box 1163, Richmond, VA 23218.