---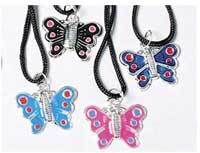 While the Consumer Product Safety Commission continues to recall children's jewelry containing lead almost every week, consumer advocates are urging parents to use caution when purchasing any cheap jewelry and to consider discarding any that may already be in the home.

A sample testing by the Consumer Product Safety Commission (CPSC) revealed that 20 percent of children's jewelry contains unsafe levels of lead. Other tests by state officials in Maryland, Ohio and Massachusetts suggest even higher percentages.

A June 29 article by ConsumerAffairs.com revealed 96 percent of the toys recalled from January 2007 to July were Chinese imports and most were lead-laden trinkets.

"Parents should stay away from cheap jewelry, absolutely. And I would advise parents to throw away any cheap jewelry unless they are sure it comes from the U.S. or a more developed country," Sally Greenberg, Senior Product Safety Counsel for the Consumers Union, the nonprofict publisher of Consumer Reports, wrote in an e-mail.

Rachel Weintraub, director of product safety for the nonprofit consumer advocacy group, Consumer Federation of America, suggested parents obtain a home lead test if they want to purchase and keep any cheap jewelry.

"I don't like to make blanket statements, but certainly, there's been a lot of relatively inexpensive jewelry that does contain high levels of lead," Weintraub said. "A parent needs to think very, very carefully if they do want to purchase such a product and what I would suggest is that if they do decide to purchase, you could buy lead test kits and you could swipe it and test it to see if there's a high level of lead."

Lead test kits can be purchased online for about $10.

"Parents need to get on the CPSC website and see if the product has been recalled or not," Weintraub continued. "If it does turn out that the jewelry does contain high levels of lead, they should confiscate it immediately and wipe down other toys or other jewelry that may have come in contact with it because it's possible that there is lead dust."

Product recalls are also listed on ConsumerAffairs.com.
Current Recalls
Recalls of lead-tainted children's products this year include:
AAFES 'Soldier Bear' Toy Sets
AAFES Expands Recall of Lead-Contaminated Toys
"Accessories" Silver Stud Earrings sold at Kmart
Accessories Palace Children's Necklaces
Boyds Collection Toy Drums
GeoCentral Childrens Butterfly Necklaces
Children's Necklaces, Charm Bracelets
Children's Horseshoe, Dice Rings
Children's Metal Jewelry
Children's Turquoise Rings
Claire's Stores Necklaces
"Claudia Jublot" Rings Sold at Big Lots!
Dollar General Metal Key Chains
Dollar Store "Rachael Rose Kidz" Rings
"Essentials" Children's Jewelry
"Kidsite" Jewelry Sold at Kmart
Mood Necklaces
Dollar Store "Rachael Rose Kidz" Rings
Religious Fish Necklaces
Sleeping Beauty, Cinderella Earrings
U.S. Toy Co. Children's Butterfly Necklaces
Lead poisoning can lead to respiratory failure, seizures, hearing loss and death.

Long-term exposure has been linked to behavioral problems and other neurological deficiencies. If children suck on the jewelry, they are at particular risk because it's more likely for the lead to enter their bloodstream where even small amounts accumulate for many years.

The CPSC is considering new rules that will require products contain no more than .06 percent lead.

Acting CPSC Chairman Nord has "made it a priority that during this time of last week the staff work toward presenting a package to the Commission for a vote on the Notice of Proposed Rulemaking," agency spokesman Scott Wolfson said.

Congress last week gave the agency the authority to pass new regulations even though it has only two commissioners.

"Ideally, we'd like to get it to zero," Weintraub said. "It's not always possible because of environmental factors and others. ... It's a very, very significant reduction that would greatly reduce harms caused to consumers."

With the commission's last week to pass regulation, it's possible the proposed rule could be voted on and made law within the next six months.


CPSC Not Equipped
Weintraub and Greenberg agreed that even with more vigorous government rules, the agency is not equipped to tackle the inspections.

"CPSC only has 15 people doing imports inspections," Greenberg wrote. "The big toy companies must impose third-party testing and frequent inspections, not leave it to Chinese factories to approve for safety. The government should have independent certification that toys and kids' products are lead free, and we need more inspectors at the ports."

"These manufacturers need to test their products for lead and then have a certificate that it meets the standard and also a label saying that it meets the standard," Weintraub said. "A test also needs to be done by an independent third party."

Many importers and local retailers have strict lead restrictions for children's jewelry. But a New York Times article on Monday suggested Chinese manufacturers, who are often chosen based on the lowest bid, submit an initial batch with very low levels of lead. Then in later batches, use dangerous levels of lead, which is often a cheaper substitute for more durable metals.

"There needs to be tests at different stages in the manufacturing process," Weintraub said.

She also said the manufacturer, local toy company and importer, to some extent, should all be held liable for selling potentially deadly toys.

"They need to make sure that the products they sell meet the standards no matter where they are made or who makes them," Weintraub said.