They come in colorful teeny two-ounce containers and in kid-friendly flavors like Spicy Mango, Hot Melons, Spicy Lime, and Hot Chocolate. But these so-called Spykes aren't juiceboxes, they're malt liquor with more than twice the alcohol concentration of beer.
And according to the nonprofit Center for Science in the Public Interest (CSPI), they are the latest attempt by Anheuser-Busch to get kids interested in alcohol. Thus, the nonprofit watchdog group is urging the brewer to launch an immediate nationwide recall of Spykes and is calling on state attorneys general to investigate.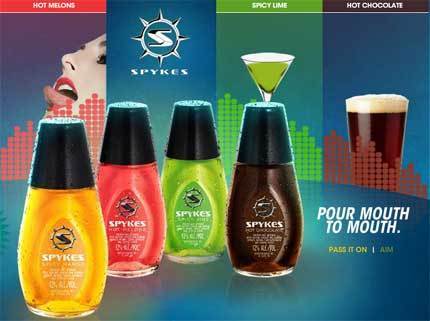 "This is a shameful ploy to market malt liquor to the Lunchables set," said George A. Hacker, director of alcohol policies at CSPI. "Anheuser-Busch is practically begging to be investigated, subpoenaed, sued, or hauled before a Congressional committee to explain this one."
According to Anheuser-Busch's spykeme.com Web site, Spykes are designed to be consumed on their own, or to add sweetness (and additional alcohol) to beers.
The site, which notably has no age-verification system for users, also provides improbable cocktail recipes, like the "Fruit Stand," which contains a Hot Melons Spykes, Bacardi Limon rum, and beer; as well as teen-friendly accessories like Instant Messaging icons and cell phone ringtones. Spykes cost 75 cents to $1 each.
Spykes are also fortified with caffeine, ginseng, and guarana -- ingredients typically associated with energy drinks that are popular with young people. Health officials have expressed concern that caffeinated alcoholic beverages can give young people the impression that they can drink more without becoming intoxicated or that the prospect of driving after drinking might seem safer.
One commenter on the Spyke web site, purportedly a consumer named Erica, wrote, "I can drink these all day, and be ready to go out and party all night." Keeping such a comment publicly available on the product's web site is a clear violation of the beer industry's voluntary marketing code, according to CSPI.
"Anheuser-Busch should immediately pull Spykes off of shelves, apologize to parents, and hope that in the meantime, no young person wraps his or her car around a tree after being Spyked once too often at the prom," Hacker said.
CSPI also said its own litigation unit has opened up an investigation into Spykes and other similar products, and may consider private litigation if state attorneys general do not act.
"These drinks make the 'alcopops' of yesteryear look geriatric by comparison," Hacker said. "It's hard to imagine an adult purchasing this beverage, unless they were bringing it for a surprise date with Chris Hansen on Dateline NBC."
The introduction of Spykes comes on the heels of other Anheuser-Busch marketing efforts that CSPI says are ill-conceived attempts to attract underage drinkers or promote excessive alcohol consumption.
Those include Bud.TV, an Internet video site geared to young people; a drinking game called Bud Pong, which was withdrawn after a company spokesman maintained that players were meant to drink water, and not beer, during the game; and a Bud Light-sponsored shopping cart race in Washington, D.C., called the Idiotarod.