---
Hundreds of mourners turned out in Detroit for the funeral of Brandon Martell Moore, 16, shot to death by an off-duty police officer reported to be working as a security guard for National Wholesale Liquidators.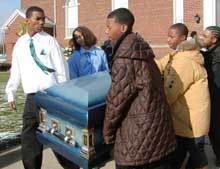 Brandon Moore's grieving young friends, several of whom were with him when he was killed by a Detroit police officer, carry his body after his funeral service.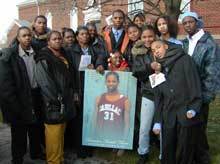 Brandon Moore's friends and family gather around his photo after his funeral.
Photos courtesy of The Michigan Citizen
"He got good grades in school, was a focused young man who stayed out of trouble, and had a sense of purpose with regard to his basketball career," said the Rev. Edward Branch, Pastor of Third New Hope Baptist Church, who conducted the service for the Osborn High School honor student and basketball player.
The unarmed Moore was killed Nov. 26 by a Detroit police officer who shot him in the back as he ran from him. The officer also shot Moore's 14-year-old friend Johnathan Stanley, an Osborn football player, in the hand, after the young men were forced to leave a Detroit National Wholesale Liquidators store because of the chain's policy banning unaccompanied shoppers under 17, The Michigan Citizen reported.
In fact, said the Citizen account, the youths were not in violation of the policy, as they were accompanied by Keith Henderson, 22, and Moore's brother John Moore, Jr., 19, who held his little brother in his arms as he died.
The newspaper quoted Eddie Brown, 16, as saying the plain-clothes security guard ejected the youths and, when they disputed his action, struck one of them. He then allegedly pulled his gun and fired as the group turned and ran.
Laron Hundley, 16, said the officer who shot Moore kicked him as he lay handcuffed on the ground after police arrested the entire group.
Questions have been raised about whether the officer, who has not been publicly identified, was in compliance with Michigan state law, which requires security guards to wear uniforms. Detroit Second Deputy Chief James Tate said there were also questions about whether the officer was working for the chain at the time of the shooting.
It's not the first such incident involving the discount chain's handling of minors.
"They treated me like a piece of trash and threw me out," David of Flushing, NY, said in a complaint to ConsumerAffairs.com. "This is not the first time this has happened. This has also been happening to many of my friends."
National Wholesale Liquidators is based in West Hempstead, N.Y.
After the funeral, Moore's grieving cousin Frank Holloway said he wants the officer arrested.
"He shot my little cousin in his back while he was running," said Holloway. "Even if there was a fight, he had no reason. I want him to pay for what he did, be a man and step up. Our family is suffering, and is going to be suffering for many days to come, but this cop will go on with his life. The community has to get together because something has to be done about this."