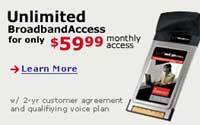 Verizon Wireless proudly boasts that its wireless "BroadbandAccess" service is "unlimited." But Verizon's definition of unlimited may not match consumers' expectations, as those who use the service extensively quickly learn.
The service uses a fairly recent technology called EV-DO that allows users to access the Internet at high speeds from their laptops, just about anywhere in most major U.S. cities and in many suburban areas. Verizon calls this service "broadband" because it has average download speeds of 400-700 kilobytes per second.
But when consumers use this service like they would any other broadband connection, Verizon cancels the account. ConsumerAffairs.com discovered this when Verizon, with very little warning, cancelled our account.
"We found that your usage over the past 30 days exceeded 10 Gigabytes. This level of usage is so extraordinarily high that it could only have been attained by activities, such as streaming and/or downloading movies and video, prohibited by the terms and conditions," Verizon said in a terse letter.
With the advent of websites such as YouTube, MLB.tv and Google Video, streaming video and even, watching sports online, has become a common practice for many people who pay extra money for that lightning fast broadband connection. Verizon's "unlimited" wireless broadband is hardly cheap. It's $79.99 per month if you don't have a Verizon Wireless cell phone account, $59.95 per month if you do, roughly twice as much as a residential DSL or cable Internet account.
Verizon's terms and conditions hardly go out of their way to explain the limits on the company's "unlimited broadband access." Only once in the 20-page terms and conditions brochure, is the restriction explained, and then it is sunk in the final page in a sea of small font.
Under the heading, "Unlimited NationalAccess/Broadband Access," the brochure states, " data sessions may be used with wireless devices for the following purposes: (i) Internet browsing; (ii) email; and (iii) intranet access. services cannot be used: (1) for uploading, downloading or streaming of movies, music or games; (2) with server devices or with host computer applications, including, but not limited to, Web camera posts or broadcasts, automatic data feeds, Voice over IP (VoIP), automated machine-to-machine connections, or peer-to-peer (P2P) file sharing."
Unlimited in Some Ways
Jeffrey Nelson, Verizon Wireless spokesman, said that calling the service, "unlimited" is not misleading.
"It's very clear in all the legal materials we put out," he said. "It's unlimited amounts of data for certain types of data," he said.
The letter from Verizon said that the cancelled ConsumerAffairs.com account downloaded and uploaded 10 gigabytes in the preceding 30 days. However, as is shown on the access log that is an integral part of the program, we actually tallied less than 2 gigabytes over more than a year's use.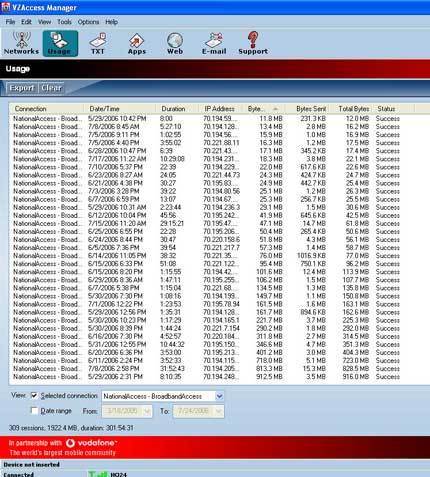 The letter also said our "10 Gigabytes" in 30 days was, "more than 40 times that of a typical user." That would mean the "typical user" only downloads about 8.3 megabytes per day - good for less than 12 seconds of constant downloading at the service's average speed.
With Shockwave, Java and other interactive Internet applications, 8.3 megabytes is a paltry sum for the savvy web browser or businessperson. Throw in a few "broadband" activities such as iTunes, and 8.3 megabytes will get a user nowhere.
A second ConsumerAffairs.com Verizon Wireless Broadband account, which is generally used only for business travel, averaged well over 8.3 megabytes for connections longer than an hour, often sending and receiving more than 10 megabytes, but at least so far, it has not incurred Verizon's wrath.
Nelson said the service, which Verizon introduced in Fall 2003, can be hindered if one person downloads too much.
"The wireless spectrum is a limited and finite service," he said.
Nelson would not say how many wireless broadband customers Verizon has but said only "a minute fraction" of customers have been removed.