---
Consumers concerned about global warming, air pollution, and unknown ecological crises to come can take solace in a decision by a San Francisco tour company.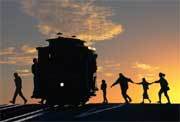 The firm, Incredible Adventures, switched its entire van fleet to pure biodiesel fuel - becoming the first North American tour operator to make the move, according to company CEO Jolie Ginsburg.
Tired of gas-guzzling vehicles, coupled with runaway gasoline prices and foul air, the company began using biodiesel three years ago - when few people were aware of it. A non-toxic, biodegradable fuel, biodiesel emits up to 80 per cent fewer carcinogens, greenhouses gases, and particulates than petroleum fuel.
"We have taken the lead in reducing America's dependence on foreign oil. If other companies and drivers follow our example, we can make our nation more secure economically and free ourselves from the wildly fluctuating price on imported oil," Ginsburg gushed.
Biodiesel is a vegetable oil-based alternative fuel that is both environmentally friendly and domestically produced. The B100 or "neat" biodiesel used by the Incredible Adventures van fleet contains no petroleum. The biodiesel typically used elsewhere is a mix known as B20, a blend of 20 per cent biodiesel and 80 per cent petroleum diesel.
Though the price of biodiesel is slightly higher than petroleum-based fuels, the cost is offset by fuel efficiency. It is pumped like any other fuel.
"Using biodiesel helps us create a good impression with our passengers," Ginsburg said. "When we began investigating biodiesel use for our company, there were few fueling stations and distribution channels were narrow. But we've seen a steady expansion of both."
From San Francisco, Incredible Adventures offers day trips to Muir Woods and California wine country, plus extended tours to Yosemite, the Sierra foothills, and Lake Tahoe. It also uses biodiesel on four-wheel-drive vans that leave its new Las Vegas hub for the Grand Canyon, Zion and Bryce Canyon, and Death Valley National Parks.
The use of biodiesel fuel appeals to environmentally-conscious passengers.
"In the past year, people have chosen our tours not only for the high-quality service but because they know we operate our vans with biodiesel," Ginsburg said. "The Iraq war - and its threat to our oil-based supply - has raised biodiesel's visibility and more and more passengers know about it now."
For further information on biodiesel fuels, see sfbiofuels.org or www.berkeleybiodiesel.com. Or contact Incredible Adventures, 521 Eighth St., San Francisco, CA (Tel. 415-642-7378).