---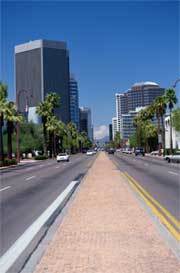 It's hard to believe that Phoenix was once a sleepy desert town populated only by cacti and cowboys.
The advent of air-conditioning and airplanes has turned the Valley of the Sun into one of America's hottest vacation destinations - especially when most of the country is cold. Consider these facts:

• With 1.4 million residents, Phoenix is the fifth-largest city in the USA.

• More than 13 million people visit annually, arriving on more than 20 airlines.

• There are 55,000 hotel rooms, 200 golf courses, and almost no rain (7.66 inches of annual rainfall, an average annual high temperature of 85, and 325 sun-filled days per year).

• Though Phoenix sits in the heart of the Sonoran Desert, its elevation is 1,117 feet (much higher than any point in Florida) and six lakes are within a 75-mile drive.

• The city is home to the world's largest municipal park: South Mountain Park covers 20,000 acres and includes more than 1,700 acres of traditional park land.

• The nine major-league baseball teams that train in Phoenix for six weeks (starting in mid-February) are the Angels, Athletics, Brewers, Cubs, Giants, Mariners, Padres, Rangers, and Royals.

• The Arizona Diamondbacks, who train in Tucson, play an 81-game home schedule in Phoenix.

• Other area sports include three pro golf tournaments, the annual Tostitos Fiesta Bowl (college football), and occasional Super Bowls (2008 is next).

• The area has teams from all of the Big Four sports plus arena football and the WNBA.

• City museums feature Frank Lloyd Wright's architecture, Native American art, area history, the world's largest collection of desert plants, and the largest collection of fire-fighting equipment on the planet - in something called the Hall of Flame.

• Phoenix Sky Harbor International, the world's sixth-busiest airport, also has one of the largest airport art collection (200 permanent pieces).

• By 2008, Metro light rail service will link the airport to the convention center and athletic facilities via a 20-mile arterial route, with another 27.7 miles of suburban track to be completed by 2028.
For further information, contact Greater Phoenix Convention & Visitors Bureau, One Arizona Center, Suite 600, 400 E. Van Buren, Phoenix, AZ 85004 (Tel. 877-CALL-PHX or 602-253-4415, Fax 602-254-6500, www.visitphoenix.com).
---
Dan Schlossberg of Fair Lawn, NJ is president of the North American Travel Journalists Association, and a frequent contributor to AAA Traveler and USAirways Magazine.