---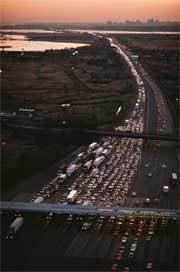 As a lifelong resident, I know that New Jersey is much more than the meat of a sandwich between New York and Philadelphia. The most densely-populated state in the Union, New Jersey also ranks first in cost of living, price of auto insurance, and property taxes. But there are many good things about the Garden State too. Consider these:
• The first brewery in America opened in Hoboken in 1642.
• Hoboken was also the site of the first baseball game with nine innings, nine men per team, and three outs per inning (1846).
• Hoboken was also the birthplace of Frank Sinatra.
• Nearby Union City has more Cubans than Havana all packed into one square mile.
• The Statue of Liberty and Ellis Island are both located in New Jersey
• Inventor John P. Holland launched the first submarine on the Passaic River
• Famous for its tomatoes, New Jersey is the world leader in the production of both cranberries and blueberries
• Nearly 80 per cent of all American imports come through Elizabeth, the nations largest seaport.
• New Jerseys water quality control testing is more stringent than any other seaboard state
• The states 50+ resort communities include Atlantic City, Cape May, Seaside Heights, and the Wildwoods
• New Jersey has more racehorses than Kentucky but also more cars and the nations densest system of highways and railroads
• Rural Highlands, NJ has the highest elevation on the Eastern Seaboard
• Though called the Garden State, New Jersey is the only state where all of its counties are classified as metropolitan areas
• The state has the most diners in the world and the most shopping malls in one area (seven major malls in a radius of 25 square miles)
• Both the New York Giants and New York Jets play in North Jersey
• Streets in the game Monopoly are named for real streets in Atlantic City
• Thomas Edison invented the light bulb, movie projector, and phonograph (record player) in his Menlo Park laboratory
• Other NJ firsts: first radio station, AM broadcast, and FM broadcast; first airmail service, first underwater tunnel, first medical center, first college football game, and first drive-in movie theater
• Natives include Abbott & Costello, Jason Alexander, Grover Cleveland, Connie Francis, Jack Nicholson, Bruce Springsteen, Meryl Streep, Loretta Swit, and Woodrow Wilson
• New Jersey has WaWas (convenience stores), jughandles (highway turns), towns that sound like citrus (the Oranges), and national recognition from TVs
The Sopranos
• Palisades Amusement Park is history but New Jerseyans are still prohibited from pumping their own gas (the only state with such rules) ---
Dan Schlossberg of Fair Lawn, NJ is president of the North American Travel Journalists Association, and a frequent contributor to AAA Traveler and USAirways Magazine.