---
NEW YORK, May 16, 2002 -- When vacationing, many Americans rent scooters or mopeds to get around. They are convenient, cheaper than renting cars and ideal for the narrow streets of tropical islands or quaint resorts. But vacationers don't realize how dangerous these small vehicles can be without proper training. On Friday, May 17, Inside Edition reports on how tourists can be at risk on scooters and mopeds.
The newsmagazine reports on the tragic death of 28-year-old Nicole Timmerman of Minneapolis.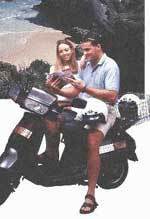 In October 2000 Nicole and her friends were on a Caribbean cruise that made a stop in Key West, FL. They decided to rent scooters in order to see the island. Just moments after leaving the scooter rental shop, Nicole lost control at a busy intersection and hit a large truck. She died before paramedics arrived.
Nicole's parents believe that their daughter accidentally accelerated when she meant to stop, a common problem according to authorities. Lee Timmerman, Nicole's father, doesn't know how much training his daughter received from the rental shop before her fatal accident, but whatever it was, he feels it wasn't enough.
"You spend a minute or two going through some cones in a parking lot. If you don't fall over, you're kind of given the okay to go You exit the parking lot, and you're instantly in busy heavy traffic. It isn't cones anymore. It's cars," he said.
Although Key West, FL has established ordinances requiring scooter rental companies to provide specific instruction to riders, there have already been 116 scooter accidents this year. Inside Edition's Senior Investigative Correspondent Matt Meagher recently visited a few Key West rental shops to see if tourists get the required training.
At one shop, Meagher was given just six minutes of instructions and told to test the scooter on the street. If he felt comfortable, Meagher was told to keep going. At another rental shop, Meagher's training was much more extensive. Since he was a novice rider, this shop suggested that Meagher rent a moped, which is supposedly easier to handle, and urged him to use a helmet even though Florida law does not require it.
Comparing the training between both shops, Meagher returned to the first and confronted the owner about the inadequate training. The shop's owner apologized to Meagher if he left feeling uncomfortable. He told Meagher, "I think I give better instruction than any other scooter place in town."
As part of its report, Inside Edition also looks at scooter and moped accidents that occur abroad. In Bermuda, where tourists are not permitted to rent cars, scooter use has become a tradition. But with narrow and winding roads and Americans not used to driving on the opposite side of the street, there were nearly 500 scooter accidents in Bermuda in 2000 alone.
Dr. Ewart Brown, Bermuda's Minister of Transportation, tells Inside Edition that he is very concerned about scooter accidents. Dr. Brown says increased training has caused the number of accidents to drop drastically in recent years, but explains how vacationers can easily underestimate the danger of riding a scooter.
"This place may be deceiving You look around and you see pink sand and turquoise water. But if you don't handle your moped correctly, you could end up in the hospital We want our tourists to be safe. We're upset when there's one accident."