---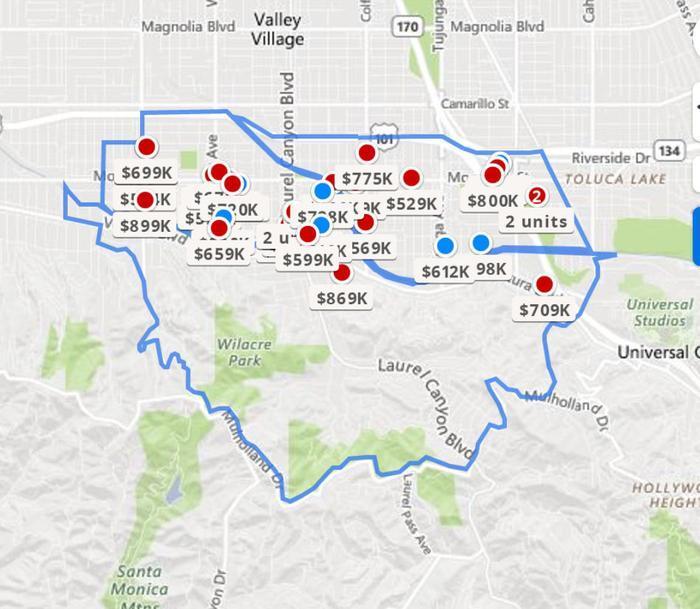 The thing that jumped off the page from Monday's existing home sales report was the fact that home sales went down in June, yet home prices went up.
Sales were down 1.8% but the median price was up nearly 7%, largely due to the fact that there simply aren't enough homes for sale to meet demand.
As a result, real estate marketplace Zillow reports the median U.S. home value is now over $200,000 for the first time ever, eclipsing the $196,600 reached at the peak of the housing bubble.
Inventory down 11%
Zillow's numbers show the number of homes for sale in the U.S. is down 11% from 12 months ago. At the same time, national home values have been rising at a 7% annual rate over the last month months, with many markets recording double-digit gains.
"The national housing market remains red hot and shows no signs of slowing, even as some local markets like the Bay Area have noticeably cooled," said Zillow Chief Economist Dr. Svenja Gudell.
But even where the housing market has backed doff from its frenetic pace, Gudell says selection is limited and home values remain at or near their peak levels.
"Given these high costs and high competition, the most important thing you can do is get your finances in order so you know what you can comfortably afford, and find an agent who has experience with bidding wars and will help you stand out in a competitive market, especially if you're buying for the first time," she advises.
Dallas, Seattle, and Las Vegas see biggest gains
Home values are rising fastest in markets with strong economies and high-paying jobs. Seattle and Dallas are rising fastest, along with Las Vegas, which had a long way to go since it was among the hardest hit markets in the housing crash. Home values in all three metros are up double-digits year-over-year.
Finding a home to purchase is hardest in San Jose, Calif., where inventory levels are down 40%. San Diego and Columbus, Ohio, are also seeing very tight inventories, with 33% fewer homes for sale than 12 months ago.
Fortunately, rents have not been going up as fast, making renting now more affordable than buying in more markets. Zillow reports nationwide, rents have rising at an annual rate of 1% over the last six months. Seattle, Los Angeles, and Sacramento reported the biggest increases among the top 35 metros.
City-by-city prices
This chart, provided by Zillow, shows home values, yearly changes and rental costs, ranked by market size. 
Metropolitan 
Area

 Zillow Home Value 
Indexv (ZHVI)

Year-over-
Year ZHVI 
Change

Zillow Rent Index 
(ZRI)

Year-over-
Year ZRI 
Change

Year-over-Year 
Inventory 
Change

United States

$               200,400

7.4%

$                1,422

1.1%

-11.4%

New York, NY

$               422,300

9.2%

$                2,376

-1.6%

-17.6%

Los Angeles-Long Beach-Anaheim, CA

$               609,800

6.1%

$                2,682

4.2%

-16.8%

Chicago, IL

$               211,200

6.5%

$                1,638

-0.4%

-11.9%

Dallas-Fort Worth, TX

$               211,000

10.5%

$                1,584

2.9%

9.0%

Philadelphia, PA

$               218,700

4.8%

$                1,567

-0.9%

-15.3%

Houston, TX

$               178,400

3.9%

$                1,538

-2.8%

10.6%

Washington, DC

$               382,600

3.1%

$                2,126

0.2%

-20.2%

Miami-Fort Lauderdale, FL

$               253,100

7.6%

$                1,849

-1.9%

1.6%

Atlanta, GA

$               179,900

8.1%

$                1,348

3.0%

-12.3%

Boston, MA

$               427,700

7.8%

$                2,364

2.6%

-21.2%

San Francisco, CA

$               854,300

5.7%

$                3,372

-0.5%

-25.8%

Detroit, MI

$               141,000

9.5%

$                1,162

-1.6%

-20.9%

Riverside, CA

$               328,800

6.1%

$                1,793

3.5%

-19.8%

Phoenix, AZ

$               236,900

6.5%

$                1,322

2.2%

-11.5%

Seattle, WA

$               447,100

13.1%

$                2,142

5.4%

-24.1%

Minneapolis-St Paul, MN

$               247,400

8.6%

$                1,593

3.5%

-30.4%

San Diego, CA

$               548,000

6.9%

$                2,484

2.9%

-32.5%

St. Louis, MO

$               148,600

3.6%

$                1,140

0.0%

-12.7%

Tampa, FL

$               185,700

10.1%

$                1,353

1.7%

-20.8%

Baltimore, MD

$               261,000

3.8%

$                1,727

-0.5%

-20.7%

Denver, CO

$               370,000

8.8%

$                2,009

0.2%

-3.6%

Pittsburgh, PA

$               137,400

5.0%

$                1,074

-3.9%

-10.5%

Portland, OR

$               367,400

8.3%

$                1,825

3.5%

4.0%

Charlotte, NC

$               174,800

8.2%

$                1,263

1.6%

-21.2%

Sacramento, CA

$               369,200

8.7%

$                1,744

4.5%

-14.5%

San Antonio, TX

$               162,700

6.9%

$                1,332

1.1%

-2.4%

Orlando, FL

$               207,000

9.6%

$                1,405

2.7%

-14.5%

Cincinnati, OH

$               152,600

6.6%

$                1,257

1.2%

-22.7%

Cleveland, OH

$               134,600

5.5%

$                1,149

0.1%

3.3%

Kansas City, MO

$               159,400

6.8%

$                1,266

2.0%

7.7%

Las Vegas, NV

$               225,500

10.2%

$                1,252

1.1%

1.4%

Columbus, OH

$               162,500

4.7%

$                1,303

0.8%

-32.9%

Indianapolis, IN

$               138,100

5.0%

$                1,189

-0.4%

-24.0%

San Jose, CA

$            1,013,700

5.9%

$                3,472

-1.1%

-39.4%

Austin, TX

$               271,500

7.1%

$                1,695

-1.1%

23.1%
About Zillow
---