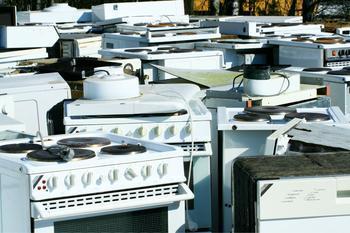 In 2009 the U.S. government launched "Cash for Clunkers," a wildly popular program in which consumers got cash incentives to trade in old gas-guzzlers for new, fuel-efficient vehicles. The object was to spur the car industry in a deep recession while reducing the demand for gasoline.
Getting much less attention is the ongoing campaign to recycle older home appliances, like refrigerators and water heaters. The object is not so much economic stimulation but rather getting newer, energy-efficient appliances in place, thereby reducing energy demands.
The recycling effort is largely being led by the nation's electric power utilities. Believe it or not, they would like to sell you less electricity, not more. By reducing consumer demand for energy, the utilities can better manage their resources and are not forced to expand capacity as fast. Chances are, your local utility company will pay you to upgrade and take the old appliance off your hands.
$35 for your old fridge
Pacific Gas and Electric (PG&E) will pay customers a $35 rebate to turn in an old refrigerator or freezer. The unit must be clean, empty, defrosted and in working conditions. It also must meet size requirements, holding 10 to 32 cubic feet.
The utility company emphasizes the appliance must be plugged in and working the day they come to pick it up. They aren't going to pay you for the privilege of hauling away junk that's been sitting in your basement for years. After all, the object is to get you to replace an inefficient appliance with one that uses less energy.
"The potential to save money and energy – and even earn extra cash – can be found in recycling outdated, secondary refrigerators and freezers that are in working condition located throughout your home," said John Langston, program manager for Duke Energy's appliance recycling program.
Utilities especially would like you to update your refrigerator. In recent years engineers have made strides in building more energy-efficient units. The technology inside old refrigerators and freezers is often so outdated it  requires up to three times more electricity to operate than newer models.
Lower electric bills
That not only saves money for the utility, but also the consumer. According to Duke Energy, recycling an old refrigerator with freezer can knock up to $150 off the average annual energy bill. A 20-year-old refrigerator or freezer consumes up to 1,400 kilowatt-hours (kWh) each year. That compares to 400 to 500 kWh annually for a new appliance.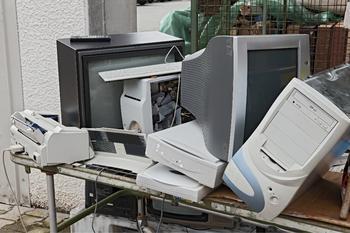 Utilities aren't the only companies promoting appliance recycling. Companies that sell new appliances have a vested interest in the issue. Best Buy, for example, will pick up your old appliances when you buy new ones, but they charge for the service. The charge for two appliances is $100, with another $20 for each additional appliance.
What happens to old appliances when they're recycled?
A company specializing in recycling appliances takes them apart, removing and properly disposing of environmentally harmful elements. For example, PCBs, mercury, used oil, refrigerants and insulating foam are some of the things you'll find in a refrigerator that require safe disposal.
Kitchen appliances aren't the only ones that should be recycled. Utilities say anything that is powered by electricity probably has a more energy-efficient replacement if it's more than six or seven years old. However, the rebates are usually limited to cooling appliances like refrigerators and freezers.
"Take a quick survey of your home to discover just some of the benefits of appliance recycling," Langston said. "Computers, mobile phones, nails and more are all made from the recycled parts of refrigerators and freezers."
What to do
To find out if your utility company has an appliance recycling program, contact it's customer service line or check its website.
If you would like to start an appliance recycling program in your community, you can contact the American Council for an Energy Efficient Economy for ideas. You might also contact an appliance recycler like ARCA for information.