---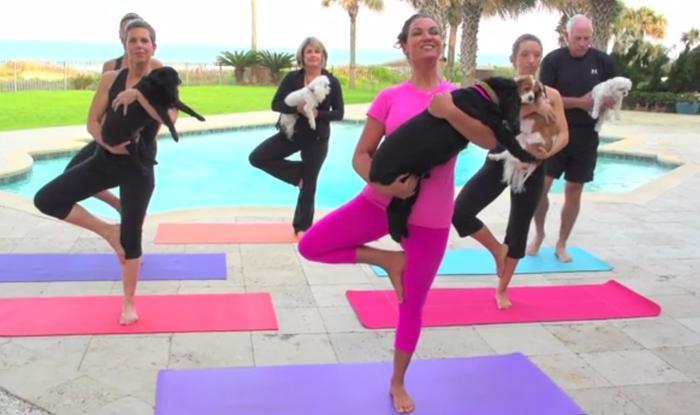 If you were to peek into most yoga classes you would probably see the classes are attended by a majority of fit, flexible females in tight clothes. But, contrary to what you might think, it's not just a sport for ladies that are in awesome shape and can bend in every direction.
Yoga has gone to the dogs! It's becoming quite popular in the canine kingdom and actually has it's own name -- Doga. I think you understand why.
Suzi Teitelman, of Jacksonville, Fla., is a Doga instructor and also trains new instructers. She says Doga was born when she was living in New York. After the 9/11 terror attacks, she decided to get a dog, something she always had wanted.
She got a puppy and brought it to the yoga class that she was teaching at Crunch Fitness. She liked always having the dog with her and pretty soon incorporated it into the classes. She then started a separate class which at its conception was called Ruff Yoga but has since morphed into Doga.
"Dogs are naturally content, peaceful and compassionate -- we learn a lot from them," Teitelman told ConsumerAffairs. "It's a lot more then postures. It's meditation, chanting and being in the present. Dogs come to a blissful moment at the end. There is a lot of touching, including massages and helping them get into a pose themselves."
Hyper dogs
You have to wonder, though, about those dogs that just can't sit still -- that see a squirrel or something and are totally thrown off course. In other words, the easily distracted type.
"Dogs who run around are the dogs whose parent isn't into it. You are sharing your energy and connecting with the dog's energy," Teitelman said See -- it always comes back to the parent!
Teitelman says dogs should have their own Doga mat but if not, they can share with their parent. Classes are 30 minutes and can run from $10-$15 for a group lesson and up to $150 for a private lesson depending on location.
Teitelman has travelled all over the country and even as far away as Hong Kong to teach doga. You can see videos of Doga on her site or get a DVD and try it at home with your pups.
---