---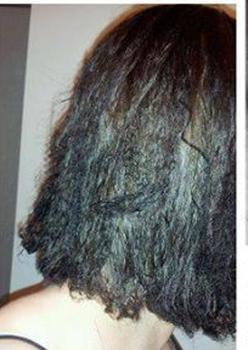 This keratin stuff, whatever it is, seems to be the greatest thing since gluten-free bread, as long as it doesn't make your hair fall out or burn your scalp.
Unfortunately, that's what allegedly happened to hundreds of women who tried Suave Professionals Keratin Infusion 30-Day Smoothing Kit, hoping it would make their hair nice and silky and straight. Instead, they say, it made it melt.
The "devastating" effects of the treatment were documented by hundreds of women on a public Facebook page, "Suave-Keratin-Infusion-Kit-Destroyed-my-Hair," screen shots from which are included in the complaint.
The suit names Unilever, Suave's manufacturer, LEK Inc. and Conopco. It claims Unilever used deceptive advertising and failed to warn consumers, even though it knew about the risk of hair loss and scalp burns even before it introduced the product in late 2011.
Unilever recalled the product in May 2012 and discontinued it but argued nevertheless that it was safe to use.
One of the lead plaintiffs, Josephine Wells, says her "once long, beautiful, natural curly healthy hair is now dull, fragile and short." She says her hair "is extremely thin and the bald spots caused by the treatment are still visible."
The suit also charges that women who complained were asked to sign an "unconscionable" release form that protected the company and retailers. In exchange, women got as little as $50 in compensation. The women are being represented by Azra Mehdi in San Francisco.
Oh, and as for keratin -- it's basically the protein that makes up human skin, hair and nails. As for what it's good for, well, the fungi that cause athlete's foot and ringworm like it, according to Wikipedia.
WebMD says it's good for straightening frizzy and curly hair but warns that the flat-ironing that is part of the application process can make hair break.
---